As a Padres member I attend a LOT of baseball games. I love the sport. For most people, the tickets are just a small fraction of the total cost of going to the game I've gotten good at being frugal. A trip to the concession stand can easily set you back $15 per person and that adds up over the course of a season. It's a tough challenge because everywhere you look you are assaulted by opportunities to spend money on souvenirs, food, drinks, and other things. These are a few of my favorite tips to help you save money and be more healthy at the ball game. The good news is that while this is specifically about baseball - most of these tips will work great for other sporting events such as football, hockey, and basketball too.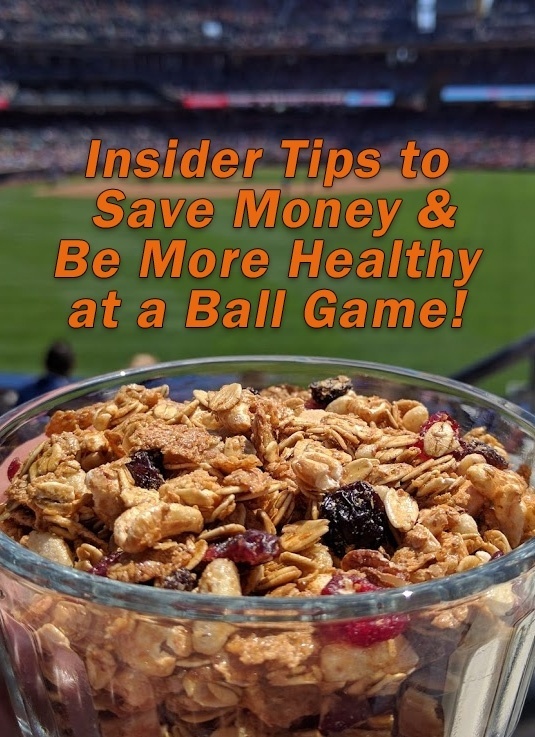 Bring Your Own Food
Different parks have different regulations but here at Petco Park in San Diego you are allowed to bring your own food with you to the game. While chips and cookies may be your first though, why not bring a snack such as a bowl of granola. With Raisin Bran® Granola, not only are you saving money but you are also eating better compared to that hotdog that's been soaking in water for the past few weeks - and especially that giant stick of cotton candy. Plus it tastes great and has just that right amount of "sweetness" to satisfy that craving you might have.
Buy Souvenirs Outside of the Park
It may be tempting to buy that shirt or novelty baseball, but chances are there are shops just outside the park that are far cheaper.
Ask About the Actual Volume of Different Serving Sizes
You might be surprised to find that "large" and "medium" might not be that different in volume. Even when the sizes are significantly different, you might actually be better off buying a medium now and then another drink later if you are still thirsty. This way you don't feel compelled to drink the entire soda before it gets warm. That's what happened to me yesterday when I bought a 24oz beer that got warm about half way through and I ended up not finishing it.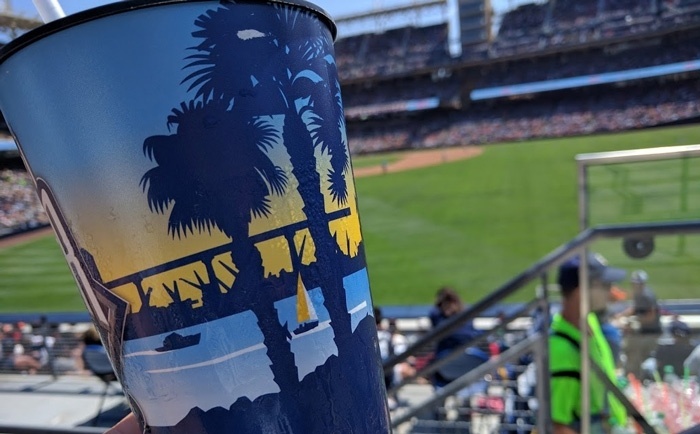 Bring a Reusable Cup and Fill It with Ice and Water
The sad reality though is that drinks at ball games are a racket. While I understand security concerns, my gut tells me that's why even parks those that allow food, prohibit liquids. While sipping an ice cold beer and cheering for your favorite team is one of life's little pleasures, at $10-$13 per drink it can get pretty expensive! That's why I generally don't drink at the park and instead bring a reusable souvenir cup that I get early in the season. Then when I get to the game, I simply ask to have it refilled with ice and water. Since they generally don't know if you just got it that day or three months ago the people at the concession stands are pretty amenable and this beats filling it up with warm water from a fountain by the bathroom.
Buy Tickets in Advance at the Ticket Office
You can typically save a significant amount of money by avoiding "convenience fees" and other charges by going to the ticket office in person before the game. This will also allow you to talk with a real person who might be able to direct you to a great pair of seats based on your preferred way of watching the game.
Look For "Family Packages" of Tickets
Most sporting events offer "Family Packages" where you can bundle the price of four tickets, hotdogs, and drinks into one bundle that saves a ton of money. This is only a good deal if you planned to buy that stuff anyhow, but if you do it's a great option to save money.
Park Away from The Ballpark and Walk
Remember - the closer you are to the park then the longer it is going to take you to get out after the game. So, instead of parking right next to the stadium scope out a place a couple blocks away that may have a bar or restaurant on the way to / from that you can stop at instead and kill time. This extra walking will also help you get your steps in :)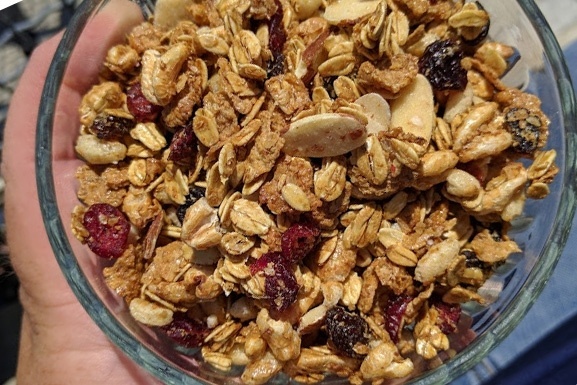 Leave Snacks In the Car For After the Game
It's going to be a lot easier to walk past those nachos when you know you have snacks and water waiting for you back at the car. Don't want more "granola"? There are plenty of recipes you can make with Raisin Bran® Granola from snack bars to cookies so don't be boring - be smart!
Ultimately, saving money and being more healthy at the ball game is up to you. However, with snacks like Raisin Bran® Granola it's a little bit easier. While I chose to bring it to the park in a resealable bowl, it comes in it's own resealable bag that makes it easy to bring with you no matter where you go. Plus, it tastes great with that classic Raisin Bran flavor but a more "adult" taste profile. It's available in two flavors - Raisins and Honey Grandola and Cranberry Almond Granola. Both feature real fruit and offer a excellent source of fiber, is low in fat, and averages about 200 calories per serving.
While it's a great afternoon snack that's infinitely portable and easy to eat with or without a spoon - it's also a great choice for breakfast to get your day started right!
This is a sponsored post written by me on behalf of Kellogg's Raisin Bran®.