In business, as in sports it's great to be recognized. Unfortunately though, it seems like only the quarterback gets the glory. Anyone who's ever run a business knows though that supporting every great CEO, President, or business owner there are others that deserve their share of the glory too. San Diego's Top Tech Exec Awards is an opportunity for some of these guys to step out of the shadows, hang out with their peers and be recognized for the super heroes that they really are.
As a Cox customer myself and someone that depends on their fast, reliable Internet services to run my businesses, I was excited to support the event. Cox Business is the Title Sponsor of the annual Top Top Tech Execs Awards and created the event 10 years ago to celebrate the fantastic IT and technology talent in San Diego.
A decade later, the event is stronger than ever and I can see why they love to support the event and make it even bigger each year! Despite the fact that many times the entire organization's ability to operate rests on the shoulder of these super heroes - these unsung heroes are often forgotten. Unlike a CMO or CEO - IT and tech people typically contribute behind the scenes. This is their chance to step out from behind the curtain, be recognized and have some fun with their peers and leaders from the San Diego business community.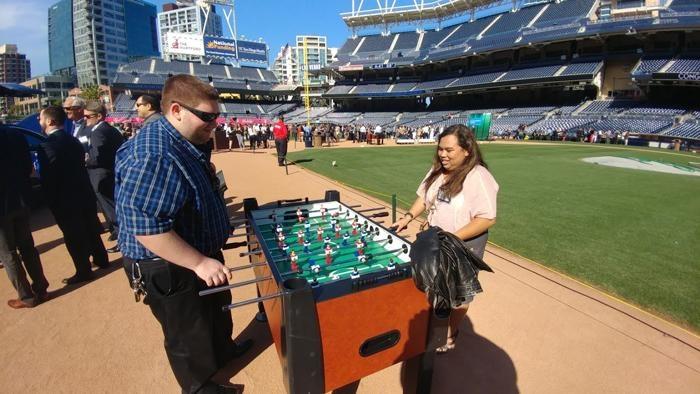 This year's Top Tech Execs Awards was held on the field of Petco Park and it was an amazing opportunity to have some great food, listen to great music, and walk on the same grass as the Padres and players from other MLB teams. Oh yeah and there were foosball and corn hole games, shoe shines, and even a roving band of super heroes who joined the event too.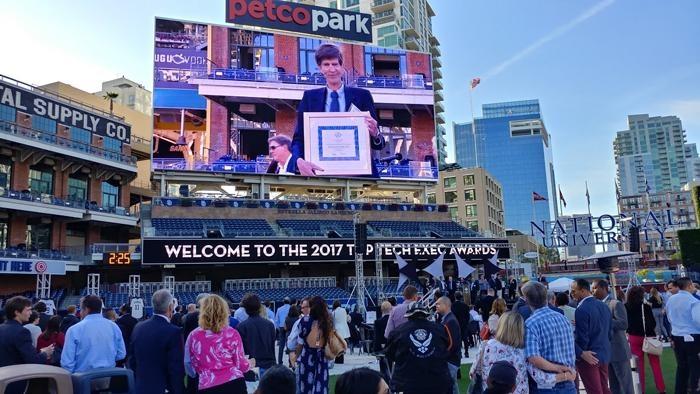 While this was an amazing party worthy of the talent that was gathered together there, it was something greater too. What really impressed me about the Top Tech Exec Awards is that unlike other business awards where you can buy your way in and it's really more of bullet on your resume when you win, this was an opportunity to truly celebrate the breadth of the top tech talent here in San Diego. With nearly 600 nominees, there were representatives from every sized business and sector imaginable including: education, manufacturing, software development, associations, healthcare, and consumer services. The one thing each person had in common was that someone in their organization recognized their contribution and invited others to celebrate their contribution!
We had a chance to meet some of the nominees and I'd like to share their stories with you.
Last week, we met John Hall from @GIAnews, a #SanDiego #TopTech2017 awatd winner! #sponsored by @CoxCalifornia @coxbusiness pic.twitter.com/lPdeijMW3B

— James Hills & Crew (@ManTripping) May 18, 2017
John Hall from GIA
John is the Director of Global IT Infrastructure for Gemological Institute of America and received the award for his business type.
Dallas Jones from Tech4Learning
Dallas is a software developer at Tech4Learning that creates educational software sold around the world including at department of defense schools. He's a Cox Business customer because it has allowed him to migrate from a collection of T1 lines that were bonded together just a few years ago to a connect through Cox now that is faster, cheaper, and more stable. This helps him move data around faster as well as stay in touch with customers around the world.
Meet Joshua @CarpetClubEsco, a #SanDiego #TopTech2017 nominee. He uses @coxbusiness to help the business grow! #sponsored by @CoxCalifornia pic.twitter.com/ATMk5SwJdx

— James Hills & Crew (@ManTripping) May 18, 2017
Joshua from Carpet Club
Joshua manages the IT infrastructure for the Carpet Club including phone, internet, and other services provided by Cox Business.
. @SDStartupWeek folks ❤ that @coxbusiness is a sponsor of their 150+ events this June 19-23! #SDSW #TopTech2017 #sponsored @CoxCalifornia pic.twitter.com/IZJXQYtigu

— James Hills & Crew (@ManTripping) May 19, 2017
Phelan Riessen from San Diego Startup Week
Phelan and the team at San Diego Startup Week tell me that they are excited that Cox Business has joined them this year as a sponsor to help them make their event even bigger. With 250 events and 3,000 attendees last year, this is one of the biggest celebrations of startups and entrepreneurs in San Diego.
We met with Todd Yurasek, CIO at RNS360, a #TopTech2017 nominee. He loves using @coxbusiness in #SanDiego! #sponsored by @CoxCalifornia pic.twitter.com/IoL7NB452A

— James Hills & Crew (@ManTripping) June 1, 2017
Todd Yurasek of RNS360
Todd is the CIO of RNS360, an IT company that provides IT Services for A/V Companies and is a Cox Business customer. He loves the service because of its reliability and speed – something his customers require to keep their businesses running, just like he does.
While each of these San Diego businesses is engaged in radically different sectors, they all share a passion for creating innovative products and working together as a community to support other small businesses.
While this year is over, if you have someone in mind that would be great to nominate for next year – make sure to check out www.toptechexecs.com website in January with more information about how to nominate someone for 2018.
This post was sponsored by Cox Business, who not only know how to throw a great party and awards ceremony but are also the providers of leading-edge technology; fast, reliable service; business-class support and products to fit every business size and need.
Photo Gallery from San Diego Top Tech Execs 2017 Event …