Small business owners like myself face many challenges. Not the least of which is that it can be difficult to scale up, but equally challenging to be successful without doing so. While there are celebrations like "Small Business Week" where consumers are encouraged to support small businesses, the reality is that our struggle continues 24-7-365. Don't worry though, there are some ways that we can help make those challenges more manageable.
Years ago, a small business was something that only a few people could dream of starting. Today though, I feel like most of my friends either have a business they are running or are dreaming of one they want to start. It's no longer something limited just to the big boys but running a business can be incredibly challenging if you don't do it right.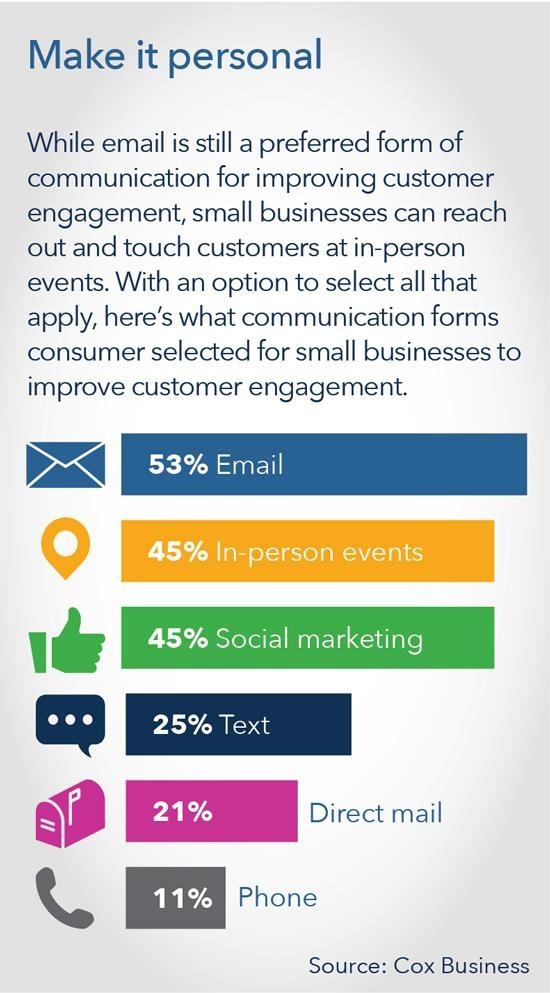 communication methods preferred by customers (National Cox Business Survey Results)
Know Your Customer and Listen to them
As an organization who works closely with small businesses of all types, Cox has been focused not only on delivering excellent quality and service – but also helping businesses better understand their customers too. One part of this is the small business survey that Cox California conducted recently. Among other findings, they discovered that while email is the dominant method of communication that California customers prefer when engaging with a business (56%) that 47% of customers also like engaging through in-person events, and 39% through social marketing! In case you are interested, only 10% of customers preferred to engage by phone – though a small percentage, it's also an essential one. So, don't forget about your phone greeting and always have a cheerful voice when someone calls.
Join "Peer Support" Business Groups
While I am constantly reading and engaging with posts on Linkedin, Internet Retailer, and Moz to stay up to date on the most important news, tips, and techniques to improve my craft – nothing beats a real live person. That's why I love to hang out with other business owners and exchange ideas as well as simply have someone who listens as we share stories about frustrating clients and customers.
As a blogger, there are numerous groups online through Facebook, but if you check out Meetup.org you can find local groups to join as well. Or you can even visit your local SBA office and ask them for recommendations.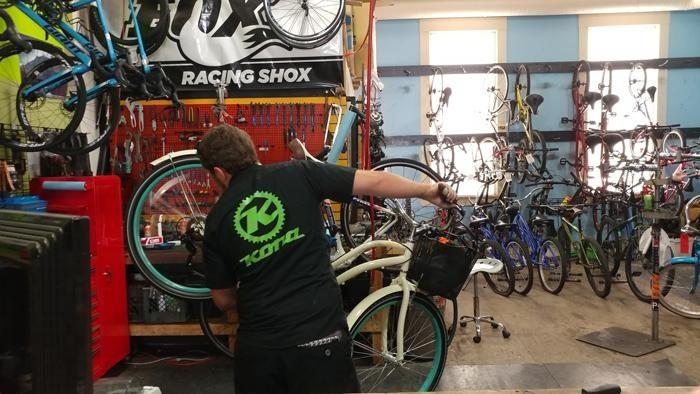 The Bike Revolution San Diego is a small business that I love to support because they supported me!
Partner With Service Providers Who Understand You
You can't do this alone! That's the sad reality and the most frustrating thing that entrepreneurs who start new businesses have to learn … and learn quickly. The trick is to do some deep introspection and determine what your strengths and weaknesses are. This is true for my personal life too. As a blogger and business owner there's really no separation anymore. For weeks I had struggled with getting the brakes on my bike fixed but then decided to take it to the bike shop a block from my house. Half an hour and $20 later my problem was fixed and now I have someone I can trust for future business.
The same thing is true for businesses struggling with complexities related to internet and phone services. With Cox Business, it's more than just installing a cable box or modem like you might have at home. They are able to also offer advice on how your network can be positioned to grow as needed, offer proactive monitoring to help mitigate risks to your business as well as setting up VPN and remote access connections so you (and your employees) can work remotely when needed.
By having people who you can trust to support you, it allows you to focus on the important things!
Focus, Focus, Focus on Your Primary Objective
What are you best at? That's what you should be focusing on. Years ago, during one of my first businesses I had a small marketing agency that did everything from graphic design to social media marketing to trade show support and even public relations services. We probably did a few more things too but all that did was spread me out too wide to do any of them well.
You are a small business owner, so focus on what you do well and do that really well!
It can be tough to turn away business but that's why you make friends with other business owners and trade opportunities back and forth. When you do, the customer gets a great experience and you all get more business too.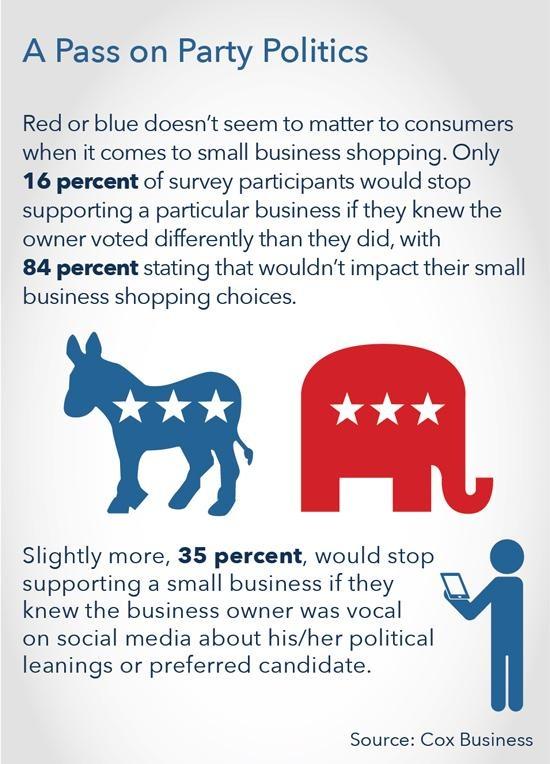 owners should avoid political discussions (National Cox Business Survey Results)
Be Careful of Blending Personal and Business
One of the biggest challenges that small businesses have is that there's a paradox when it comes to why people love to work with small businesses instead of large corporations. People love the level of personalization that these businesses can offer but it can come at a price because often times your personal and business lives are intertwined in a way not found on the corporate level.
In the Cox small business survey, they found that people people in California loved working with small businesses because of familiarity (40%), loyalty (36%), and a greater level of trust vs larger businesses (24%) – yet 35% of those same people said that they would stop supporting a business if they knew that the business owner was vocal on social media about political leanings.
That isn't to say you can't have beliefs – ultimately business is more important as long as politics don't get in the way. In fact, the good news is that 82% of those people said simply knowing that the owner voted differently wouldn't impact their shopping choices.
Support Other Small Business Owners Where Possible
Just like trading business leads can help other small business owners, make sure to support them in your personal life too. People choose to shop from small businesses for factors other than price, so let's celebrate those unique products, friendly customer service and other factors that drew you to shop with a small business rather than the corporate big box store.
As a business owner myself, I've found that these conversations can even turn into business for yourself if you listen for opportunities to work together and help each other grow. This customer-client-customer relationship is something special and one of the things I love about working with people in this space.
While this isn't always possible you should always try to do so since if YOU aren't watching out for small businesses then who is?