Despite the fact that wine is almost exclusively marketed towards women in the United States, I know you guys enjoy a great wine. There's no time like the holidays to start celebrating this amazing gift of the gods and so I've decided to curate a collection of 25 different wines (and some spirits as well). We're going to feature a new wine or spirit each day, so make sure to check back daily and follow on Facebook between 3-5pm PT each day for a new selection.
Wine and Spirits Index:
12/01: Elysium from Quady Winery
12/02: GatoNegro from San Pedro Winery
12/03: Port Cask Finished Virginia - Highland Whiskey
12/04: Vina San Pedro 1865 Pinot Noir
12/05: MERF 2016 Cabernet Sauvignon
12/06: 9 Lives Sauvignon Blanc
12/07: Quady Vya Aperative Sweet Vermouth
12/08: Garrison Brothers Boot Flask Bourbon
12/09: Tasca Grillo
12/10: Morgante Nero D'Avola
12/11: Caruso & Minini Catarratto
12/12: Columbia Crest Grand Estates Cabernet Sauvignon
12/13: Chronic Cellars Dead Nuts
12/14: Chronic Cellars Spritz and Giggles
12/15: Old Elk Distillery Bourbon
12/16:
12/17: William Chris Pet Nat Rose
12/18: William Chris Mourvedre
12/19: Erath 2016 Oregon Pinot Noir
12/20: Sasseo
12/21: 9 Lives
12/22: Eau Claire Prickly Pear EquineOx Gin
12/23: Albarino
12/24: Les Stephane Cotes Rhone Reserve
12/25: Batch 88 Starboard Port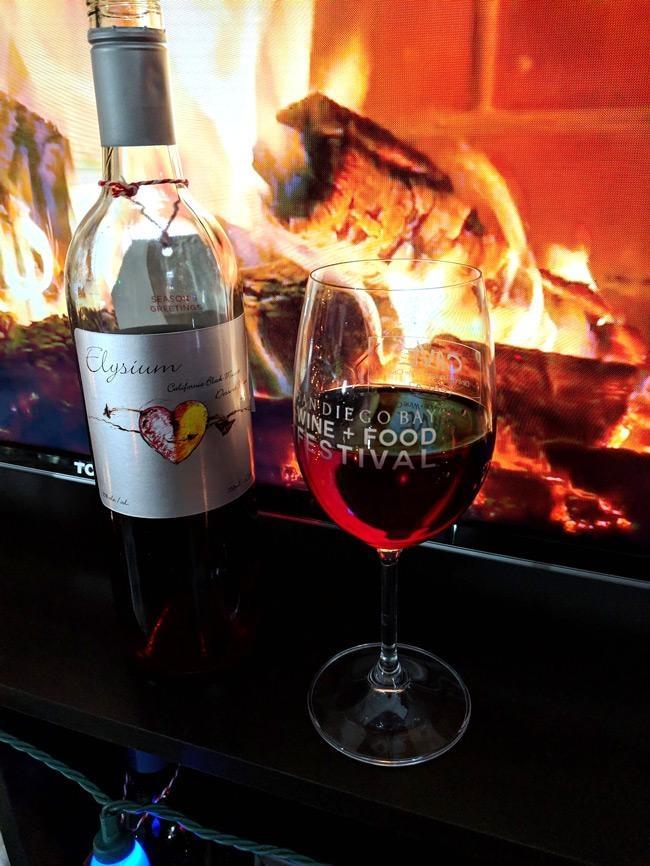 Elysium - California Black Muscat from Quady Winery
This is a favorite that we first tasted at the 2018 San Diego Wine and Food Festival. Elysium from Quady Winery is a California Black Muscat and described as having an aroma of roses, accompanied by dark fruit - cherries and strawberries with a fruity acidity and a clean finish. It's categorized as a desert wine and so it is absolutely on the sweeter end of the spectrum. However, unlike some dessert wines that I've tasted in the past, this one is light enough to enjoy with pizza or pasta or simply around the fire after a day of skiing or fishing. Official pairing recommendations suggest cheeses such as goat or Gorgonzola and dark chocolate.
This wine hails from California where the vineyard was originally intended to produce sacramental wine for a local church. In 1983, when the church ceased operations the product was purchased by a nearby grower, Andrew Quady and the rest is history.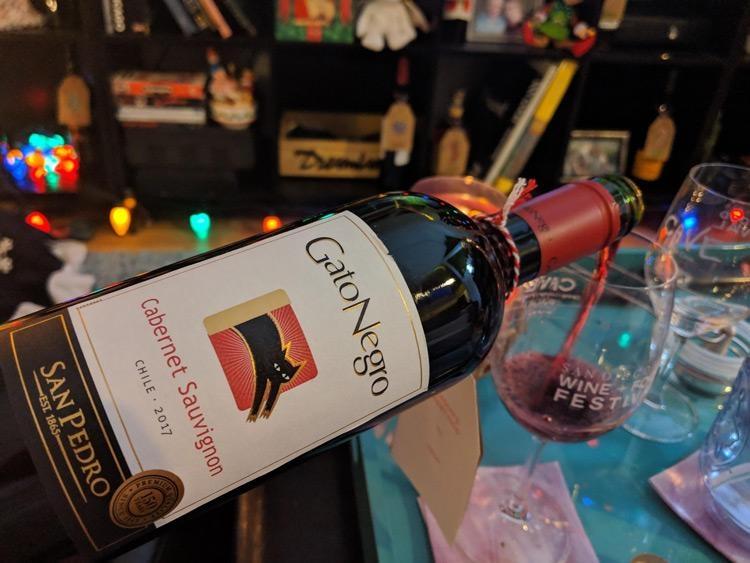 GatoNegro - Cabernet Sauvignon from San Pedro
GatoNegro from San Pedro has rich heritage of more than 150 years in the winemaking business. This Cabernet Sauvignon is surprisingly easy on the palate compared to some other cabs that I've tried. It has a medium body with notes of strawberries and chocolate. Despite it's medium body, GatoNegro still maintains great flavor and it paired well with our dinner tonight that included slow cooker brisket braised in a red wine broth served with latkes topped with applesauce.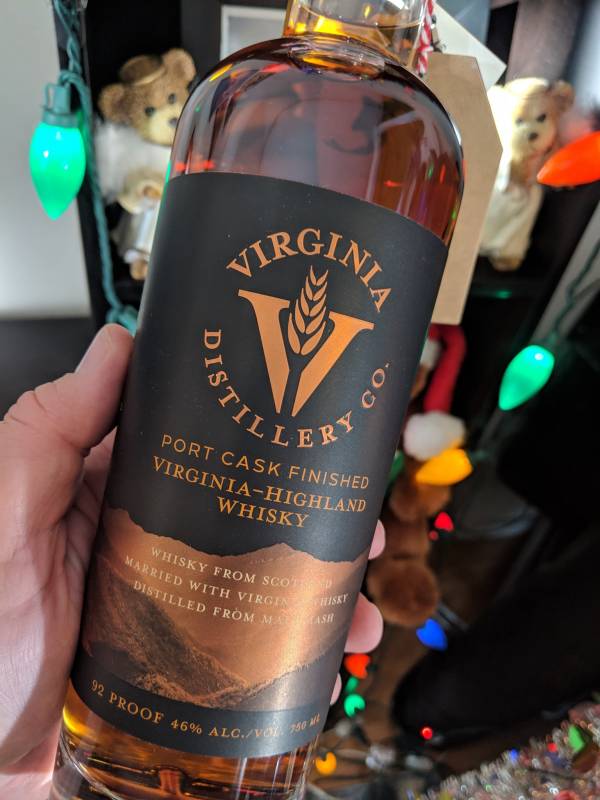 Port Cask Finished Virginia - Highland Whiskey
This one comes to us from Virginia Distillery Company. Scotch lovers will appreciate this very unique expression that marries whiskey from Scotland with whiskey from Virginia that is then finished in port-style casks from a Virginia winery. On the nose you'll find dried fruit and raisins, along with vanilla and barrel spice. The palette features notes of toffee, cocoa and toasted oak. Personally, I found this to be more peaty than I prefer but if you enjoy that element of Scotch whiskey with an American twist then this is a fantastic one to pick up or gift to a friend.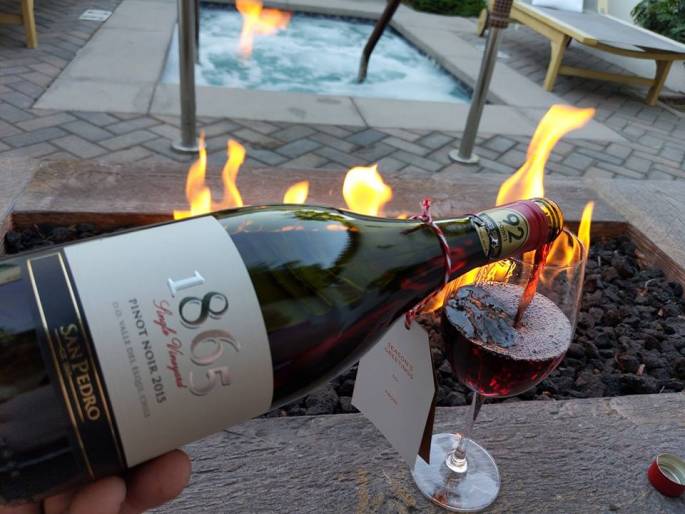 Vina San Pedro 1865 Pinot Noir
This 1865 Pinot Noir comes to us from Chile and commemorates the year the winery was founded. It features a strong bouquet with aromas of ripe red fruit including cherries and plums. While it is described as having noticeable tannins, I felt like it wasn't overpowering and I enjoyed the balance while sipping it by the fire pit in the rain.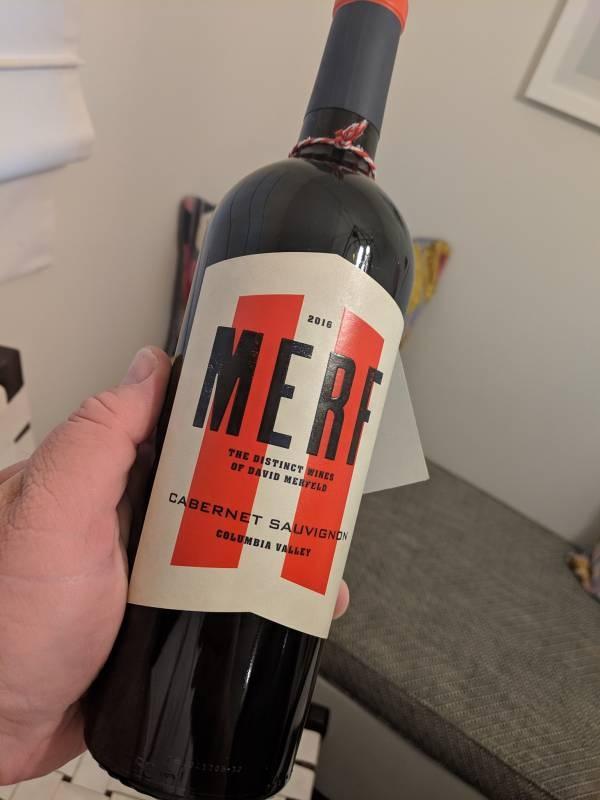 MERF 2016 Cabernet Sauvignon
I love to celebrate wines that don't take themselves too seriously but at the same time aren't "novelty wines". MERF comes to us from David "Merf" Merfeld who started as a brewery and now is rocking the wine world with his unique style. We're going to be talking more about this guy in the future but for right now, I can share that this was a highlight of our series so far. It is easy to drink with a great balance of flavors and light tannins. It is a blend of 80% Cabernet Sauvignon, 19% Merlot, and 1% Cabernet Franc.
9 Lives Sauvignon Blanc
While we love red wines here, white can't be ignored since man can't live on red wine alone! This 9 Lives Reserve Sauvignon Blanc features citrus notes of grapefruit and slight sweetness as well. It has a great flavor that is fresh and well balanced.
Quady Vya Sweet Vermouth
Craft vermouth is something I'm starting to see more often and it can be enjoyed both as a mixer as well as some people enjoy drinking it as an aperitif before dinner. We're going to be experimenting with Vya sweet vermouth making some cocktails in the near future. While Martini and Rossi has earned it's place in most bars across the country, it's time to embrace American options too. For those of you who aren't familiar with what Vermouth is, it is an aromatized and fortified wine that is flavored with botanicals that might include: roots, barks, flowers, seeds, herbs and spices. In cocktails such as a martini, Manhattan, Rob Roy, or Negroni it adds that important dimension that helps the mixture of spirits come together as a cocktail.
When enjoyed as an aperitif before dinner, vermouth can help stimulate the appetite - though usually this is best for dry vs sweet vermouth.
I'm looking forward to playing with Vya more since it's fairly unique as a sweet vermouth in that it features a mix of Tinta Roriz, Orange Muscat, and dry white wine that is then hand infused with a selection of more than seventeen herbs and spices.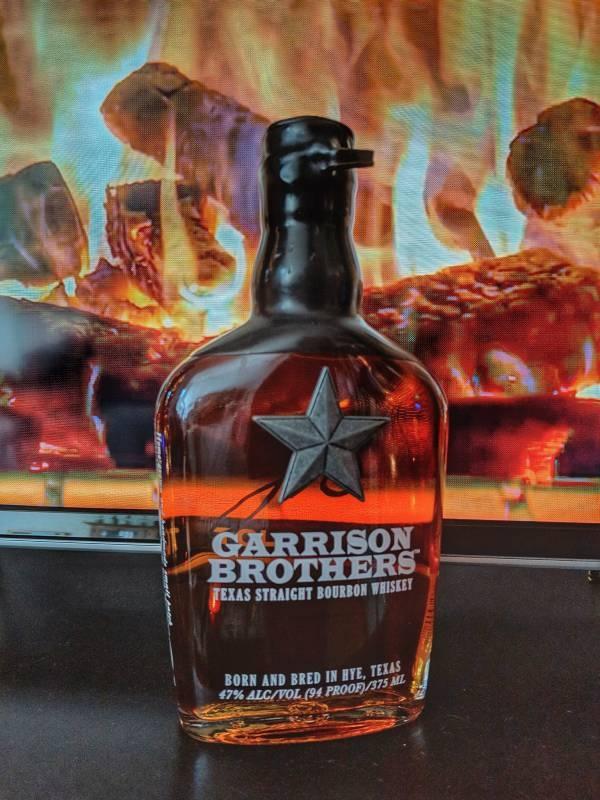 Garrison Brothers Boot Flask Bourbon
I first enjoyed Garrison Brothers whiskey during a tasting while visiting San Antonio a few years ago. I've been a fan of the brand since then. This "Boot Flask" is a smaller 375 ml bottle that is designed to fit in your boot but is still the same awesome bourbon that comes in the full sized bottle. While the bottle is always important, it's what's inside that counts. Luckily you are in for a treat here as well. I find that it is a bit less sweet than some other bourbons and feels like a "Man's Bourbon" in that I really enjoy the flavor while some of my female friends prefer something a bit smoother.
The whiskey features a nose of golden delicious apple and honey with sweet floral verbena. This is matched with flavors of honeysuckle, orange candy, yellow pound cake, and baking spices with smoky and spicy notes as well.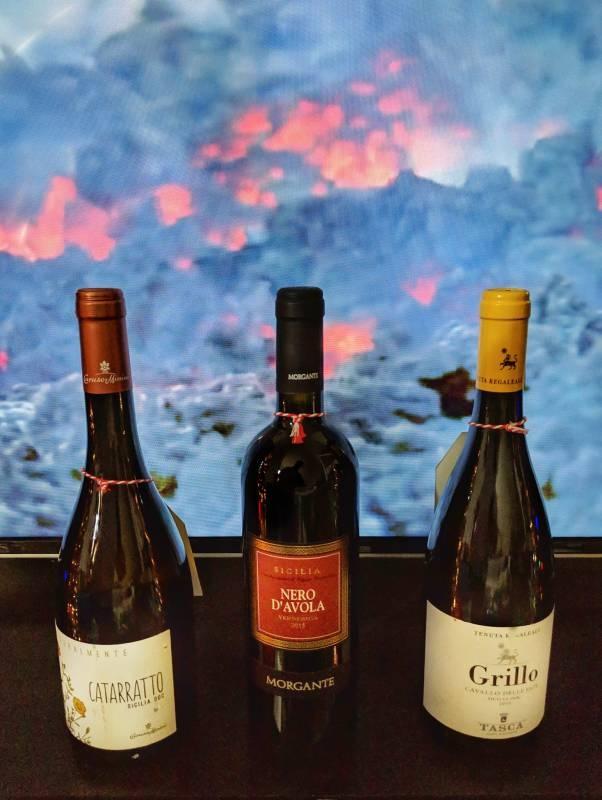 Tasca Grillo
Morgante Nero D'Avola
Caruso & Minini Catarratto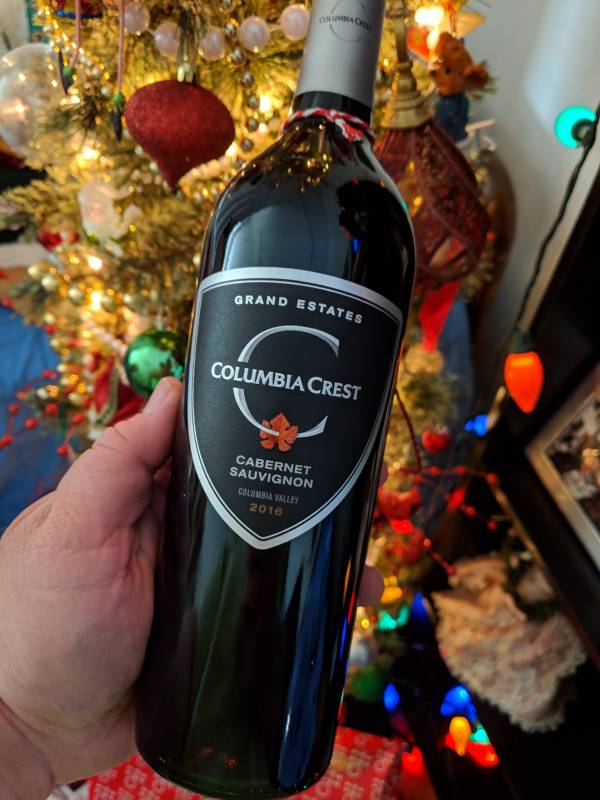 Columbia Crest Grand Estates Cabernet Sauvignon
Columbia Crest is one of my absolute favorite wineries. They are somewhat sentimental to me since it was their staff and (former) winemaker, Juan that really inspired me to explore wine. While my "go to cab" is the H3 Cabernet Sauvignon, I'm also in love with this 2016 Cabernet Sauvignon from their Grand Estates collection. This Grand Estates Cabernet features a blend of 86% Cabernet Sauvignon, 13% Merlot, and 1% other reds. With aromas of dark berry fruit and plum and notes of chocolate and vanilla on the palate this was a delicious way to end the night. While pairing choices would generally lean towards blue cheese, dark chocolate, and red meats like beef, veal, or duck - it also paired well with Christmas cookies and chocolates while sitting on the couch, watching a movie with Heather.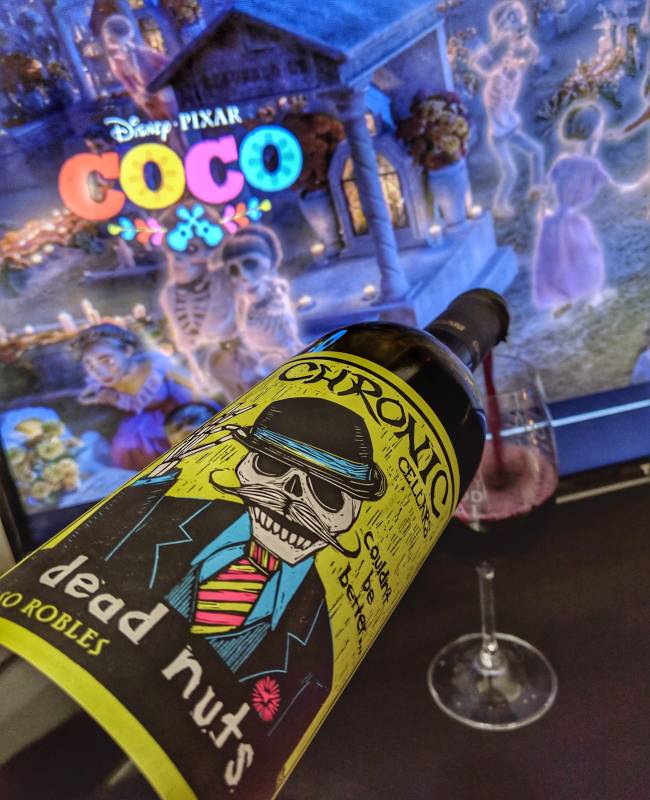 Chronic Cellars Dead Nuts
Upon opening the bottle I was immediately struck by a phenomenal nose that features strawberries and blackberries and made me pause to simply enjoy the bouquet for a moment before taking a sip. This mix of 73% Zinfandel, 21% Petite Sirah, and 6% Tempranillo is a little more dry than I normally would enjoy but the fruit forward bold flavor really made me happy to enjoy the glass. This 2016 Dead Nuts has a mild acidity, and a smooth palate with light tannins, so overall very well balanced and enjoyable.
I honestly LOVE Chronic Cellars, while the labels are fun, bright, and creative - it's not a novelty wine. Paso Robles is putting out some of the best wine in the country and from my experience drinking my way through the portfolio here it is absolutely a destination I need to explore more in 2019!