Come on guys, raise your hand if you're the guy who stops at the gas station to pick up some last minute supplies before heading to the party! It's ok, while our wives and girlfriends may bemoan our procrastination, now is the time to celebrate your ingenuity for crafting delicious solutions that everyone will love. Luckily, the Game Day Chef Challenge is back and this is your chance to shine and maybe even win $25,000 in Chevron gift cards! Plus, we're doing a giveaway to help kick things off, so make sure to enter that for your chance at winning $50, $30, or $20 in Chevron gift cards.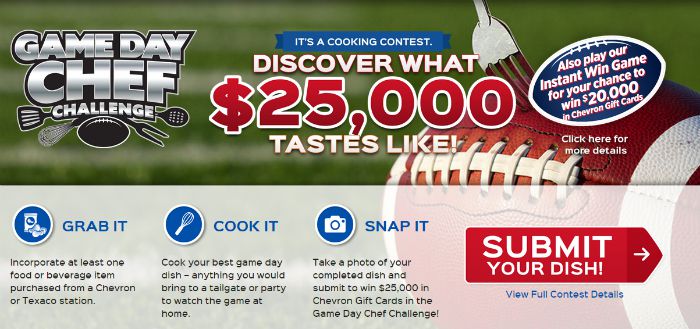 Is your creative mind starting to tick? I hope so, we've only got 25 minutes till kickoff and that means there's no time to go to the grocery store.
Let's stop at Chevron on the way to the party and see what we can dig up!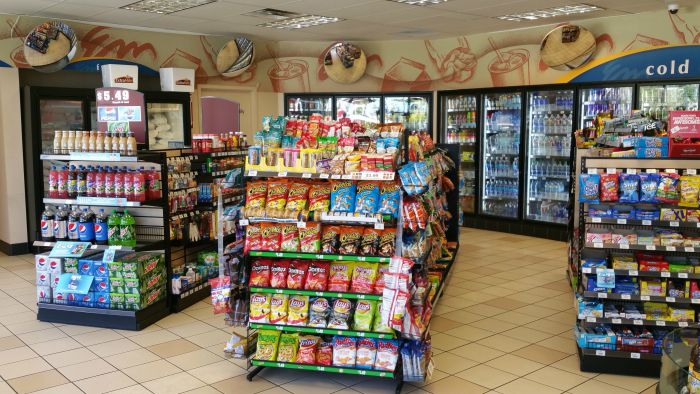 Each convenience mart at Chevron Texaco is going to be a little different but you should have no problem creating some cool recipe ideas.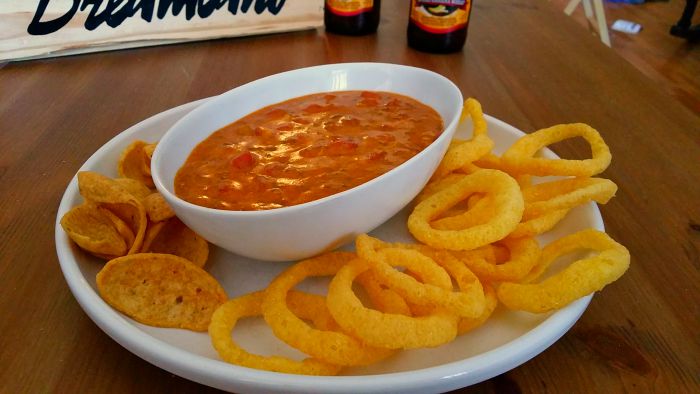 Game Day Chili Queso Dip!
Ok guys, this is super easy but tastes oh so good and all of the ingredients can be found in your local Chevron Texaco convenience mart.
Ingredients:
1 Can of Diced Tomatoes with Hot Jalapeno Peppers
1 Can of Chili (you can use beans or no beans as you prefer)
1 Jar of Queso Cheese Dip
Preparation:
Throw all the ingredients in a sauce pan and heat while stirring to make sure it is well mixed.
Serve with chips or Funyuns etc.
I am sure you can do something fancier than that, but hopefully it inspires you towards greatness! Are you ready?
Game Day Chef Challenge Rules:
Fans, foodies, and chefs are invited to submit their favorite game day dish, but one or more ingredients must be a food or beverage item purchased at a Chevron Texaco station. This excludes alcoholic beverages. The Game Day Chef Challenge is open to residents 18 and older residing in Alabama, Arizona, California, Florida, Georgia, Idaho, Louisiana, Mississippi, Nevada, New Mexico, Oregon, Tennessee, Texas, Utah, Washington and Wyoming. Recipes must be submitted between now and September 30, 2015. For complete and official rules, please visit www.TheGameDayChef.com.