When you think of a great Vegas buffet, chances are you think about the Bacchanal over at Caesar's Palace or Aria's awesome new buffet we plowed through earlier this year. What I WASN'T expecting was that Excalibur's buffet would be right up there, delivering a feast fit for a king. While the days of costumed knights and ladies is gone and so is the super kitschy medieval feast theme, what's replaced it is a super clean, light and airy dining room with an updated menu and easy navigation.
The new buffet opened in December last year, following a $6 million dollar overhaul and it is a huge improvement ...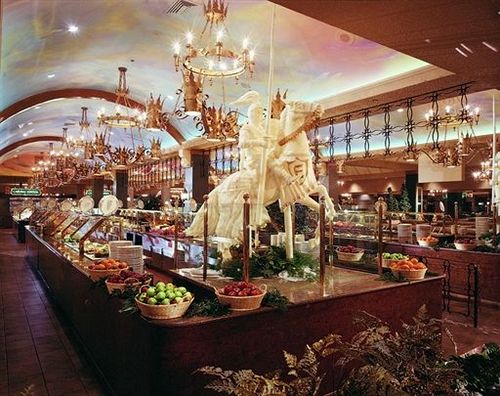 As you can see, the old design matched the theme of the hotel - why it was fun at the time, things have moved on. "Buffets" aren't just stuff yourself with tons of crappy food. Today they are having to compete with the quality you would find at a plated restaurant. Presentation is critical today as well - even if it might still be sitting at a steam table.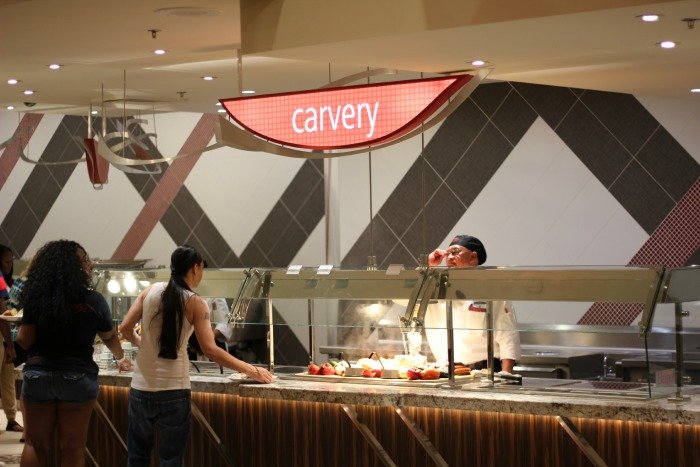 As you can see, the new look is chic, modern and much better lighting. Additionally, you will notice that the long rows are gone and there is plenty of space between items.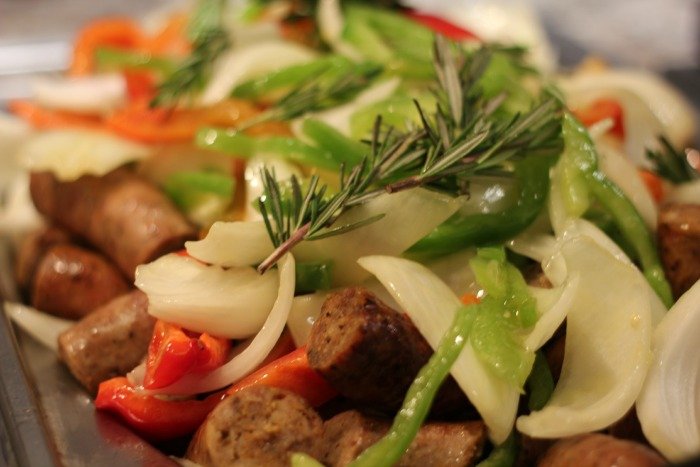 As an example of presentation, you could simply have placed a tray of sausages out on the line. Instead though, by adding a sprig of rosemary and multicolored onions and peppers it has dramatically improved the look and feel of the experience.
Even though this doesn't last as people go through the food, it is still nice to know that there is an attention to detail and that they chef's care about the product they are producing.
Excalibur Buffet Highlights Include:
Breakfast:
Breakfast Paninis; warm, grilled breakfast sandwiches available in sweet or savory varieties including Strawberry, Banana and Nutella or Bacon, Egg and Cheddar served on a croissant
Made-to-Order Omelets; farm fresh eggs, egg whites or Egg Beaters mixed with a variety of vegetable, meat and cheese selections according to guests' specifications
Brunch:
Vanilla Bean Adobo Chicken Tacos; chicken cooked in an aromatic blend of Asian spices and served with fresh tortillas
Tasso Ham and Tortellini Pasta; made with spicy Cajun shrimp and asparagus spears
Dinner:
Salmon with Hibiscus Glaze; fresh-baked salmon topped with a house-made Hibiscus glaze and garnished with edible Hibiscus flowers
Cajun Crab Mac & Cheese; creamy macaroni and cheese mixed with Cajun-seasoned crab meat and baked to perfection (also at lunch)
Lobster Polenta; rich polenta combined with succulent pieces of fresh lobster, truffle oil and shaved Shitake mushrooms
Hand-dipped Ice Cream Bars; an array of ice cream flavors dipped in milk, dark or white chocolate and rolled in guests' choice of toppings including, nuts, candy pieces or cookie crumbs
Friday Crab Leg Fest:
Each Friday, the buffet transforms into a seafood extravaganza featuring crawfish, blue crab, crab legs, sushi, peel-and-eat shrimp, lobster polenta and more.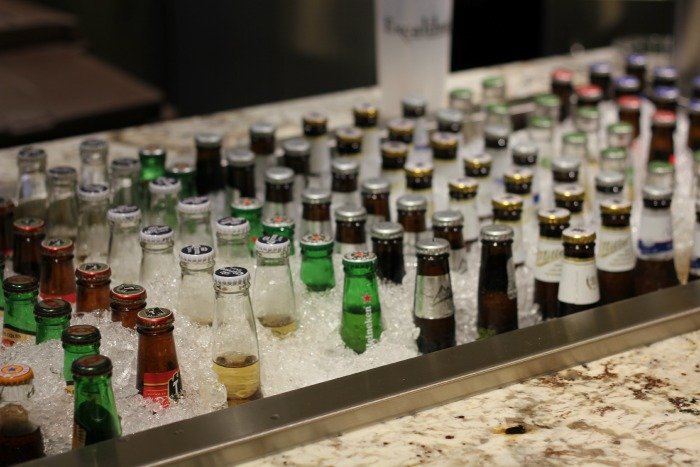 Like most Las Vegas buffets now, they offer a full bar. You can buy individual bottled beers, frozen drinks, and cocktails or you can get an "All-You-Can-Drink" package for $7.99 that includes unlimited draft beer and house wine.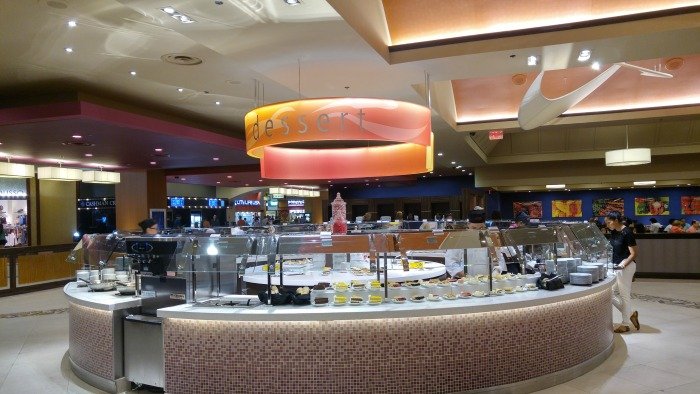 Of course, no buffet is complete without a dessert station and we found this one to be almost a centerpiece of the entire experience. They had a large selection of sugar free items as well as plenty of other treats for virtually every desire imaginable.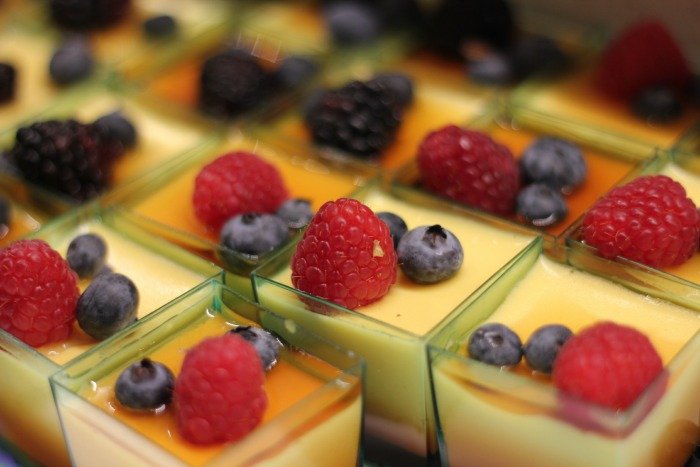 Once again, presentation was exceptional here!
For a buffet that is "budget" compared to others on the strip, we found this to be a remarkably good option if you are looking to get a great meal at a fair price.
Breakfast: $17.99
Lunch: $18.99
Dinner: $23.99 - $26.99 (Friday / Saturday Crab Leg Fest)
To put that in comparison, Aria's dinner ranges from $34.99-$39.99 and MGM Grand's dinner ranges from $29.99 - $36.99. While both of them have somewhat larger selection of foods available, Excalibur's dining experience is far superior to MGM's (though we look forward to seeing MGM Grand go through a similar refresh at some point in the future too).
Though, for the ultimate experience, you can actually buy an "all-day-buffet" pass for $35.99 - $39.99 (Friday-Sunday) that allows you to come and go all day ...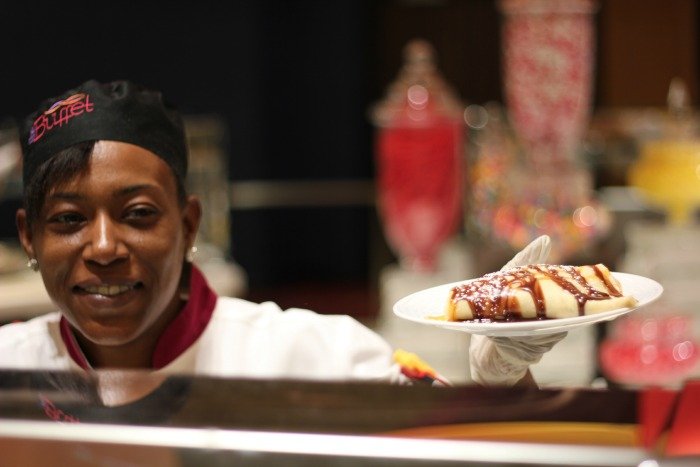 Finally, I have to give a shout out to the crepe lady at the dessert station ...
She was super awesome and incredibly friendly. She also remembered what my wife had ordered a few min ago (we were not together at the line) and jokingly made a comment about her choice compared to mine.
PEOPLE is the one element that sometimes escapes reviews since traditionally in a buffet experience service is the element that is removed from the equation. However, every one of the people I met - from the executive chef to the lady making my crepe was exceptionally friendly and welcoming.
We heartily recommend that you consider The Buffet at Excalibur next time you are looking for lunch or dinner in Vegas!
You've heard the phrase "eat like a king" ... well, the kitchy days of the old Excalibur Hotel Casino buffet are gone,...

Posted by ManTripping on Monday, June 15, 2015