Ok, so I had some help but I think this is an AWESOME idea and it was super fun to try out. Essentially, each Hard Rock Cafe is participating in a celebration of different styles of hamburgers that are inspired by different awesome cities around the world. Different locations will have different selections from their list of 16 different burgers. Each of those burgers is inspired by a different city that hosts a Hard Rock Cafe location.
Our collection included the Date Burger - Dubai, Java Lava Burger - Seattle, Schnitzel Burger - Cologne, and my favorite the Banh Mi Burger from Ho Chi Minh City.
Are you ready?
I challenge you to eat your way around the world ... it's a fun challenge and it's ok to bring a friend to help!
I'm never one to pass up an opportunity to try a new burger, so we packed up and walked down the street to the Hard Rock Cafe San Diego to take a tour around the world ...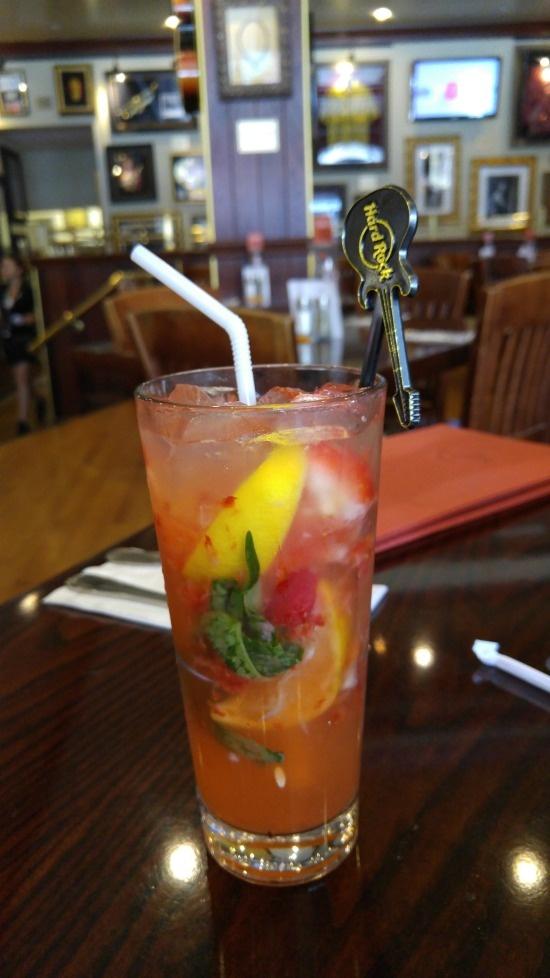 Before I even dive into the burgers, I need to take a moment to share a secret with you guys. Hard Rock Cafe has an incredible Basil Strawberry Lemonade! Seriously, I love beer and I love my spirits but this is probably one of the best drinks I have ever had. It just tastes amazing and it looks super cool in the glass too. It's what I love to order when I come here and even though it isn't the "manliest" of drinks it's just damn good!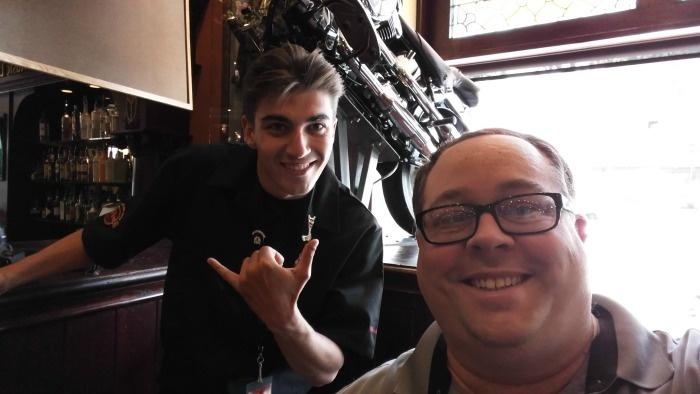 However, this is the Hard Rock Cafe - not the "let's hang out on the porch and listen to Dido Cafe, so at the insistence of the staff I graciously upgraded to a sampler flight of San Diego craft beers :)
If you haven't been to a Hard Rock Cafe in a while, you should check it out.
Back in the day, I remember it being sort of cheesy and more "gimmick" than substance. Today though, they still maintain the awesome environment with rock and roll memorabilia on the walls, but the food and drinks are awesome too. We'll be heading back to this location to check out the happy hour specials later this month, so stay tuned to our Twitter and Instagram to see what we we'll be drinking ...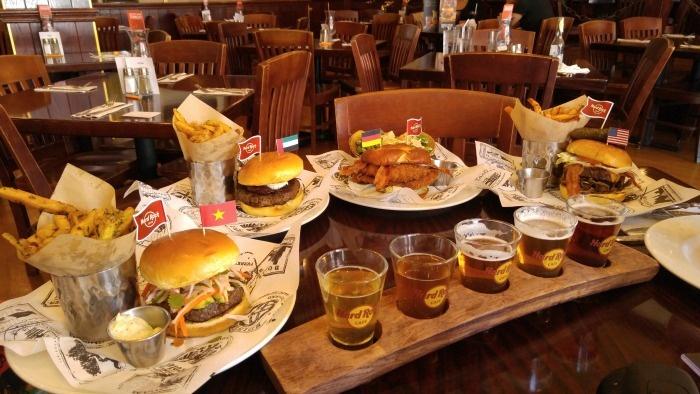 Initially, I was expecting that we would have each burger delivered individually, but when I looked up and saw a huge tray of burgers I knew that this was about to get really fun!
Not only were there four different amazing looking burgers, but the culinary team at Hard Rock Cafe also created signature fries. Pairings include: including Chili Seasoned Fries with Chipotle Garlic Ketchup, Parmesan Romano Fries with Garlic Aioli and Herb and Garlic Fries with Chimichurri Mayo.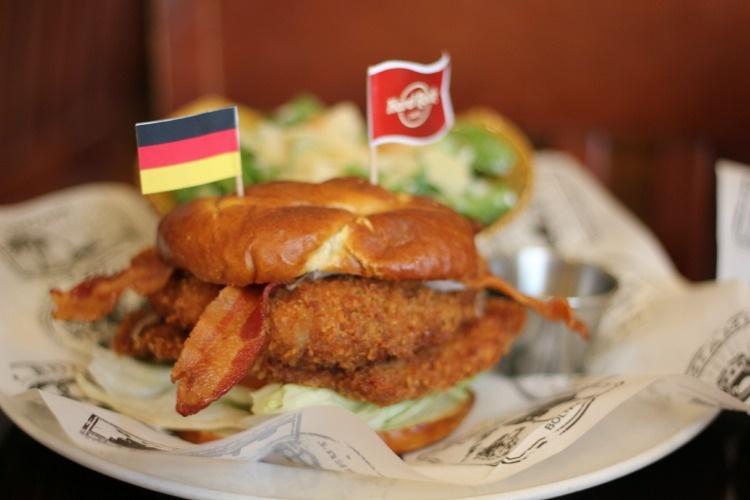 Each of the burgers is based on an interpretation of a different city around the world where you can find a Hard Rock Cafe.
This one is the Schnitzel Burger from Cologne, featuring two stacked and lightly breaded pork schnitzels topped with sauerkraut, spicy brown mustard, and bacon.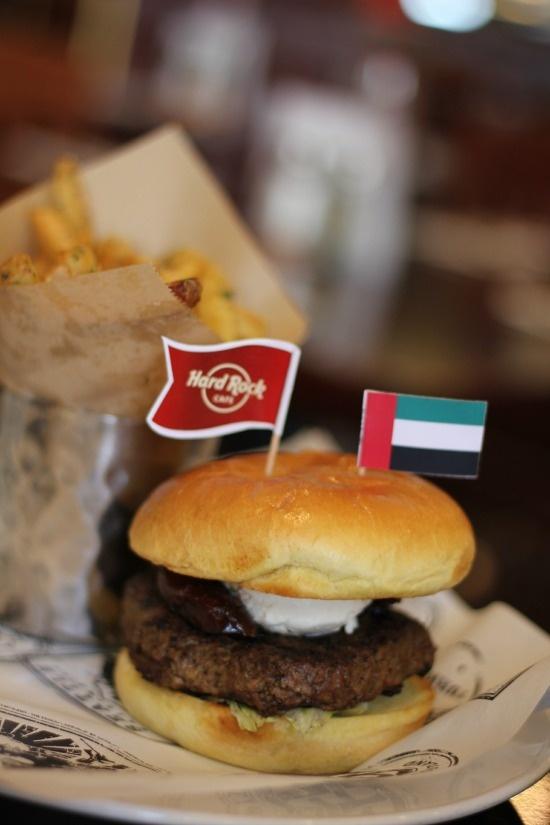 Next we had the Date Burger inspired by Dubai that featured dates and cream cheese on the burger patty. This I am told is a crowd favorite, but it sort of missed it for me. I wish it was goat cheese on a lamb patty but we can't have everything.
It was good though, I just wish it had a bit more bite from the cheese.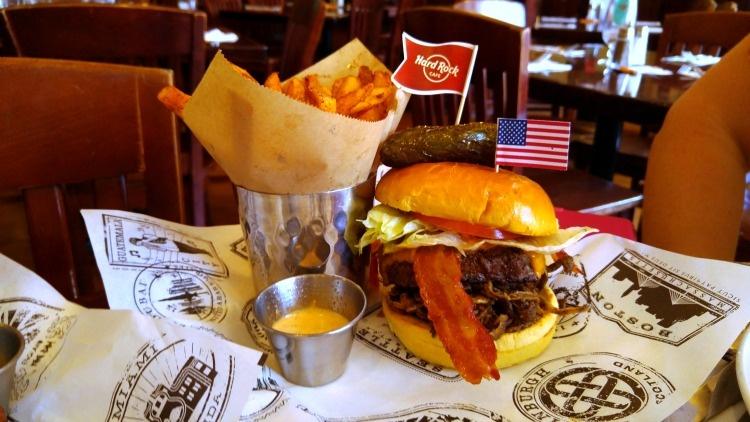 And then we went back home to the United States for the awesome Java Lava burger inspired by Seattle. This burger features house-made espresso rub and crunchy java onions as well as bacon and Tillamook cheddar cheese for a uniquely awesome twist on the classic bacon cheeseburger. Oh yeah, and on top is a fried jalapeno, because well ... America!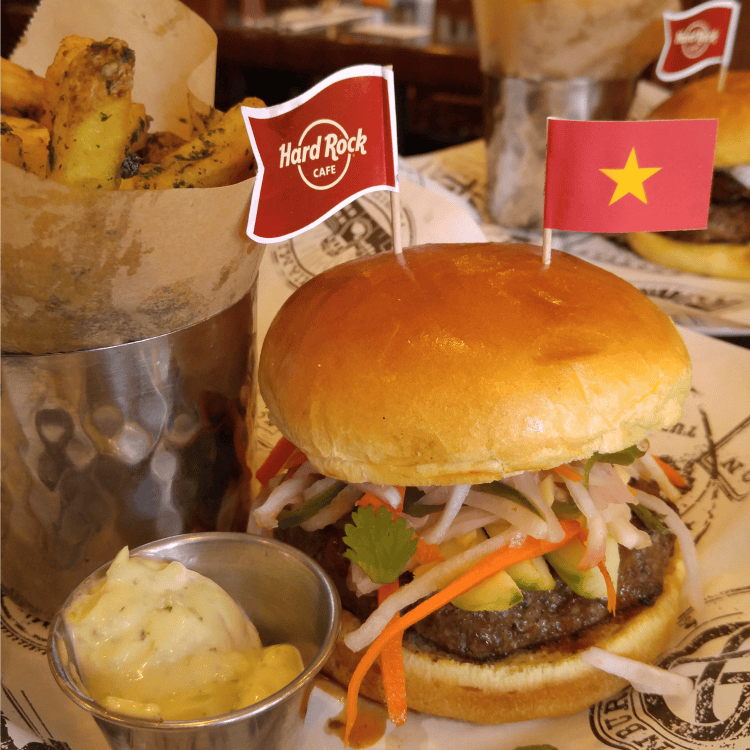 Finally, we flew across the Pacific ocean and landed in Ho Chi Minh City. The Banh Mi Burger was absolutely my favorite - it was the same Angus beef patty, but topped with a house-made Vietnamese glaze, pickled vegetables, and cucumbers - accompanied by a garnish of cilantro and green onions.
Unlike the other burgers that were fairly heavy (though absolutely delicious), this one was light, fresh and crisp.
We didn't try it (not sure why not), but each Hard Rock Cafe location also has it's own unique "Local Legendary Burger". For the San Diego Hard Rock Cafe it is the Southwest Chicken Burger and features shredded chicken on top of a beef patty with crispy fried jalapenos and sriracha aioli.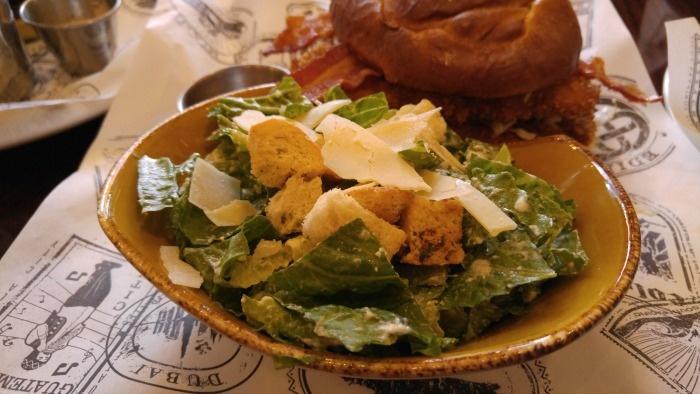 While each burger was accompanied by a different pairing of fries and dips, you can also get a salad if you prefer.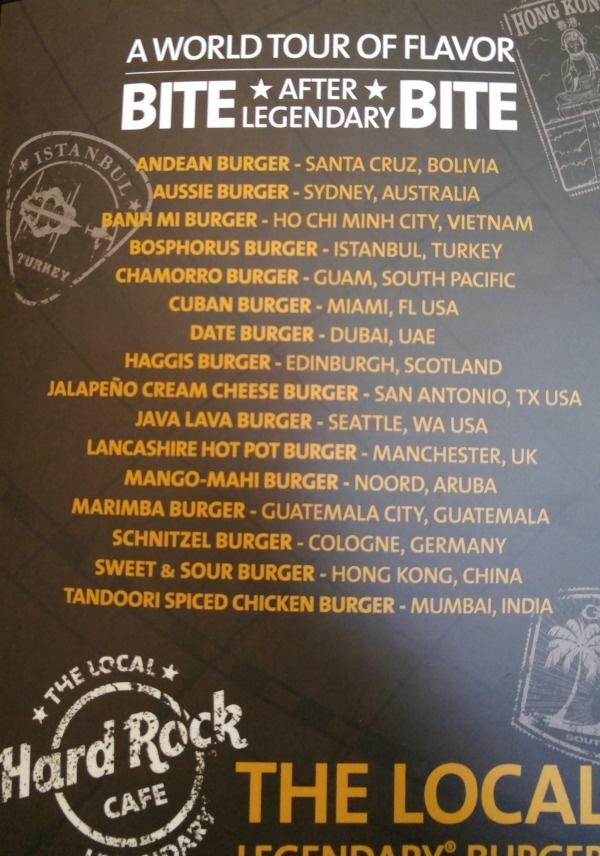 More than 150 burgers were evaluated by the culinary team and they arrived on the 16 different creations above.
Each Hard Rock Cafe will have it's own combination of these World Burger Tour creations and they will be available now through Tuesday, June 30, 2015. Contact your local Hard Rock Cafe for full details on what they are serving up.