There are two things that are essential for a travel stop to have aside from gas at a good price - clean bathrooms and good coffee. I've known Pilot Flying J usually has good bathrooms and gas, but as a non-coffee drinker, I've wondered how their coffee really was. So, when I was driving through Michigan last month with my father-in-law I asked him about their coffee and he said that's where he loves to stop.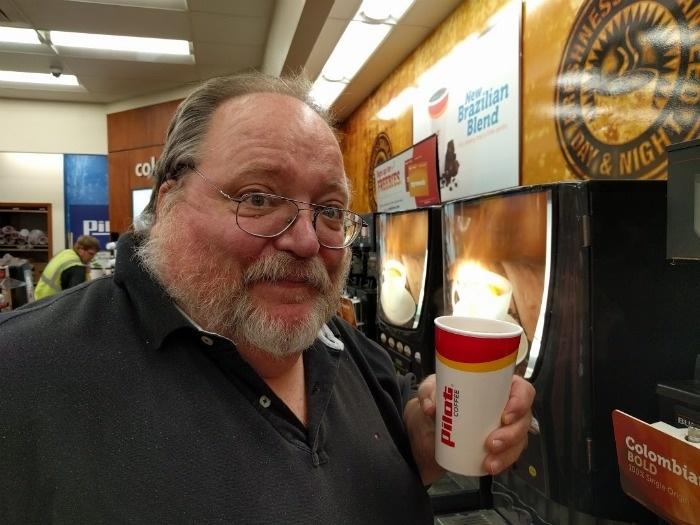 All too often we get asked to share that things are awesome or told focus on the positives of stuff, just because we're being paid to say so. My father-in-law though just knows what he likes. He's the guy that helped Heather and I move into our apartment in Chicago years ago, gets up early on weekends drive all over Ohio to attend gun shows, and because he has a truck - and a big heart tends to be called on to help do various random things since my wife's family is spread out all over northern Ohio and Eastern Michigan.
If there's one thing that keeps him going it's good coffee at a good price without the pretentiousness of going into a "coffee shop".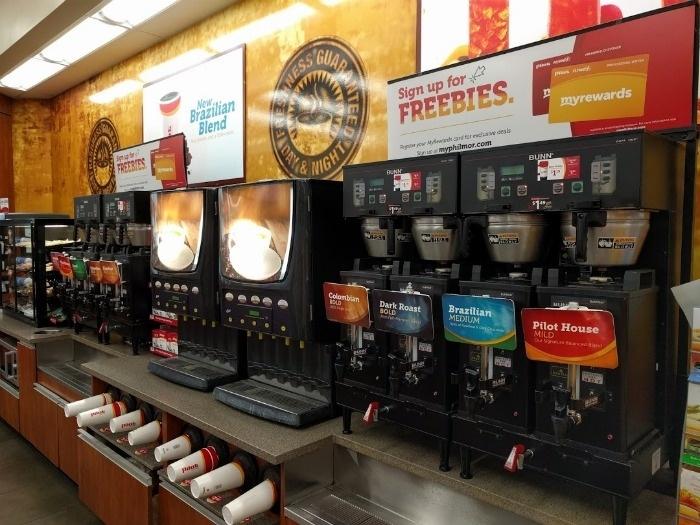 While various locations may differ in their complete assortment, I've found that this wall of coffee at the location we stopped at in Michigan is pretty typical. You've got everything you can possibly imagine from fancy "cappuccino" dispensers to good old fashion brewed coffee.
While what you see is great, Pilot and Flying J Travel Centers actually have their own head roaster who oversees the process from purchasing coffee from top regions around the world to roasting it right here in the US in Portland, Oregon.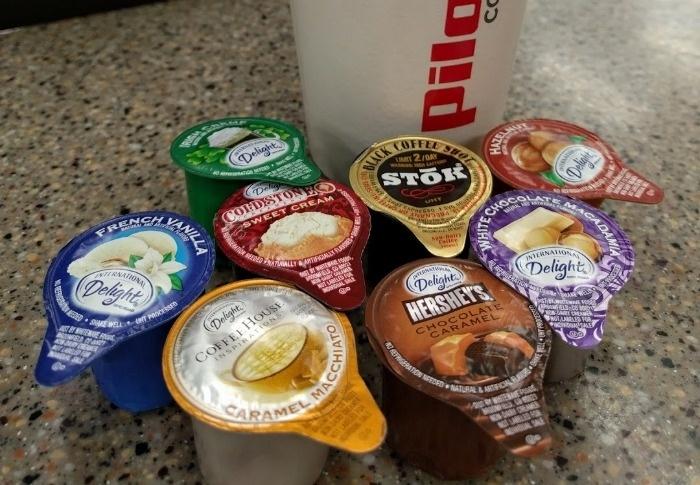 Not only that, but they have an absolutely incredible selection of coffee creamers. Sure, they also have "regular creamer" but who wants that when you can have Hershey's Chocolate Caramel, International Delight French Vanilla, Cold Stone Sweet Cream. Or ... for those of you who really need a pick me up, you can even grab a STOK Black Coffee Shot, which is the equivalent of one shot of espresso (40 MG of caffeine)! You know it's some serious stuff when the label has a safety warning.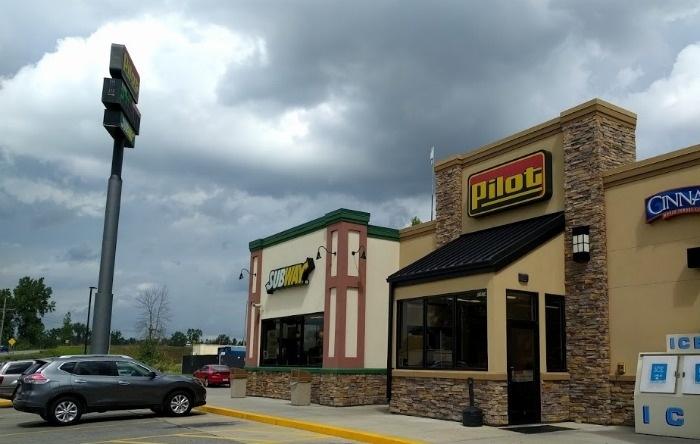 But seriously, Pilot Flying J knows their customers and they know what they like. This is a store that while constantly staying "on trend" never makes things unapproachable and I think that's why my Father-in-Law loves to stop there. He would never set foot in a coffee shop and would never pay the prices those fancy places demand. But he does know that he can run in here, grab something to drink and maybe even a snack to go with it such as some fresh fruit or a Cinnabon cinnamon roll and be back on the road quickly.