How many times have you heard "healthy" and thought, "YUCK!"? Probably most of you thought that at least once, but it doesn't have to be that way. The problem is that most "healthy" recipes are written by people that prefer "health" over big robust tastes, textures, and experience. I'm here to say that it doesn't have to be that way!
Dreamfields has presented me with a challenge to create an innovative recipe that includes: Beer, Smoked / Grilled Meats, Hot Peppers, Lemon, and a Vegetable of choice + two other ingredients that features their "Healthy Carb Living" pasta. By participating in this challenge, a donation will be made to a food pantry of my choice and the winning recipe creator will be able to donate an even larger amount.
Dreamfields pasta is designed for "Healthy Carb Living"!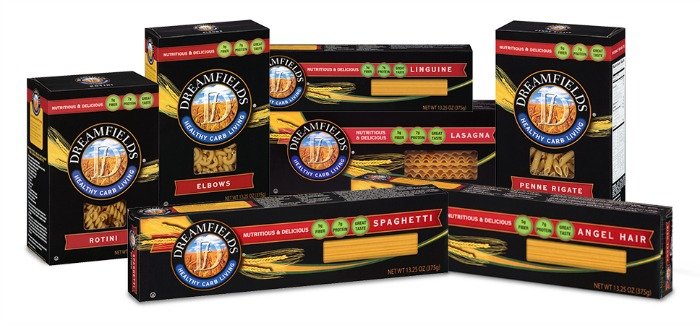 With 5 grams of fiber and 7 grams of protein per serving, it is healthier for you than some other brands but it still tastes great!
Are you ready to find out what my creation is?
This recipe is (loosely) inspired by some of the flavors from Southern California by combining peppers, lemons, beer, and mixed mariscos. For the beer you use, make sure to select a lemon shandy with a good strong lemon flavor to it.
Manly Surf & Turf Recipe:
1 box of Dreamfields Penne Pasta
16 oz ground pork sausage
16 oz mixed mariscos
8 tbs butter
1 cup chopped mushrooms
1 red pepper
2 jalapeno peppers
2 tbs crushed garlic
1 tbs season salt
1 lemon
1 lemon shandy beer
olive oil (for greasing grill basket)
Garnish:
1 lemon sliced into wheels
parmesan cheese (shredded)
Serves 4 people
Estimated prep time: 30 minutes
Directions:
Boil the Dreamfields pasta and start browning the pork sausage at the same time.
Remove once the pasta is almost finished cooking, but still firm remove it from the water, strain it, and set it aside. You may want to toss it with some olive oil to prevent it from sticking together as it cools.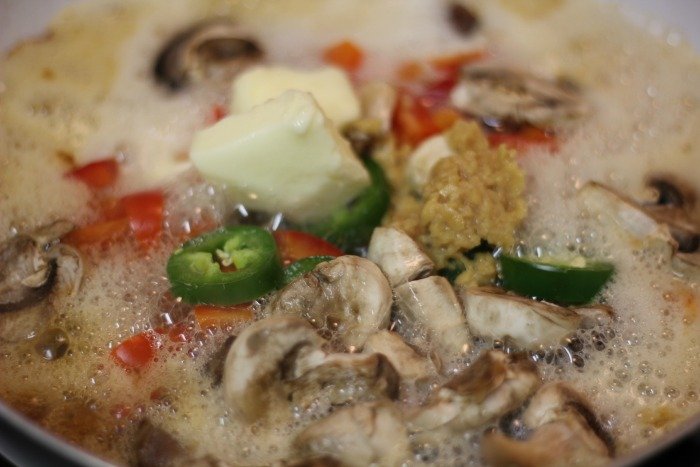 Once the sausage is finished browning, add beer, butter, garlic, season salt, mushrooms, and peppers and cook till the peppers are soft.
While this is cooking, fire up your grill and toss the mariscos on there in a grill basket or similar so they don't fall through the grates. Make sure to not overcook it, but just so there is a layer of char and crispiness - especially on the larger pieces of octopus and squid.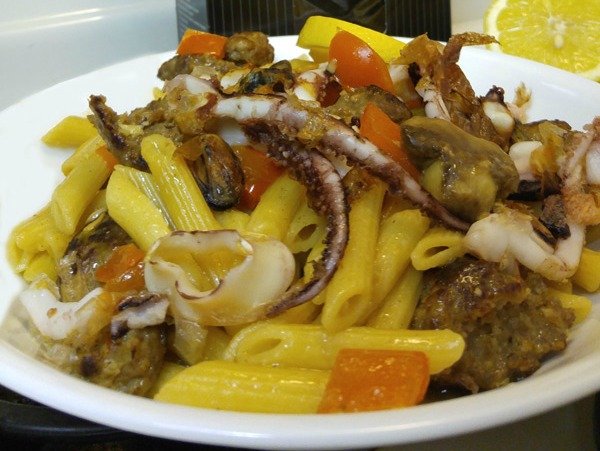 Finally, toss the pasta and mariscos into the pan with the lemon juice with all the other ingredients - toss a few times till the pasta is coated and serve.