While Vegas has trended away from lavish buffets, the tradition of a casino buffet being the crown jewel of a resort is alive and well in San Diego. Last week we were invited to check out Viejas Casino Resort's buffet during their new Friday Crab Legs feast and we were not disappointed!
Viejas Casino Resort was one of the original "Vegas Style" casinos in San Diego, but over the past several years the market has boomed and so they are too have grown to keep pace with the others. We're hoping to go back again and do a more complete visit at some point in the future, but this isn't just a bunch of slot machines and a couple restaurants. Viejas is a complete resort with entertainment, outlet stores, a huge gaming floor complete with table games as well as more than 2,000 slot machines. One of the quirks of gaming in California though is that dice and balls aren't permitted for table games - but cards are. This means that we have some interesting derivatives of roulette and craps here too.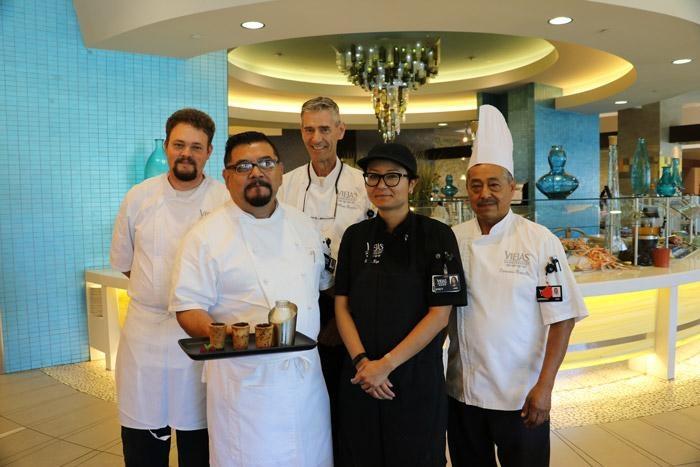 While games and shopping are certain draws - it's ultimately the buffet that draws many of us to visit one resort or another and Viejas is clearly a leader here. After talking with the chefs, it's clear that they take a lot of pride in the buffet at Viejas. It isn't just something to keep people full ... it's meant to be enjoyed. That's why they rotate items every few weeks and each of them has a favorite item that they encouraged me to try. Plus, they've even worked to optimize the dreaded "buffet line" and you can now even make reservations online using Yelp!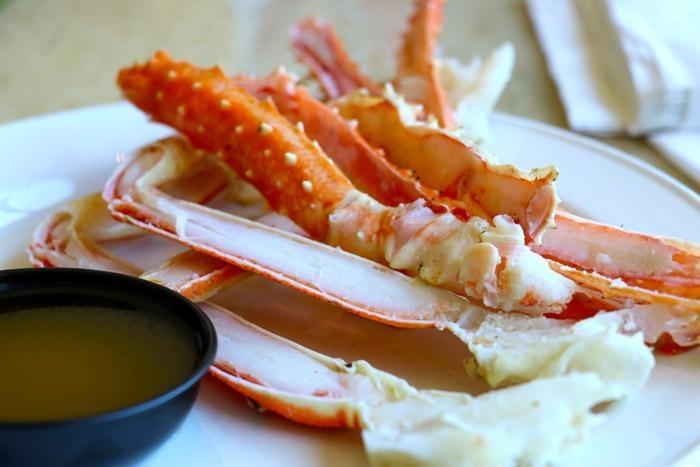 On Friday's they feature Alaskan King Crab Legs it is their Crab Legs Feast! Not only do they feature King Crab but they in fact feature Chilled as well as Steamed Snow Crab, Stone Crab, Dungeoness Crab, and Crawfish too. (OK so Crawfish aren't crabs but it's a feast for anyone craving crab legs).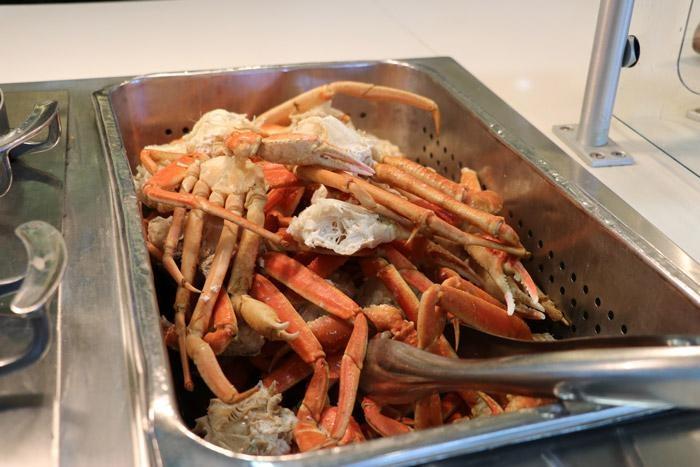 Over the Top is a phrase I sometimes use too often but it fits The Buffet at Viejas well. Typically you see just one type of crab, but they have FOUR and they were all perfectly prepared. Not only that, but they managed to stock the tables well so that it was never empty ... yet they were never sitting there for too long. This was something that I saw at other parts of the buffet as well. For instance, while looking at some of their small plates I noticed the chef removing six plates and refreshing them with new ones so that nothing was old or dried out.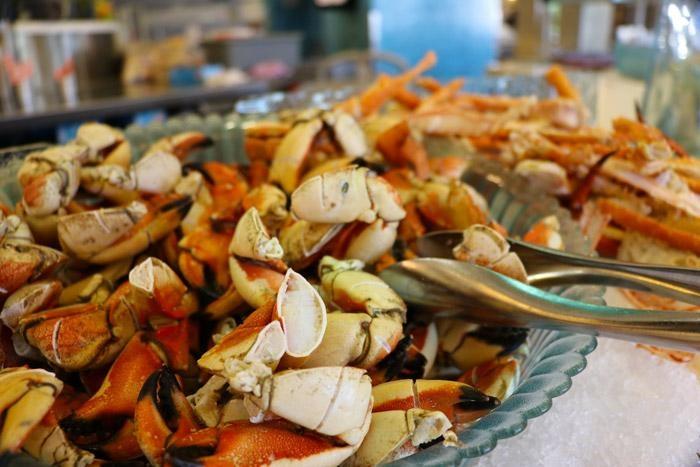 Ultimately, this attention to detail can be more important that the sheer number of items on the buffet. Luckily Viejas does both well!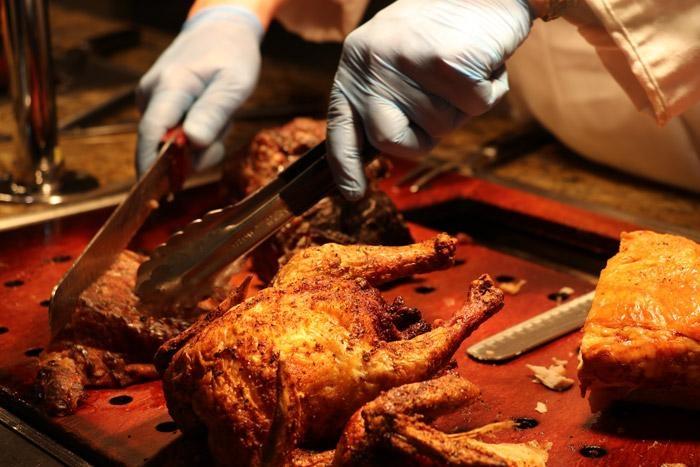 At the carving station, I found a similar abundance of meat fit for any carnivore. There was Tri Tip, Prime Rib, Turkey, Lamb, Roasted Chicken, Andouille Sausage, Kielbassa, and a bunch of others that I can't recall.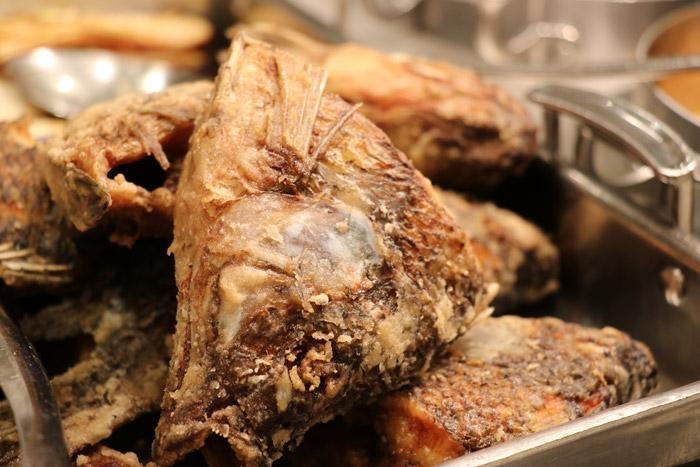 Further down the line was the Asian station where they had a mixture of standard (Chow Mein etc.) items as well as sushi and these fried fish heads, as well as other treats. They also had a Pho Station where you could make your own Pho from either Beef or Vegetable broth.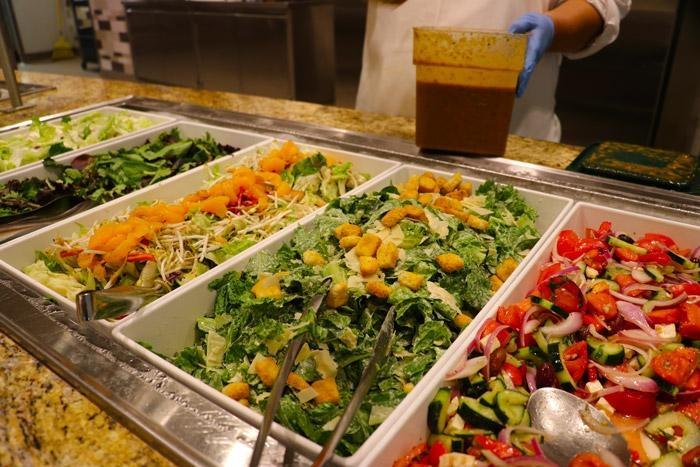 Salads here were of similar quality, presentation, and creativity. Honestly though, I chose not to fill up on vegetables when there was so much meat and fish available but they looked great. I did sample some of their Avocado Toast though!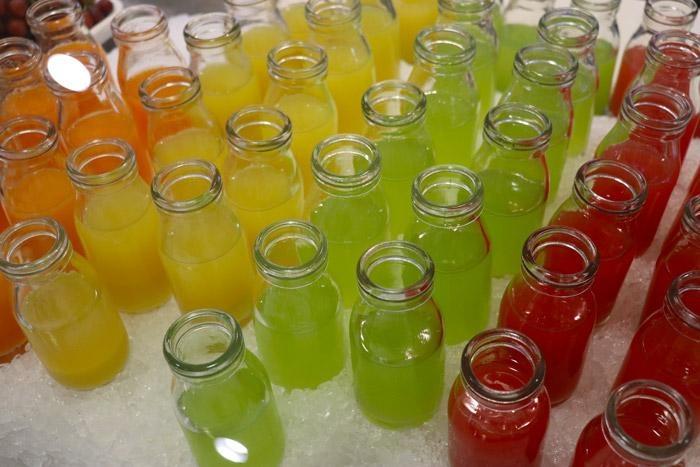 Beverages are included in teh $39.99 price for Friday-Sunday ($28.99 Monday-Thursday). This includes their juice bar with Watermellon, Cantilope, Honeydew, and Pineapple, soft drinks, and unlimited wine and beer too. On Friday-Sunday buffet days it also includes a Bloody Mary Bar in the morning and Margaritas after 2pm! For those of you who might be sceptical of "free beer" from a buffet ... so was I. However, I was shocked to see some of my favorites up on their tap including: Stone, Green Flash, and Stella Artois. Even better is that they are cool with you taking your drinks to the casino floor after you are done eatting.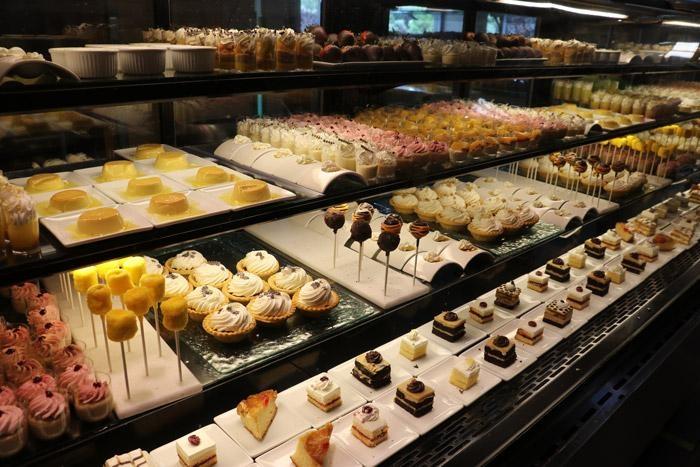 Of course, no buffet experience is complete without desert and Viejas delivered here as well. While some places truck in pre-made stuff they have an in-house pasterie chef and actually created a special desert just for us. Everyone loves milk and cookies - so she created a cookie cup served with ice cold milk for us to enjoy at the table. YUM!
In additon to the amazing deserts in the image above, they had an extensive collection of cookies, cakes and a sundae bar as well.
Here's a full video review tour of The Buffet at Viejas in case my words and photos alone don't quite do it justice!
Photo Gallery of Viejas Buffet:
{lightgallery type=local path=images/stories/viejas-casino-buffet/photo-gallery/ previewWidth=160}Viejas Casino Buffet Review Photo Gallery{/lightgallery}