In the first part of our Father's Day Gift Guide, we focused on tech toys for dad. This time, we are going to focus on Outdoor Adventures.
Camping
Most guys love camping and it can make for a father and son guys weekend too.
Microlink FR160 Emergency Radio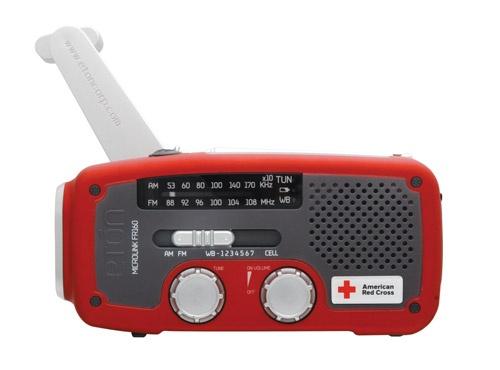 Even if camping isn't your activity of choice, this American Red Cross Emergency radio might be a good idea to pick this up. It is abslutely part of my emergency kit now. With a hand-crank and solar cell for power and includes an AM / FM and NOAA Weather Radio, flashlight, and even a USB cell phone charger, this is a great piece of gear for your next adventure.
Price: $39.99

Stainless Steel Filtered Water Bottle
Ever gone camping and looked at the water source and realized that it would be better to just drink another beer instead of trying the water? How about going hiking and you just want to take a drink from the stream but don't know if it is safe?
With a Stainless Steel Filtered Water Bottle from Sonoma Living Green you can do just that. It is supposed to filter out common chemical as well as biological contaminants. While I haven't tested it on a stream, it does work well on my tap water in the office!
Price: $40.00

Snacks and Beverages for Dad
A delicious whisky, a travel ready snack, or something for the bar!
Johnnie Walker Blue Label
Johnnie Walker Blue Label is a great gift any day, but when you add in the ability to have a custom message to dad engraved on a specially blended bottle it gets just that much better!
Price: $225.00 (750 ml)
Maker's Mark 46
Ok, so this one is going to require a bit of an IOU on the part of the gifter, but it is worth the wait. Trust me, we have a bottle that one of our secret agents managed to sneak out of Loretto, KY and unfortunately it is almost empty. We'll soon be waiting with the rest of you guys once again.
However, with a planned release date in "July" the waiting is almost over!
Price: TBD (estimated about $35-45 for 750 ml)
Boss Hog Variety Sampler - Bacon Freak
You can't go wrong with bacon and Bacon Freak has some of the best! Their bacon jerky has been a good friend on some recent trips and if you are looking for something excellent and unique to make dad laugh and then water at the mouth - this is it!
The Boss Hog Variety Sampler includes a little of everything: Bacon Flavored Cheese Straws, our Bacon Seasoning, Country Ham, Hickory Smoked Country Bacon, Smoked Mozzarella, Smoked Sausage Patties, our Maple Bacon Pancake Mix and of course Bacon Jerky.
Wilderness Trail Sampler - Sunburst Trout Farm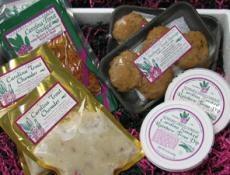 We were just down in Haywood County a few weeks ago visiting Sunburst and they do a fantastic job at preparing a variety of different trout products - from sausages to caviar and of course their DELICIOUS smoked trout.
This Wilderness Trail Sampler includes 2 smoked trout fillets, 2 trays of trout sausage, 2 packages of smoked trout dip, and 2 packs of Jennings jerky.
Price: $79.99
Great Footwear for Dad
Ok, so you really can't go wrong getting dad a pair of comfy shoes. These two products were unique and we think dad will love them.
FitFlops Dass for Men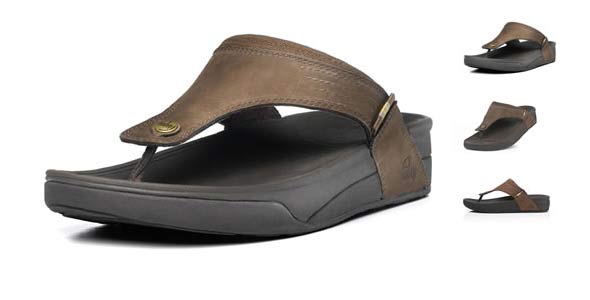 There seems to be a trend going around with shoes that have special soles designed to help burn extra calories and improve posture. That's the core benefit for FitFlops, but they also tell me that the patent-pending "Microwobbleboard" works to help relief pain for guys who have knee, ankle, or lower back problems too.
I can't guarantee any of those claims, but they are comfortable, well made, and since summer is finally here, dad deserves a great pair of flip flops - fitness tool or not!
Price: $59.95
Crocs Santa Cruz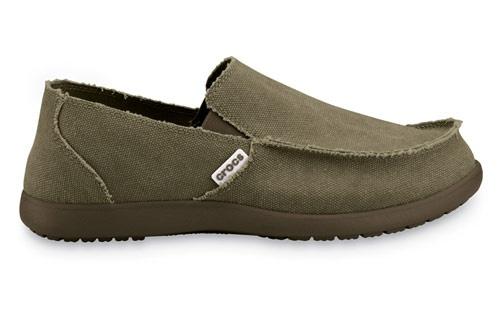 Everyone who wears Crocs has sworn up and down that they are among the best, most comfortable shoes they have ever worn. Personally, I just couldn't get over the fact that the classic style looked ugly as sin!
Lucky for me, Crocs now has the Santa Cruz, it is a loafer with a canvas top and the same croslite material from the original Crocs.
I am now a convert! I am wearing them as I write this and they ARE some of the most comfortable shoes that I have ever tried!
No matter what age your dad is, these shoes will make him happy.
Price: $49.99
Click here for a Chance to Win a pair of Santa Cruz Crocs!
FTC Disclosure: Many of the products included in this gift guide were provided to Man Tripping for review.