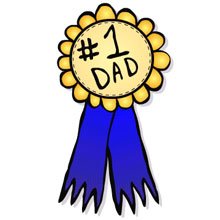 Father's Day is just around the corner and virtually every PR rep in the United States has pitched us on the latest, greatest, and most exciting gifts for guys. The following is our roundup of the coolest Father's Day gifts that we wish we could get!
Don't worry though - if you aren't a dad your significant other is fully licensed to buy you any of these as a "thank you for being a great guy gift!" Just tell them we said it was OK ...
Ultimate Bears Football Fantasy Game

This is the ultimate sports fantasy - a chance to play football on the grass at Soldiers Field in Chicago.
You and your group of guys will be met at the famous Gate "0" and escorted by a valet to one of the actual locker rooms where there is keepsake custom-engraved nameplate above each locker and personalized jersey, just waiting to be worn. 1985 World Champions Steve McMichael and MVP Richard Dent will then be on hand as the coaches of the two teams.
After the game - complete with a half time show, you will be treated to a VIP tour of Soldier Field and each player will take home a gift bag filled with priceless items including: A personalized duffel bag, personalized commemorative coin - just like the one flipped at kick off, Wheaties cereal box with "dad's" face on the front, A high-end cigar, A DVD of the history of Chicago's own 1985 World Champion team, and a sports massage gift certificate.
Price: Only $165,000! (Call The Meetinghouse Companies, Inc.'s Robert Sivek at 630-941-0600 / rsivek@meetinghouse.com or Kristy Buhr at 630.941.0600 ext. 256 / kbuhr@meetinghouse.com)
To make it even more awesome, dad can play against a World Championship group of 1985 players for an additional $20,000.
Filson Tin Cloth Field Jacket
For the guy who loves going out in the wilderness or simply enjoys feeling like an an outdoors-man while driving to the office, this fantastic Field Jacket has pockets to carry your emergency radio, fishing gear, flash light, or just your iPhone and business card case. Price $320

Dyson Air Multiplier
Everyone knows Dyson for their awesome vacuum technology, but they now have a new product that totally blows! The Dyson Air Multiplier is a very cool piece of technology that takes the same Dyson attention to detail and technological innovation and applies it to the "fan" market. Though to call it a "fan" is like calling a Lamborghini a "car".
Instead of blades that give off a "chop chop" sound, the Air Multiplier is whisper quiet and has no blades that can damage tiny hands should they decide to go exploring when your back is turned! Price: $329 (at Sears.com)
Personalized Maker's Mark Barrel Head
While drinking Maker's Mark is pretty enjoyable, hanging a personalized Maker's Mark Barrel Head in the mancave makes a great gift too! Price: $99
Knob Creek Single Barrel Reserve
Dad deserves to relax too and a glass of one of Kentucky's finest bourbons will help with that goal! At 120 proof, this fantastic spirit is packed with flavor, carries quite a punch, but is perfect for sipping (though it works well in a cocktail as well!).
Don't be afraid to drop an ice cube or a splash of water to help open the flavors even more or make it work better with your palette.
Knob Creek Single Barrel Reserve can be found in most liquor stores, Price: $49
Rcade Freek
Don't have the budget for a full-sized arcade game but want something cool that will help out when playing classic arcade games on your PS3 or Xbox 306? Rcade Freek is a cool "addon" for your existing game controller to make it feel just a bit more like a real arcade stick. Price: $9.99