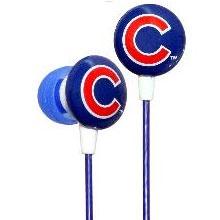 As the baseball season wraps up, are you looking for something to remind you that spring training is right around the corner? Or maybe listen to clips of the game on the ride home?
Either way, these iHip earbuds featuring cubs (or other MLB and NFL team logos) make a great gift for any sports fan.
Not only are these iHip Cubs logo earbuds affordable at $10-$15 each, the company's marketing efforts are being led by New York Giants Super Bowl Champion, Carl Banks.
While the sound quality was not what I would prefer, for the price they sell for, they would make a great gift for any sports fan. That being said, the build quality did feel better than I would have expected for the price and it even came with several fitting pieces designed to make sure that the earbuds fit as comfortably as possible in your ear.
While this feature is about Gifts for Guys, the honest truth is that I am sure your wife, girlfriend etc. would enjoy getting these if she is a sports lover too!
iHip's earbuds are available with a variety of sports licenses from MLB, NFL, and NASCAR, so I am sure you can find something that fits whoever you are planning to give this to. (even if it is yourself!)
iHip Cubs Logo Earbuds are Good For:
The ultimate sports fan
Someone who is just looking for a well made pair of earbuds
iHip Cubs Logo Earbuds are Not Good For:
Audiophiles
People who hate sports