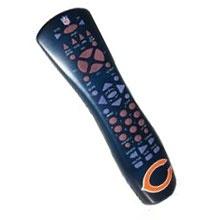 Gifts for guys can be difficult to buy sometimes - each guy has his own preferences and while "technology" is generally a good bet, it can be difficult to sort through all the options.
Luckily I have a solution - the iHip Universal Remote ... featuring your (or your friend's!) favorite team.
The iHip universal remote that we reviewed, like you would expect allows you to control up to six of your entertainment devices.
If you are anything like me, you probably have a whole bunch of devices and remotes strewn across the living room or maybe your mancave. Each remote controls up to six devices including TVs, VCRs, DVD players, CD players, cable and satellite boxes plus audio equipment. This versatile remote control is compatible with most infrared remote controlled equipment manufactured after 1990.
As for being a gift for either your guy friends - or ladies who may be reading, this is a great item that is totally affordable at about $10-$15, it is cheap enough to be a "just because" gift or as a nice thank you for a friend that helps you move stuff around in your mancave.
All iHip products are officially licensed with a variety of NFL, MLB, and other logos.
Who it is Good For:
Inexpensive Gift for a sports fan! It works, and if you or your guy friend is passionate about a team, this is a great idea.
Who it is Not Good For:
This is not a premium product, but that's ok! If you have "typical" A/V equipment and are looking for something fun and functional, this is a great gift.