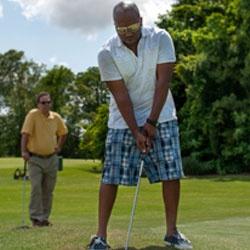 Summer is one of the most exciting times to visit Virginia.
Road trip adventures, beach front fun, mountaintop cabins and lazy days on the water are just some of the many reasons to make Virginia their summer vacation spot. Virginia has just created a list of 20 ideas for cool summer getaways for guys looking to explore Virginia.
These and more can be found on www.Virginia.org:
Go underground: Caverns are plentiful in the mountainous western region of the Commonwealth, and the below-ground temperature hovers around 56 degrees year-round. Eight dramatic caverns are open to the public including Luray Caverns, the largest on the East Coast.
Take a hike: More than 500 miles of hiking paths meander through lovely Shenandoah National Park along the Blue Ridge Mountains. Lighter air and cool breezes are just the thing while enjoying a magnificent overlook or spotting wild critters. The highest – and perhaps coolest – point in Virginia is Mt. Rogers National Recreation Area, another memorable place to go on foot.
Take a dip: Cool, fresh water swimming holes can be found in Virginia's sparkling lakes and rivers. You may have to ask the locals where to go but one sure bet is in Goshen Pass in the Shenandoah Valley near Lexington. There the Maury River splashes through a three-mile mountain gorge that is spectacularly scenic and is full of good places to swim.
Take another dip: If there is a universal cure-all for excessive heat it's ice cream, and in Virginia you'll find some fabulous old-time ice cream joints – and new ones too. The ice cream cone was invented by the founder of Norfolk's Doumar's and Carl's Frozen Custard stand in Fredericksburg is a National Historic Landmark. Island Creamery on Chincoteague Island offers 36 homemade flavors and custom-made ice cream cakes.
Make a splash: It's no secret that a great way to cool off is in good, cool water – but why not have some fun at the same time? Virginia's sensational outdoor and indoor water parks are family friendly places to frolic.
Get out on a lake: Imagine a summer day in a boat cruising a scenic lake, either just out for a casual paddle or zipping along on a jet ski or in a motor boat. Virginia's lakes range from small and tranquil to big and bustling and they all add up to cool fun in the summer.
Roll on the river: In the mountains they tumble and gurgle while toward the coast they flow like history. Since ancient times people in Virginia have been attracted to rivers, and with good reason. They are great places for cooling off and having fun. Jump in a canoe, raft or kayak and you'll beat the heat without knowing it.
Float on the breezes: No matter how hot the day a ride in a hot air balloon reaches cool altitudes. Floating along with an expert pilot at the helm is both relaxing and invigorating. Some hot air balloon festival offer tethered and untethered rides – or arrange a ridge any time from one of Virginia's licensed companies such as Blue Ridge Hot Air Balloons.
Buckle up and go: If a balloon ride seems a bit slow then climb into the open cockpit of an airplane and let it rip! Flights are available at air fields throughout Virginia – or go to the Flying Circus Airshows on Sunday's in Bealeton. After an old fashioned barnstorming aerodrome shows open cockpit rides can be arranged by appointment.
Hit the beach: It's probably the most popular summer activity in Virginia. Virginia's beaches are top destinations for visitors, and who doesn't love a cool splash in the surf after some warm relaxing in the sand. Beaches are found in some unexpected places as well, including the Chesapeake Bay shore and inland lakes.
Reel in the fun: Standing in a pair of waders in a bubbling mountain stream while casting for native trout looks as inviting as it is refreshing. But you don't need to be an expert or even experienced to enjoy fly fishing in Virginia. Local guide services and outfitters will see to it that you have a great experience your first time out – and you might even catch a lunker.
Go snow skiing: You're kidding, right? Snow skiing – in the summer – in Virginia? Well, it isn't really snow but it isn't hard to imagine it's the real thing at the Lynchburg's incredible Snowflex Center. Its synthetic surface has the same properties as real snow and is great not only for skiing but snowboarding as well.
Explore a museum: When it's hot outside, cool off inside while exploring one of Virginia's outstanding museums. Virginia has it all – museums dedicated to art, history, transportation, culture, science, civil rights, sports, famous people, aviation and local industries provide much more than a respite from the heat.
Visit a winery: Wherever you are in Virginia, you won't have to travel far to find a winery. The Old Dominion now has more than 200 wineries located in nearly every corner of the state, and they are great places to beat the heat – or any temperature. Tours include a look at the barrel room where wines are brought to the height of perfection at controlled temperatures. The tasting rooms are always pleasant and you'll find that many wineries have cool, relaxing places to enjoy a glass of wine outdoors on a deck or under the shade of a tree.
Have a Virginia craft beer: The things that make Virginia a great wine state also apply to beer. Craft breweries are popping up all around the Commonwealth and are already winning top national and international awards. Some breweries offer tours of their facilities followed by tastings and a good cold one in a cool atmosphere.
Go surfing: Home to the annual East Coast Surfing Championships, Virginia Beach is a cool haven for experienced surfers as well as those who have never been on a board. Rent a surf board, take lessons or even go to a "surf camp" to get the most enjoyment out of splashing Atlantic beach fun.
Let the music move you: Cool off where the music gets hot with a trip through The Crooked Road: Virginia's Heritage Music Trail, a driving trail linking top live music sites and music heritage centers. Bluegrass, Old Time and gospel music sprung up out of Virginia's mountains generations ago and the traditions of mountain music are carried on there today. The hills are alive, so roll down the windows and drive a cool crooked road to toe-tapping music.
Stay at a State Park: The excellent Virginia State Parks system has been consistently recognized as one of America's very best. Though each park has something different many have air conditioned cabins for overnight visits, lakes and streams to splash around in, and shady woodland hiking trails. The natural breezes of Mother Nature at a Virginia State Park are always a perfect way to cool off in summer.
Be a foodie: The Virginia Tourism Corporation web site lists more than 3,000 places to eat in Virginia. Sit in cool comfort while dining on anything from casual fare to legendary creations by some of America's most celebrated chefs. Virginia's culinary reputation is centuries-old and much in the way of traditional cuisine remains, complemented deliciously by the best modern dishes.
Reach for the sky: No matter how warm the day is, Virginia nights – particularly in the higher elevations – offer a cool respite. When the stars come out enjoy a cool experience among the constellations while doing some stargazing. Northern Virginia's Sky Meadows State Park offers scheduled evening programs that draw nice crowds. Farther south, Primland Resort has its own observatory that provides up-close looks at stars, nebulae and other far-away celestial bodies.