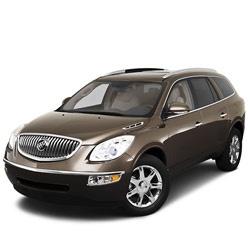 Fast cars are nice, family cars are good, but a nice beefy luxury SUV just makes a road trip fantastic! For our trip to Cleveland last month we were lucky to have an opportunity to drive the 2010 Buick Enclave.
If you haven't seen a Buick recently, you should really go check one out. This isn't the same General Motors interior that you know and love(?). Maybe its just me, but my perception of GM cars over the past 10 years has been that they are cheap, moderatly styled, and "nice" but not really where I would drop $60,000 on a new car.
Comfort and Luxury:
Our Buick Enclave road trip review began after work in Chicago. Any car can be fun driving down the open road, but stuck in rush-hour traffic is the real test of how comfortable a car is! Luckily, the Enclave passed with flying colors - in the back, the guys were being entertained with the video screen, in the front, the leather seats were among some of the most comfortable that I have ever sat in.
Our trip continued from Chicago, across the plains of Indiana and into Ohio. Eventually (just after midnight) we arrived at our destination - a Cleveland Mancation. Once again, this was not one of the most thrilling drives, both from the perspective of sightseeing as well as the late hours. However, once again, the Enclave performed marvelously.
Once in Cleveland, much of our traveling involved driving around downtown, but we also tested it out in the rain and some hills, south and east of the city.
One of the things I liked about this car was that it was just simply comfortable. Despite it being a fairly big vehicle, it didn't feel like it.
Towing and Toys:
While we didn't have any "toys", the Enclave would be well suited to towing a couple jet skis, snow mobiles, or bikes.
Safety and OnStar:
As you would expect, the Buick Enclave features pretty much all the latest safety features - traction control, ABS, articulating Xenon headlamps, etc.
Additionally, like all new GM cars, the Enclave features OnStar. This was our first chance to play with OnStar and I sort of liked it. Similar to what Ford is doing with Connect, OnStar brings "smart" elements into the vehicle. What I really liked about this was that it was a "real person" that helped.
This means that if you have a question about where the next gas station is, how to get to Progressive Field etc. all you have to do is press the button and a super polite lady responds almost instantly, ready to help. Our OnStar lady was able to not just tell us where something was, but actually downloaded the map directly to the car.
While I really like where Ford is going, OnStar is a great service as well - and certainly more "luxury" since it is almost like having a personal buttler right there to help you.
Concluding Thoughts:
At the end of the day, we had a SPECTACULAR time in the Enclave. Not only did it look big time, we felt cool driving and riding in it.
Since I like to be completely objective, as luxurious as the car was, there were minor fit and finish issues with some latches (specifically the screen for the sun shade) and the shifting felt more rough than I would have expected from a luxury car.
Finally, the car felt a bit under powered at 288 V6. I would have liked just a bit more kick. That wasn't necessarily a bad thing, but as a man, I like power!
All that being said however, if you have a chance to check out the Enclave, DO IT! It will change your impression of Buick forever.
Buick isn't all the way there yet to be "the best", but it is "ask good as anything else" right now and the styling pushes it up a couple notches too.
(NOTE: Normally I have photos of our road-trip reviews, but unfortunately my camera was not functioning on this short weekend trip)