What do you take when you start with a great all-around great suburban family car, toss in a bit of style, and then take Nissan's determination to make it the best car in the segment? I call it the new 2013 Altima. With an industry leading 38 mpg, chic modern styling, super comfortable seats, and a peppy engine tied to a silky smooth CVT transmission, this car is perfect for picking up clients, taking your daughter to her piano recital, OR zooming down the road with the buddies on a road trip!
As you may remember from our last road trip review of the Altima, we loved the car - and our only main complaint was that the 4 cylinder engine wasn't peppy enough for us to call it "fun". With this review, Nissan outfitted us with a 3.5 L V6 with 270-hp instead. That immediately eliminated that issue for us and there was much rejoicing!
So, what's new for 2013 Altima?
Overall, the 2013 Altima specs are fairly similar to the previous models (in terms of engine and wheelbase), but the look is MUCH sharper. Nissan made it clear that they were shooting for a "Class Above" and not merely trying to overtake their prime competitor - Toyota's Camery.
This effort includes visual styling to make the car "look" larger and more pronounced chrome highlights, including the striking front grill patterned after a Samurai's chest armor. Along with a complete exterior redesign, the new Altima features a load of tweaks to the console, cup holders, the rear arm rests, and "Zero Gravity" seats that were designed using research from NASA to reduce pressure points and make them the most comfortable seats of any sedan.
Honestly, I didn't really feel much difference between the new and old Altima seats, but compared to the comp vehicles, they were clearly higher quality.
Additionally, as part of their redesign, they worked very hard to eliminate unneeded weight and space to allow them to achieve their goal of 38 mpg. This lead to an overall weight reduction of about 79 pounds.
Starting at $21,500, the Altima is also still manufactured in the United States - so that is a great thing to hear too!
(NOTE: the V6 with leather that we drove most of the time for this review was tagged at just above $30,000 including taxes / delivery etc.)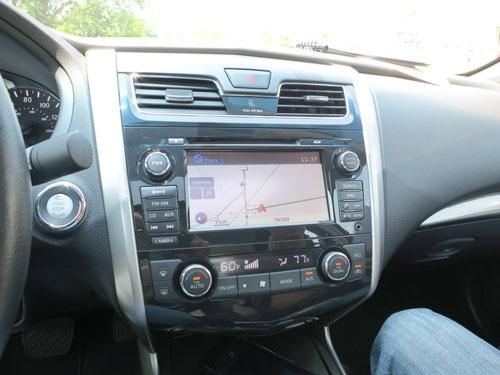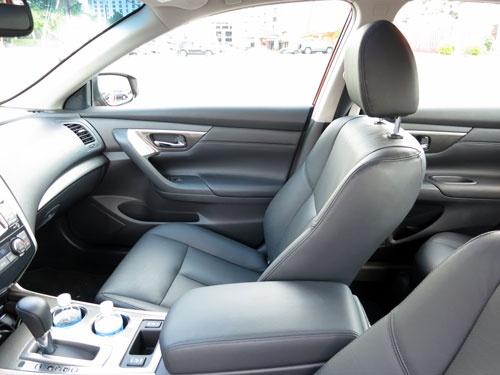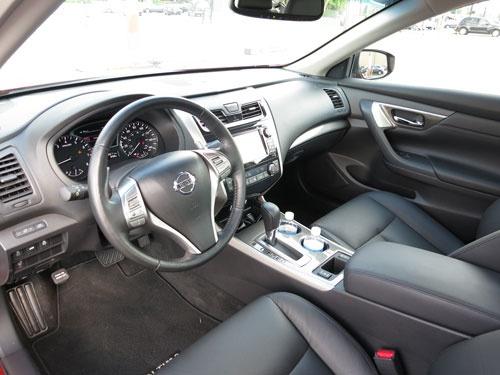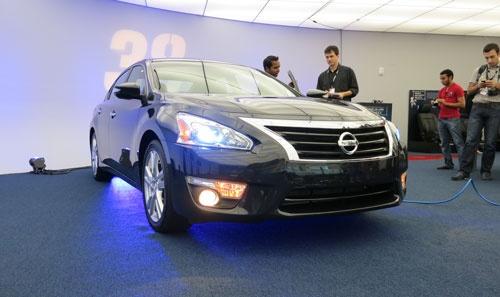 Compare the 2013 Altima (above) to the 2010 Altima (below). It isn't to say that the 2010 is ugly - but wow, what a difference and a solid progression towards moving away from a average "family car" to an almost "luxury car" (without a luxury car price tag!).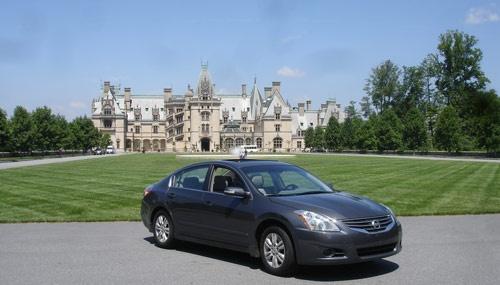 Even the cloth interior was sharp and felt very high quality.
Our Road Trip to Jack Daniels Distillery:
We started our trip in Nissan's test garage, just outside of Nashville. If only we could have stuck around, I am sure that we could have kept busy for weeks testing out all the cool cars in there!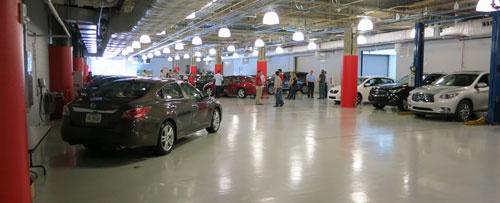 Our first stop was the tiny town of Bells Buckle, home of the RC and MoonPie Festival.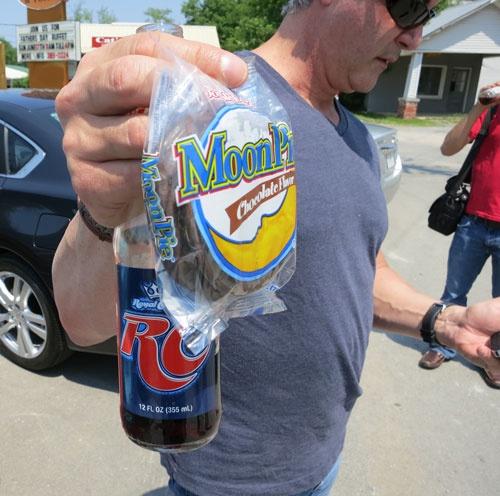 As we drove along the course that Nissan provided for us, they made sure that we were aware that the Altima was rated at 38 mpg Highway. Unfortunately for the car we were driving, I don't think we touched that as I was testing it out to see what the car could do with passing, quick turns, and acceleration from stop signs. I am happy to report that the car did much MUCH better than expected.
I am also happy to report that with the CVT transmission, the acceleration was extremely smooth and didn't see to top out, even at speeds well above the legal limit :)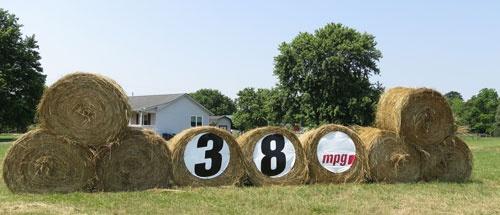 For lunch, we arrived at the Jack Daniels distillery in Lynchburg.

The new Altima is just gorgeous and begs to be photographed!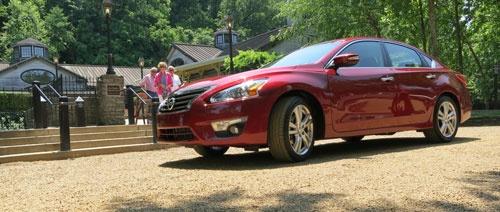 Here is my lunch - lemonade, and a selection of Southern specialties including: Catfish, pulled pork, cornbread, fried chicken, and potato salad. No one was going hungry today! For dessert, we had peach cobbler with Jack Daniels infused whipped cream.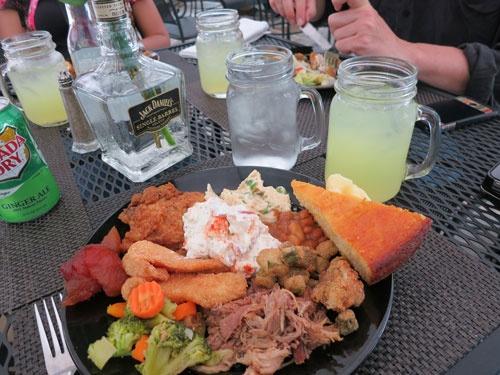 On the way back, I joined my friends Kris from Little Tech Girl and Jill from Glamamom for a ride back on the highway. While not as "fun" as the first half, tearing up Tennessee's back roads, the car was super smooth on the highway and in traffic. Ultimately this environment is more important to have as a great experience since the Altima is still ultimately a 4-Door sedan, and will be driven more on the highway and in suburban traffic than being whipped around country roads.
Final Review of the 2013 Altima:
The 2013 Altima was a HECK of a lot of fun to take on our quick road trip down from Nashville to the Jack Daniels distillery in Lynchburg. It handled extremely well when we were "being guys" and testing its limits on curvy country roads and when I was joined by two mom-blogger friends "being girls" and driving normally. The new Altima comes very close to being everything I loved about the Maxima - at a significantly lower price point.
Road Trip Review Scores (out of 10):
Sportiness: 8.5 - at the end of the day, it is still a 4-door sedan and not a sports car, but it comes very close to being a junior Maxima!

Gas Mileage and Range:

9.5 - at 38 mpg highway, it is 2 mpg ahead of even the Ford Fusion Hybrid!
Cool Factor: 7.5 - like my rating, for Sportiness, the Altima is still an Altima, but this is the king of the Altimas and you can still roll up to your next poker game with pride, so that is something!

Road Trip Comfort:

8.5 - Sedans aren't always as comfortable as SUVs (or shudder - a mini van!) with nice bucket seats. However, with the addition of the Altima's new "Zero Gravity" seats, there was no discomfort after sitting in the car for over an hour both as the driver and as a passenger.
Technology and Gadgets: 8 - This thing is loaded (or can be, depending on your trim level). I wouldn't go as far as saying it was "Cadillac Loaded" but it has pretty much everything practical that you could ask for.
Total Review Score: 8.5