2015 Dodge Challenger Review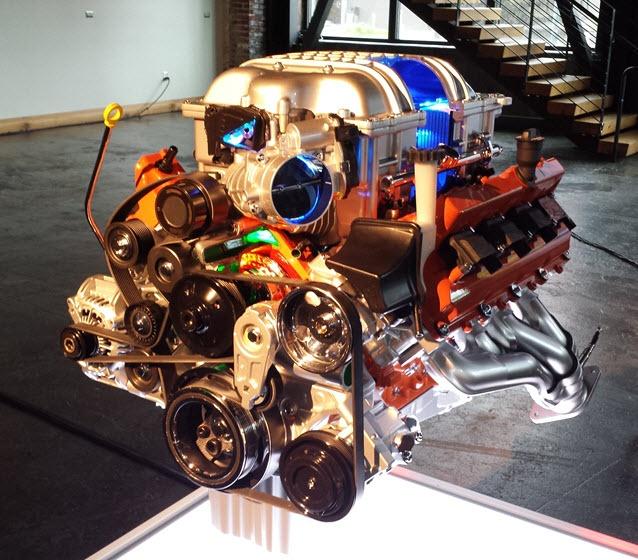 We make money from support by sponsors, advertisers, and affiliate partners. As an Amazon Associate I earn from qualifying purchases.
Driving down any highway in America, it's clear that the classic muscle car is no longer just an object to be restored to former glory, but a modern machine to be enjoyed today. For the last several years, car manufacturers have been bringing the best of the old body styles together with the latest in technology and engineering. The most recent, and quite possibly the BEST modern muscle car is the 2015 Dodge Challenger.
We were invited out to Portland, along with other media members, to test drive the new 2015 Dodge Challenger line. Our trip began at Team Challenger's temporary home base, the Hotel Lucia. The Hotel Lucia is an historic building in downtown Portland, built in 1909. Hotel Lucia is chic and stylish and houses an incredible photography collection from Pulitzer Prize winner and Portland native, David Hume Kennerly. The images found throughout the hallways draw you in and transport you to the 60's and 70's. It was only fitting that this is where the Challenger team decided to house their media guests.
The day of our drive, we woke up to unfortunate news: 100% chance of rain. What this meant was that we'd still be able to drive, but under stricter controls than on a dry track. After breakfast, we jumped into the vans and headed over to a nondescript location across one of the cities many bridges. We shuffled in past a row of umbrellas that we still didn't need and into the warehouse. Waiting inside were several boxes of Portland's very own, VooDoo Doughnuts. Ignoring the fact that we just had breakfast, I grabbed one of my favorites, the M&M minis doughnut. You can't not have VooDoo Doughnuts.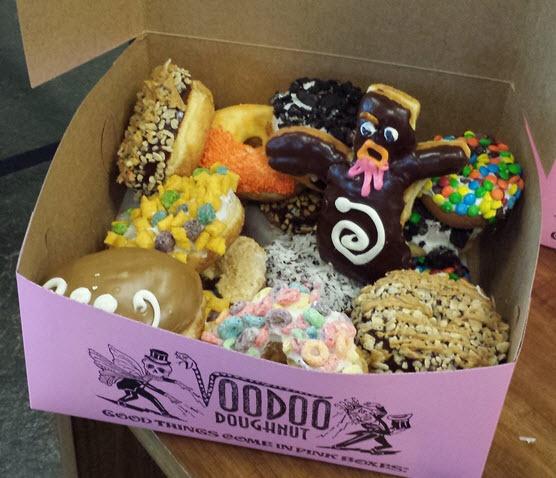 We were given a great overview of the planning and execution of the 2015 Dodge Challenger and Challenger SRT line of modern muscle cars. New for 2015, the Dodge Challenger now offers 485 Best-in-Class Horsepower, all-new 6.4-liter Scat Pack and 392 HEMI Scat Pack Shaker models, all-new interior, and segment-first standard Torqueflite 8-Speed Automatic Transmission. The Dodge Challenger SRT HEMI Hellcat boasts an amazing 707 Horsepower, 650 lb.-ft of torque that will make the quarter mile in 11.2 seconds, 10.8 on drags. The Challenger lineup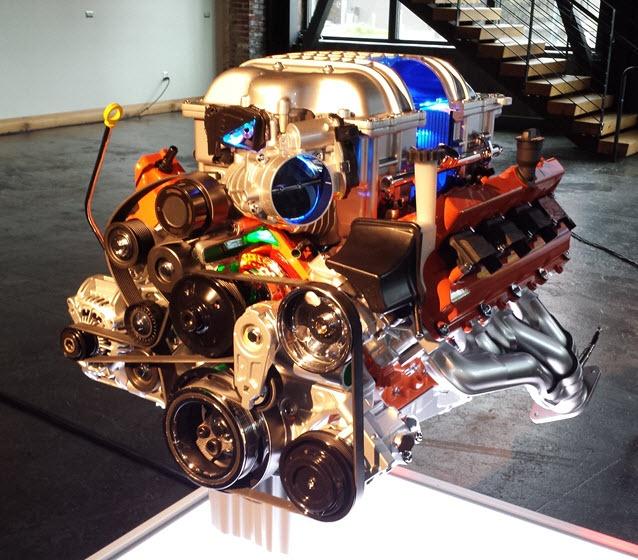 The design team looked to the iconic 1971 Challenger for inspiration, inside and out.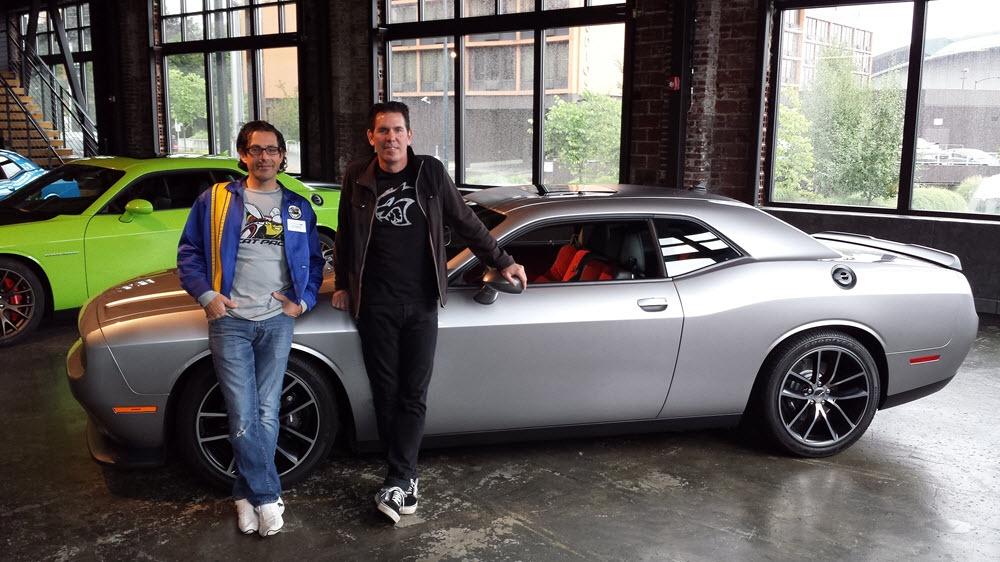 The all-new interior features a 1971-inspired high-sill center console and driver-focused instrument panel. Available color and trim selections include: Houndstooth cloth to Ruby Red, and Tungsten or Pearl with black leather performance seats. The exterior features heritage muscle-car looks with refined exterior styling, including a tougher, more menacing looking front end with LED halo headlamps.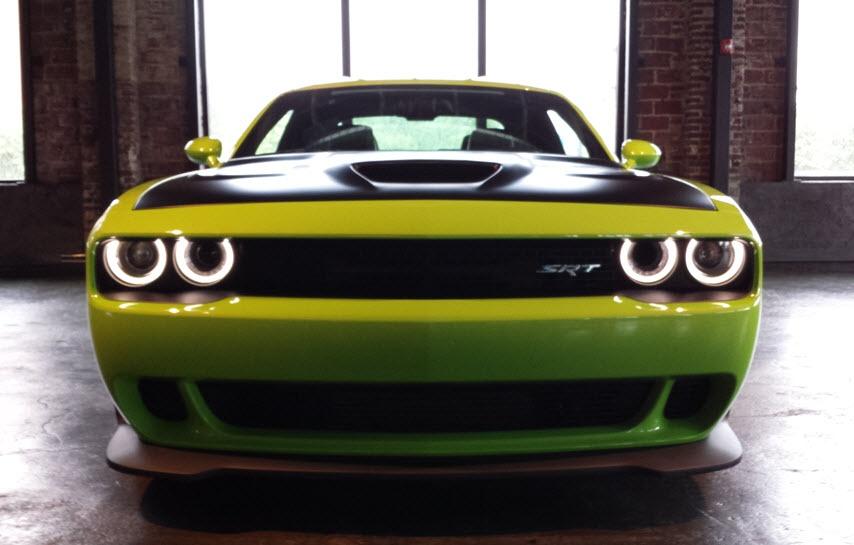 After the presentation, we paired up with a driving partner and went out into the drizzle to grab some umbrellas and choose our cars for the two hour loop through the local wilds where Louis & Clark once traversed the land with Sacagawea. The surroundings, though cloudy and gray, were breathtaking. The curving roads were a lot of fun, but would have been more enjoyable on a sunny day. Still feeling the power of the car under my seat and at my hands more than made up for all the rain on the windshield. I made a mental note to return someday soon to take that drive again.
At the halfway mark, we stopped to switch up and had a chance to chat up some of the other drivers. The consensus was that the Challenger was one hell of a car and nobody could wait to get out to the track. We crossed our fingers that it would clear up by the time we got there, but the foreboding sky wasn't letting up.
When we arrived at Portland International Raceway, the rain was still falling, but not as hard at it had been earlier in the day. Still... a wet track is a wet track and that meant extra care was going to need to be taken. The drive team gave us some strict instructions and reminded us of some rules and courtesies of driving on a track. When it came time to ask questions, no one raised a hand. Everyone was just chomping at the bit to get out on the track, wet or not.
We were given the opportunity to drive alone, with a pro in the passenger seat giving us some instruction, or with a pro at the wheel giving us a thrill ride. We got a tour of the track in a van with one of the pro drivers. He gave us some tips on where to speed up and slow down and what to do at the different cones. As soon as we got back to the pit, we grabbed our helmets and lined up to choose a car.
For my first drive, I chose the new 6.4-liter HEMI V-8. I'm not afraid to admit that I was slightly intimidated by the power of that machine. It didn't take much to get the car up to track speed and the back down to a safe turning speed. Some of the sharper turns were challenging, but getting up to 120 on the longer sections of the track was incredible! By the third and final lap, I was feeling like such a pro. I was managing the throttle, braking just right at the brake zones, hugging the wall with ease... I was starting to get a little cocky. Naturally, I forgot to come in to the pit at the end of Lap 3.
Yeah, I was "that guy."
My second go on the track was a lot better. I wasn't as nervous and I was finally getting familiar with the crazy hairpin turn that was tripping me up on the first go round. It was still a lot more car than I was used to, but I found myself getting used to the idea of that car being mine! The sun started to peak out towards the end of the day and everyone jumped at the chance to drive a few more laps while the weather let up. Rather than risk not having the chance to see what the car could REALLY do, I grabbed one of the pros and dragged him over to a Hellcat to take me for a spin. We made it around the track in just a few seconds under 2:00. My driver looked disappointed. "I usually do it in 1:35." Sun or no, a wet track is a wet track. Still... this was pretty cool:
The 2015 Dodge Challenger is a beast of a car. It's a powerful machine that should be respected as much as it's celebrated. It's definitely a car that enthusiasts will love to drive. Rain or shine, this car will blow your doors off!
Written by

Sugar Jones

Page Views: 5556