Simply put, the Hemi Hellcat version of the 2015 Dodge Charger is the most powerful 4-door sedan on Earth and we got a chance to put it through the paces recently during a trip from Washington DC to a track in West Virginia. What's awesome about this car is the extreme range of options that it has from the base model that is a great "around town" car to the 707 hp Hellcat, but after having a chance to drive a few different models, our favorite was the Dodge Charger SRT 392 that still delivered a whopping 485 horsepower but had the perfect balance of power, affordability, and practicality.
The Dodge Charger is a legendary car that goes back to 1966 but has somehow failed to rise to the top of the automotive world the way the Ford Mustang has. That's hopefully going to change this year. The 2015 Dodge Charger lineup starts at $27,995 for the SE model featuring a 292 hp V-6 Pentastar V-6 and goes all the way up to the Charger SRT Hellcat at $63,995 with 707 hp and able to deliver a top speed of 205 mph and quarter miles of 11.0 seconds on street tires while still boasting a best-in-class 31 mpg.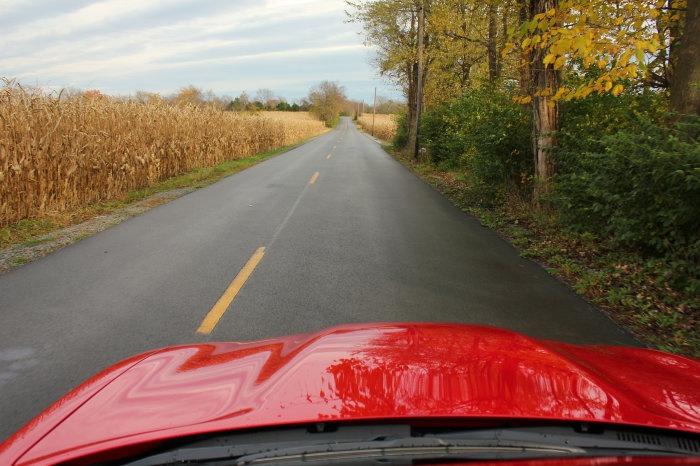 Our favorite though an the one I spent the most time driving on the track as well as in traffic downtown and through twisty turny farm roads in West Virginia was the SRT 392 with 485 hp, six-piston front Brembo brakes, 20 ", 9.5"-wide forged wheels featuring all-season Pirelli tires and a variety of driving modes to allow you to adapt to everything from traffic to the track.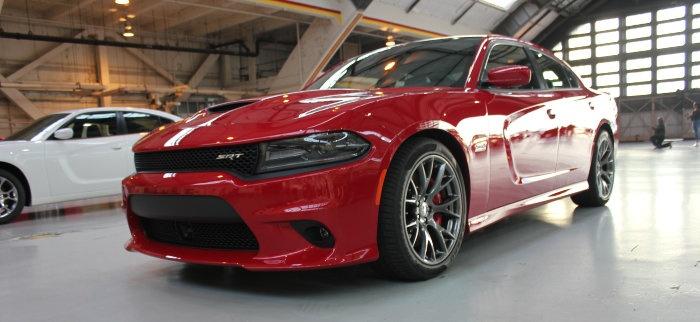 Our adventure began appropriately in a hanger at Washington's Reagan National Airport where they had the entire Dodge Charger line for display and gave us the opportunity to check them out.
While having a ridiculous 707 horsepower is awesome, the downside is that it overshadows the fact that this car features a beautiful design with tons of great features and details such as the brake lights the tail. While they are still LEDs the way it was built in the 2015 model gives the appearance that it is one continuous ribbon of light vs a series of individual lights.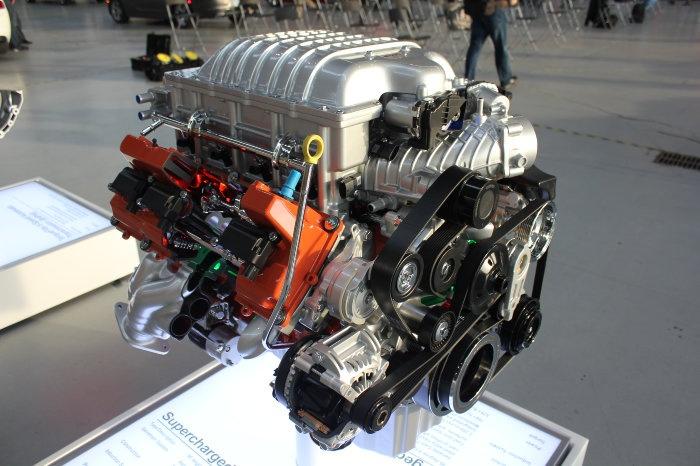 The V-8 Hemi Hellcat engine is the first application of V-8 supercharger technology by Dodge and SRT and features a forged-steel crankshaft with induction-hardened bearing surfaces. This results in the ability to withstand firing pressures of 110 bar (1,595 psi) - the equivalent of five family sedans sitting on each piston, every two revolutions and has been tested to 13,000 rpm!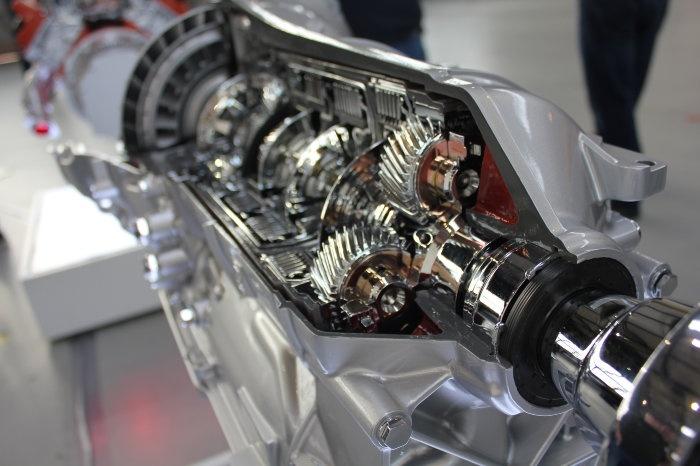 Equally impressive is the eight-speed TorqueFlite automatic transmission (above) that has been engineered to take all of that raw power and deliver it effectively to the wheels.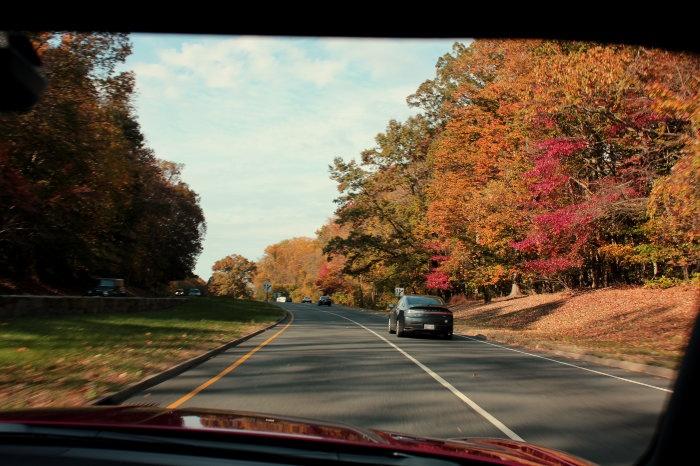 Wit all of that tech out of the way, the real question is "How did it perform?"
The answer to that is that the SRT 392 model that we drove was a beast on the highway but was still nimble enough to take on country roads. For those of you who are new to driving a rear-wheel-drive beast like this though, it was a little bit spooky going around a turn since with this much power it responded differently than a front wheel drive car would.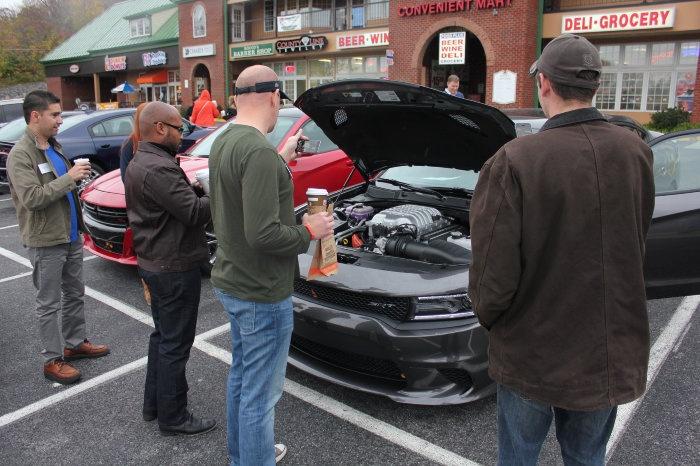 Part of the fun of having a car like this - and especially the Hellcat version, is the looks you'll get from people. Sometimes that is a great feeling as the driver of the car above (Hellcat model) attracted a crowd and was asked to open the hood and rev the engine for some people who saw him pull in and recognized the car.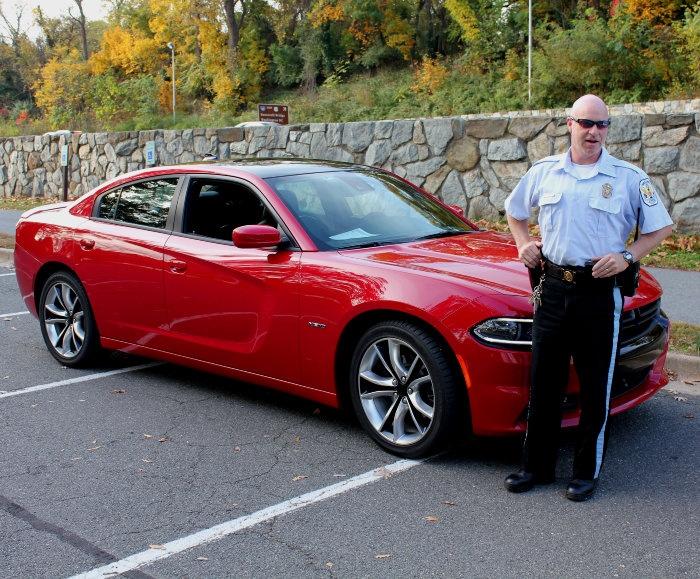 Other times it isn't such a good feeling - luckily this officer simply wanted to check out the differences between his version of the Charger and this new one.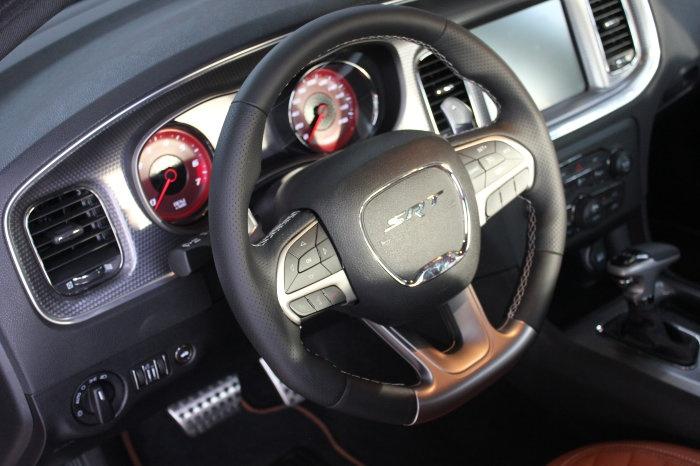 Inside, the design team at Dodge did an astonishing job as well. Simply put - this is a beautiful car that every guy in America dreams of owning one day. (and likely quite a few women too!).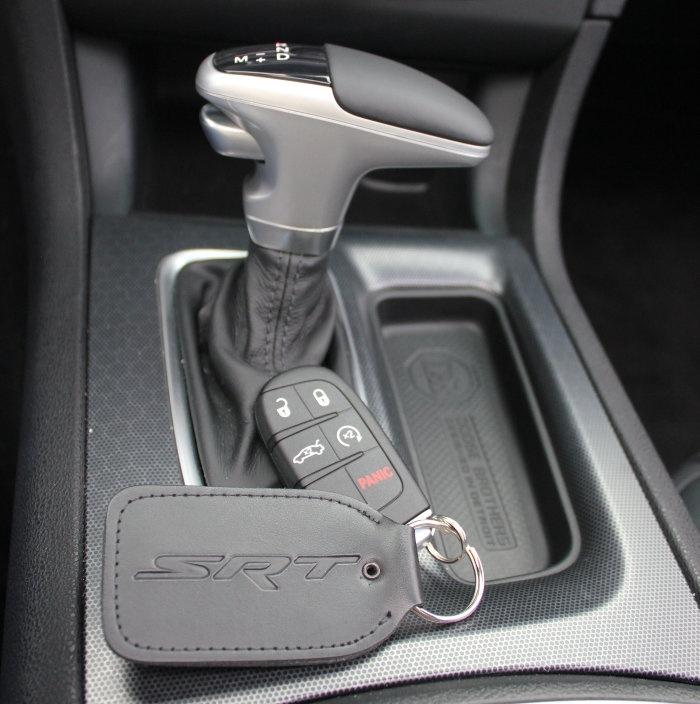 On the SRT 392, there is only one type of key fob, but on the Hellcat, there are two version. The red fob enables the full 707 hp, the other limits the engine and other features to "only" 500 horsepower and limits peak revolutions to 4,000 as well as eliminating access to first gear and up-shifts earlier than normal as well as setting the steering, traction, and suspension to "Street Mode". It also disables launch control. Clearly even with these limits it is still a beast of a car but that should help limit the temptation of valets (and teenagers) who want to take it out for a joyride without your permission.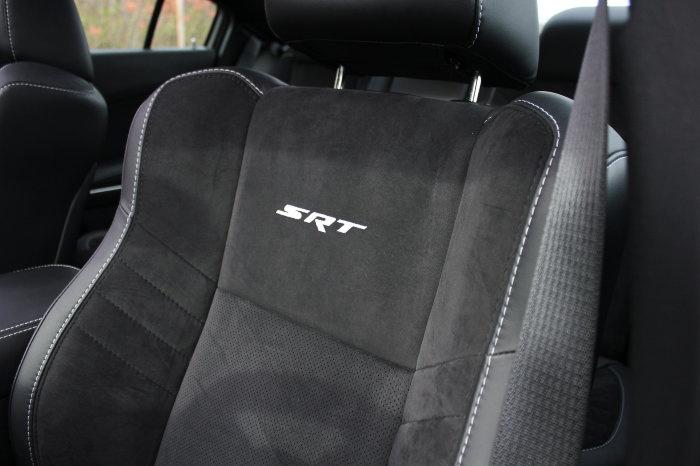 In case it wasn't clear before, the interior is simply gorgeous with details you would expect on a luxury car but designed into a racing seat fitting a true muscle car like this. Inside, drivers will find a 7-inch customizable digital instrument gauge cluster and a center stack with 8.4-inch Uconnect touchscreen media center connected to a 900-watt, 19-speaker Harman Kardon audio system on the Hellcat. Other features such as adaptive cruise control, paddle shifters, and heated steering wheel are also built in.
Just in case you missed the fact that this is / could be a great family sedan - the guys at Dodge even created custom car seats for the Hellcat that they showed off during the introduction. I guess that those 707 horses will come in handy should you be late for daycare!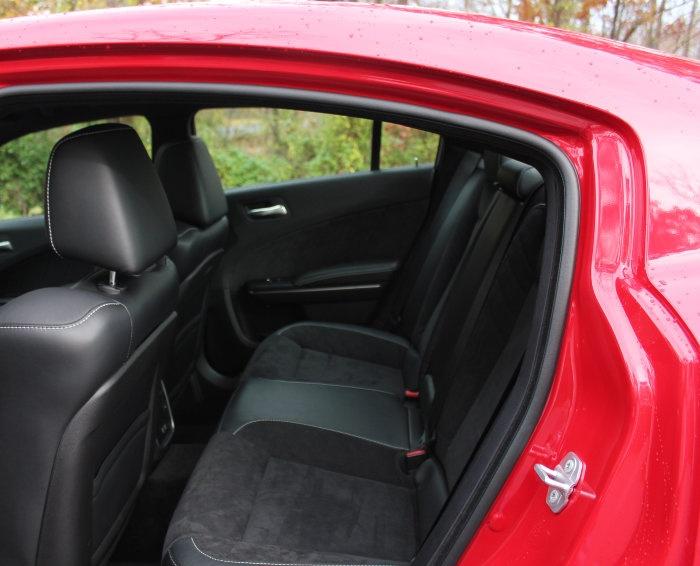 The back seats are comparable to other sedans, which is to say that despite this being a muscle car there is no compromise there - this is absolutely functional for hauling 4 adults around town.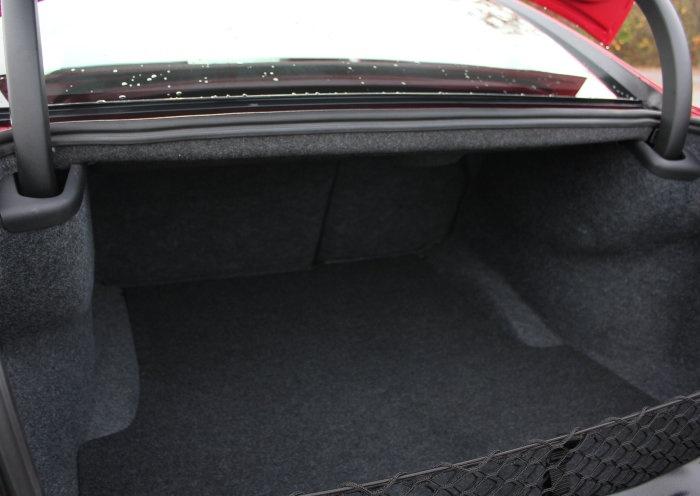 And the huge trunk just hammers that fact home!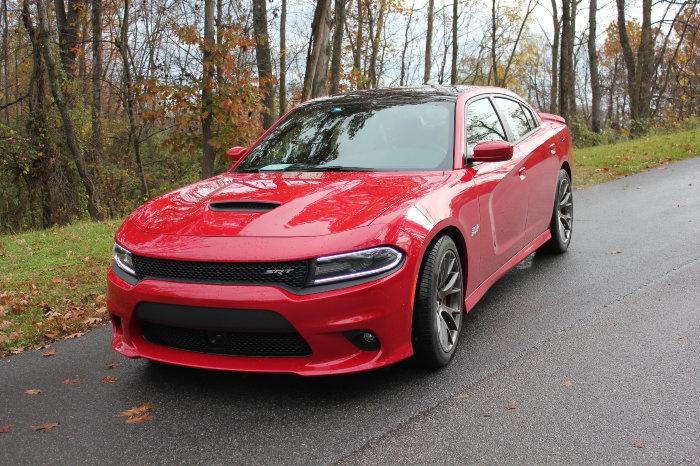 Now that we've explored the car a bit, it's time to hit the track in the Hellcat. Unfortunately it was raining the day we were driving but hitting 120 mph in the rain is pretty awesome and speaks to the fact that this car is not only fast but it is capable and can handle equally well.
Unfortunately, all god things have to come to an end.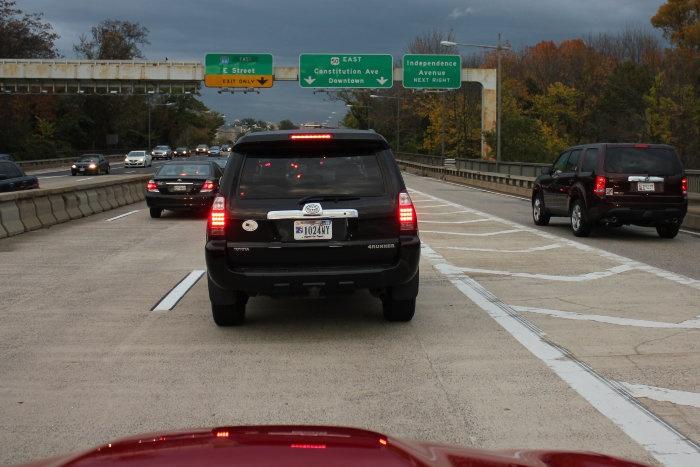 Following the time at the track we had to head back to our hotel in DC where we had a chance to check out the adaptive cruise control and our muscle car turned into a family sedan again.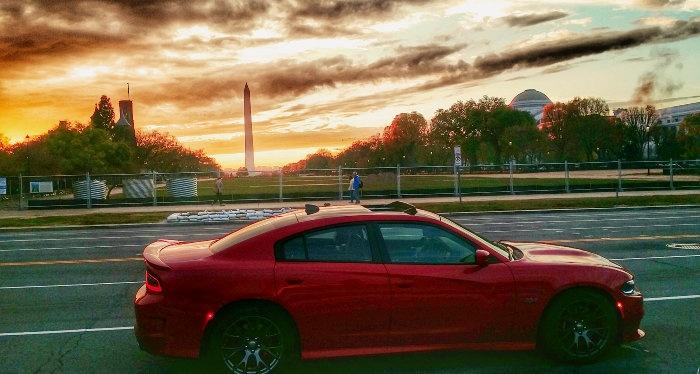 However it still looks amazing everywhere we took it and that's a rare combo. A car that looks great, is super fast, handles well, is affordable, feels great, and has plenty of room for people and cargo.
If that's not enough for you, check this out! People who buy the SRT versions get exclusive access to the "Track Experience". After all, what's the point in having such a powerful machine if you don't know how to use it properly. The SRT Track Experience includes a full day at one of the country's top tracks where you'll work with professional drivers to help hone your skills. It's included in the purchase of an SRT model but it's open to enthusiasts as well for a fee of $699 per driver and $150 for a non-driver.