Vegas fascinates me. It is a city that is constantly transforming itself and one that is unabashedly driven by raw capitalism - driven by one goal: to bring people to town who are willing to spend their money. In 1966 when it first opened, the strip wasn't what it was today and this is the property that defined that growth and continues to define what it means to be "Vegas" today. However, for some reason I had never actually stayed there before. Luckily, I was able to check it out recently while I was in town with Smirnoff for the Electric Daisy Carnival.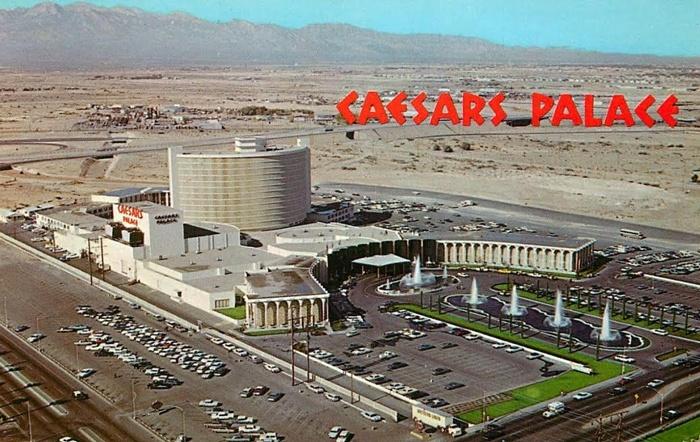 A lot has happened in 50 years. When it first opened the goal was to emulate life of the Roman elites and so guests could quite literally live like a Roman emperor ... if only for a few days. It was one of the first themed hotels in Vegas and ironically maintains that theme while others have moved on to pure luxury chic. However, I think that might be the beauty of it's theme. It was't knights of the round table, circus clowns, or pirates, instead it's always been the pinnacle of luxurious living and that's timeless.
Today, Caesar's Palace is one of the largest properties on the strip but what I find interesting is that they have such a wide variety of rooms available. This makes it very important to do a little research before booking and likewise to know what the different towers are so that when offered an "upgrade" you get what you think you are getting.
Julius Tower - formerly Roman Tower
This is the original tower built in 1966, but the 14-story tower has been recently renovated earlier this year. It is located close to the main valet entrance of the hotel.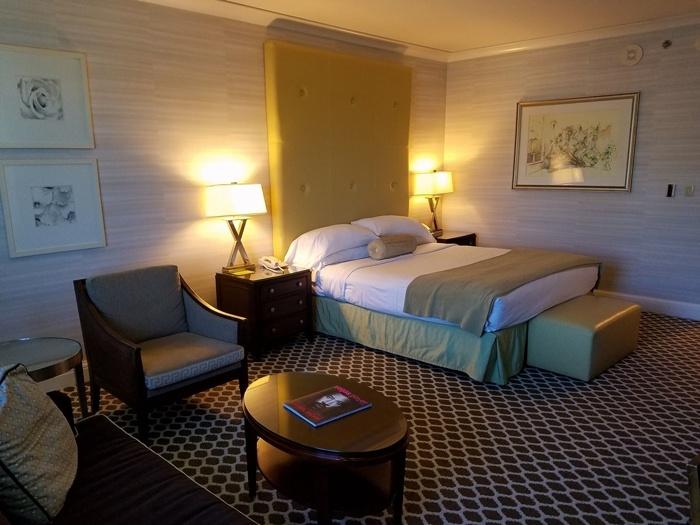 Palace Tower
This is where we stayed. It was opened in 1998 and has 29 stories that are adjacent to the "Garden of the Gods" pool area.
Forum Tower
Many people like this tower due to it's central location, but it is one of the older towers as it opened in 1979. However, one of the unique features of these rooms is that it features a TV in both the bedroom and bathroom.
This is where most of our party stayed and I heard no complaints about their accommodations.
Nobu Tower - formerly Centurion Tower
The Centurion Tower was completed in 1970 but was recently completely redoon as the first Nobu Hotel with a restaurant and is currently run as a boutique hotel within Caesars Palace. Instead of Roman Luxury, guests here will find Asian Luxury with high end amenities, strict security, dedicated bellhop and Japanese tea service at check-in. One other unique feature here is that the elevators are operated from the outside by keycard and guests can not go to floors other than where their room is.
Laurel Collection Tower - formerly Augustus Tower
Located along Flamingo Rd are two newer towers, the first - Laurel Collection Tower opened in 2005 (2015 as Laurel Collection) and is dedicated to delivering a more upscale luxurious experience than the rest of the resort. This includes taller ceilings, larger rooms and closer access to the amazing Que Spa. Similar to Nobu Hotel, it operates as a boutique hotel with it's own entrance and special key cards.
Octavius Tower
The Octavius Tower opened in 2012 and shares the lobby with Laurel Collection and is among the most luxurious rooms at Caesars Palace.
With that out of the way, here's some of the highlights that you won't want to miss during your visit to Caesars Palace ...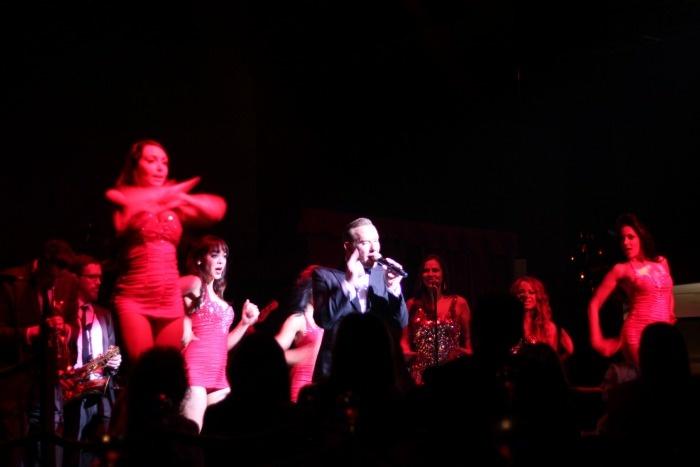 Matt Goss Show
What was once known as Cleaopatra's Barge because the stage is quite literally on a barge, now is known as "The Gossy Room". This venue is one of the oldest bars in Vegas and once played host to Rat Pack members including Frank Sinatra who was known to occasionally sing there after his own shows now hosts Matt Goss. Matt Goss does a fantastic show and is one of the possibly overlooked entertainment options at Caesars Palace. While Brooks and Dunn and Elton John may be bigger names, for a true classic Vegas experience you simply must visit here.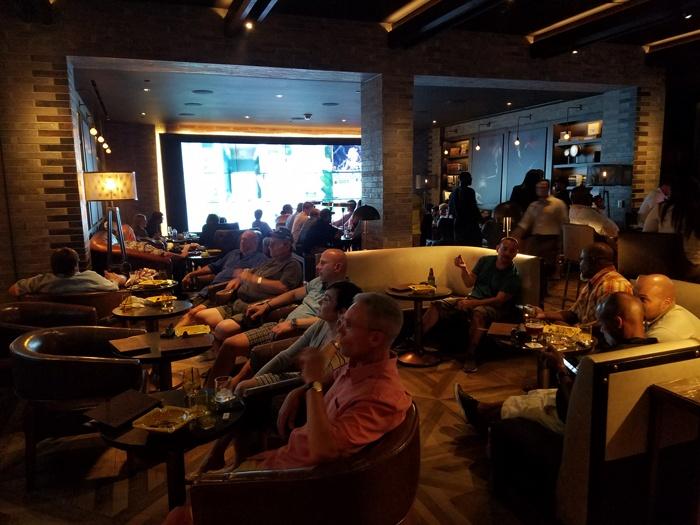 Montecristo Cigar Bar
Located directly across the hall from The Gossy Room is this 4,000 sq foot cigar bar that is one of the newest cigar bars in Vegas. Somehow the Montecristo Cigar Bar manages to be both contemporary and classic, so no matter what experience you are looking for you will be able to find a comfy chair and enjoy your favorite cigar. There are three main rooms here including the front area featuring a configurable video screen that can show one game on a huge screen or multiple games, a rear bar that is quieter and more modern feeling, and then a private room that is perfect for special events.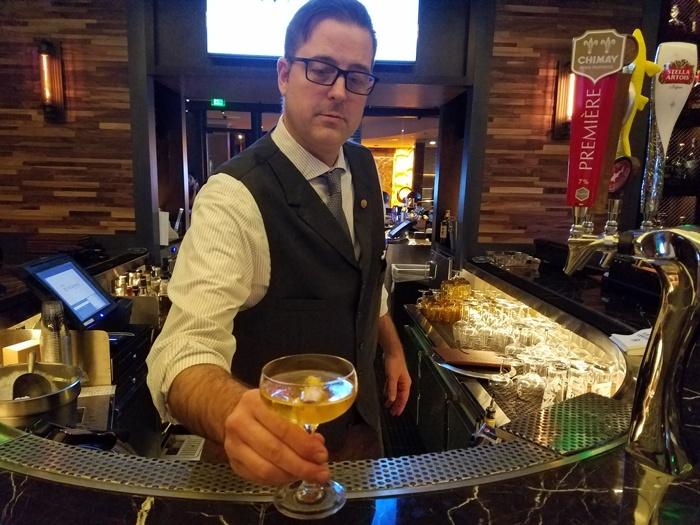 We did an extensive tour of their cocktail menu and while the bartender rejects the label of "mixologist" he is a master of the craft. During our time here he crafted drinks based on our preferences perfectly - including variations of the classic Manhattan that I hadn't even considered before ... such as using Mole Bitters for a chocolate note!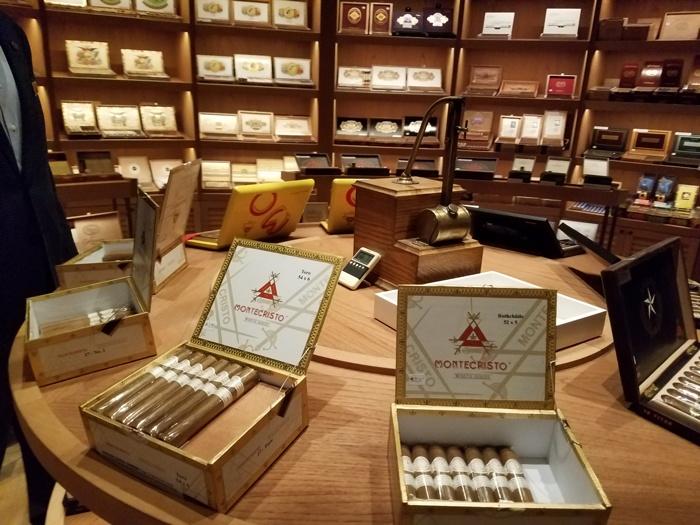 Since this is a cigar bar, you'd also expect a world-class humidor and the 400 sq foot humidor with space for 1,000 cigars is one of the largest I've seen. It also struck me as unique since it is actually round instead of being a "box".
Despite the fact that the room was filled with people watching the final minutes of the NBA finals, the room still smelled great and didn't have the haze that so often plagues even the best cigar bars.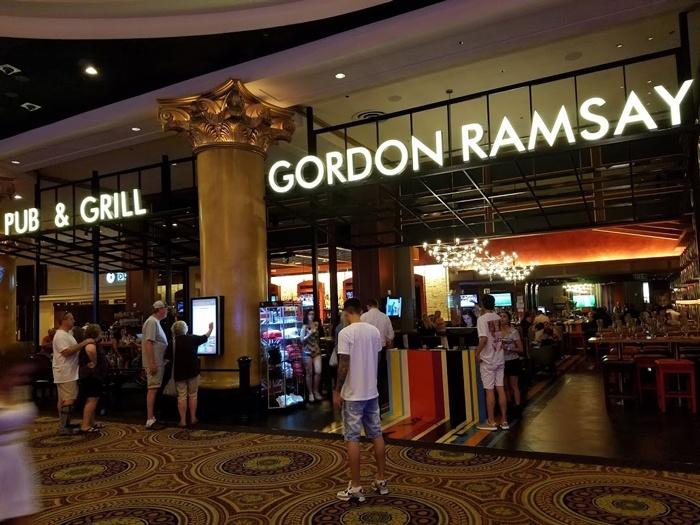 Gordon Ramsay Pub
I can't decide who has the better cocktails and food since the Gordon Ramsay Pub also impressed me. It set the tone of the weekend with some delicious drinks and the best salmon that I've ever had. It was cooked perfectly with a nice crispy skin but insanely juicy flesh and plated with a beautiful accompaniment of multi-colored cauliflower.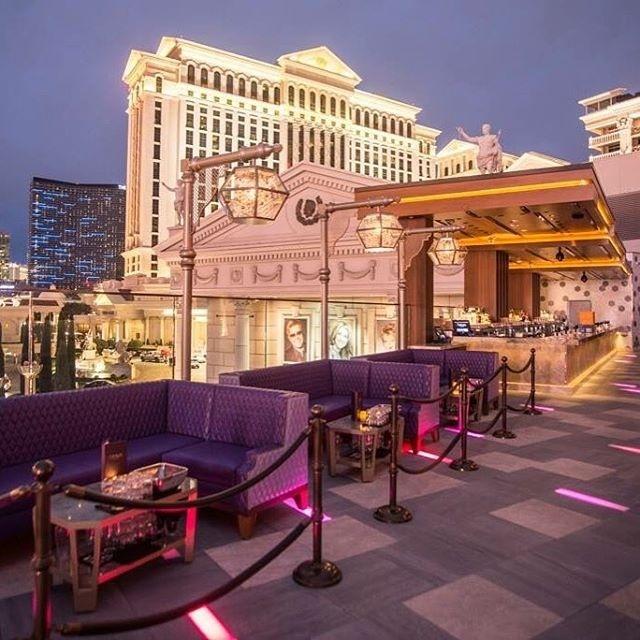 Omnia Night Club
Every world class Vegas resort needs a great nightclub and Omnia serves as one of the best in Vegas. THe multi-level venue features both indoor and outdoor spaces throughout the 75,000 sq foot facility. From the most advanced lighting and audio systems on the strip to top DJs and performers like Calvin Harris (every Friday) this is the place to go if you are looking for a party.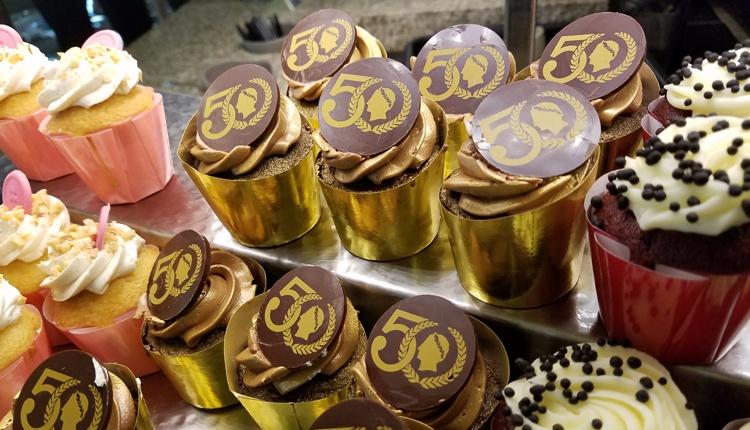 Bacchanal Buffet
While dancing the night away burns calories, the Bacchanal Buffet promises to help you put some back on you. I'm somewhat of a buffet connoisseur and this is clearly one of the best in Vegas. While it can be somewhat pricey it is a great opportunity to indulge in your favorite foods from stone crab claws to oysters to dim sum, every kind of meat you can imagine as well as tacos, soups, cheese, sushi, and hot as well as cold king crab legs.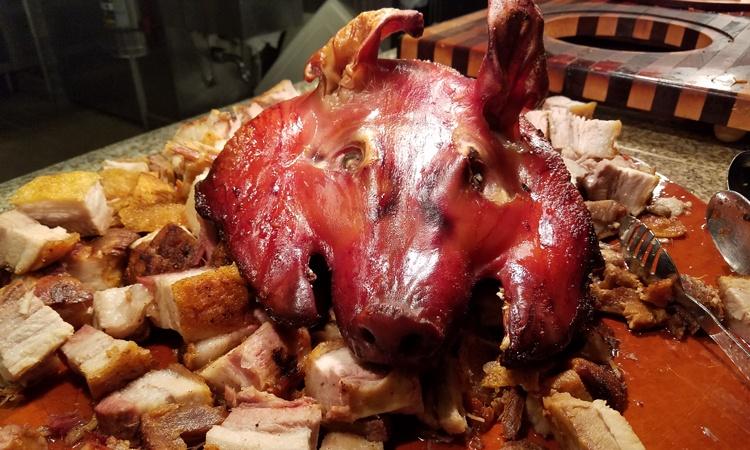 (I told you they had pretty much every meat!)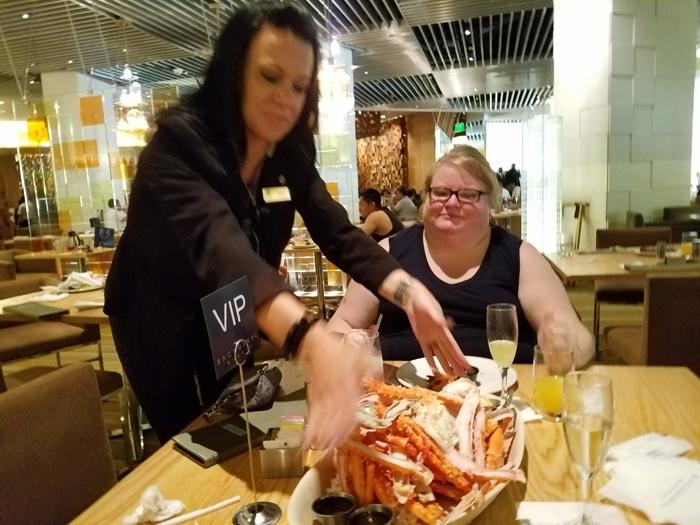 At other buffets, your "VIP" experience is simply faster access to the front of the line - at Bacchanal though they will actually bring out a huge platter of crab legs so you won't have to!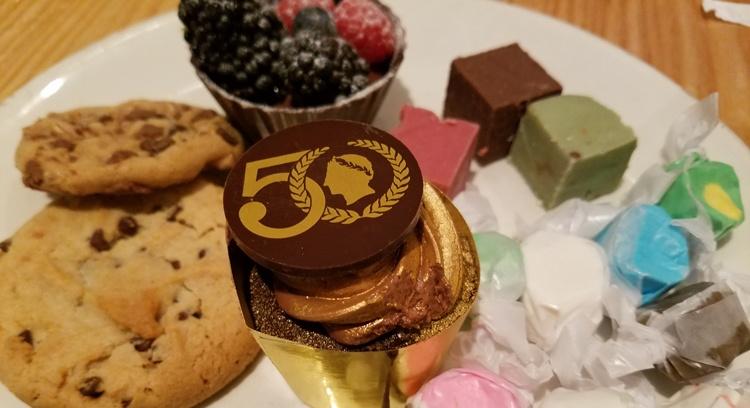 Make sure to save room for dessert though, they have cupcakes and cheesecake pops but also delicious gelato with unique flavors like mango habanero for those of you who are a bit more adventurous.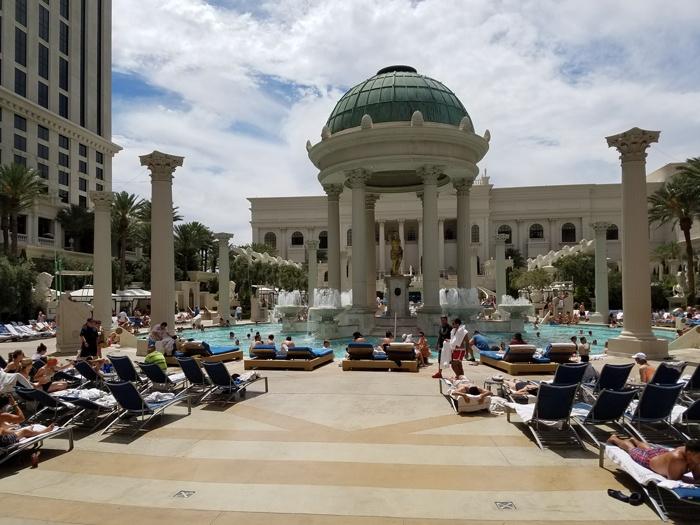 Garden of the Gods Pool
Finally and certainly not least is the amazing Garden of the Gods pool complex. What I really liked here was that the different pools were divided up so that you didn't feel like it was overly crowded. Each pool has it's own unique personality but it feels like you have stepped back in time to ancient Rome.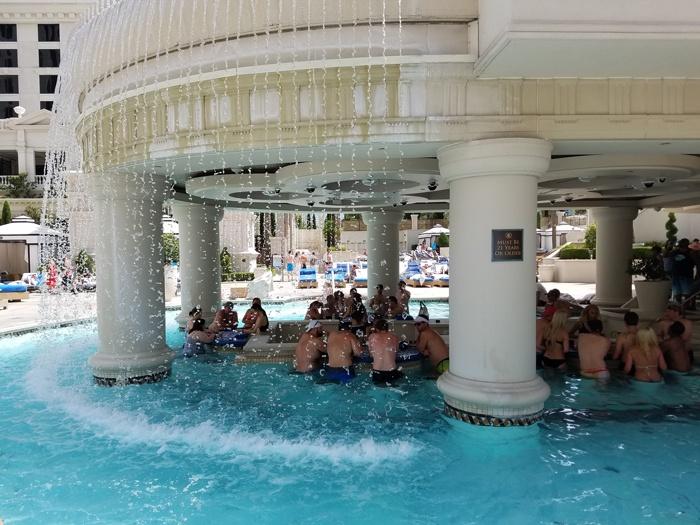 The only difference is that Roman's didn't have swim up pool bars with ice cold drinks to enjoy during the 100+ degree days. We do though, so I think that's the moment when AMERICAN luxury surpassed even that which the Romans are famous for :)
It's hard to believe that Caesars Palace has been a Vegas icon for 50 years. When you look at all the other hotels from the 60's that are now just distant memories (including Riviera that closed last year) it is even more amazing that this place has not only survived but thrived. While only time will tell what the future is, Caesars Palace seems to be as good as ever and we can't wait to return!