You've heard of a mancation, a guycation, a staycation, but now there is a BEERCATION! New York's Hudson Valley is one of the hottest craft beer areas in the country right now and I think this package offered by the Caldwell House Bed and Breakfast sounds like a great way to explore it safely and in style.
Sit back and grab a cold one as the Caldwell House Bed and Breakfast launches its first "Beer & Breakfast beercation" package along the Hudson Valley Beer Trail through its new partnership with the Little Beer Bus Hudson Valley Brewery and Distillery Tours.
"We're excited to offer guests a safe way to savor the region,'" said Dena Finneran, who co-owns the inn with her husband, John. "The Little Beer Bus offers guests a great way to sip different beers and also a great way to see the Hudson Valley."
"This is a new approach to a very successful tour for us," said Tania P. Dougherty, founder of the Little Beer Bus Hudson Valley Brewery and Distillery Tours. Dougherty is a Certified Travel Counselor and Certified Meeting Professional. She is also a native of Hudson Valley. "We're looking forward to offering guests at the Caldwell House a fun way to experience the very best brews in our scenic region while getting a behind-the-scenes education on craft beer." The beer tours are available year round and span between 6.5 to 8-hours on one day.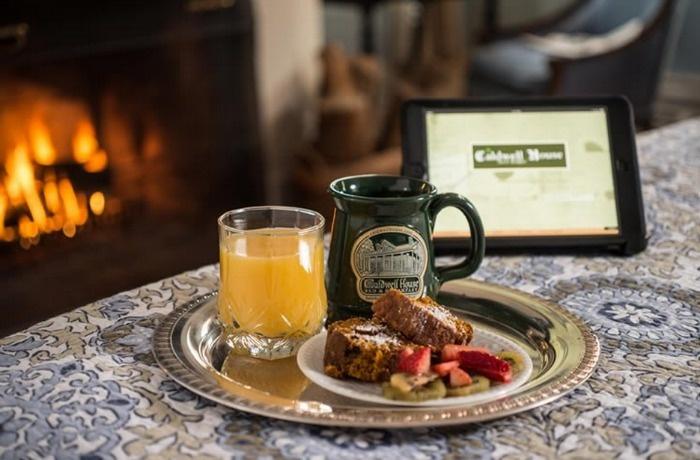 The Beer & Breakfast beercation package is available for couples (this would be a super fun romantic getaway!) and groups. I can see this being a fantastic idea for a bachelor party or pretty much any other reason to be honest.
The package includes:
Pick-up and drop off at the Caldwell House Bed and Breakfast one day of your stay in a bus, limousine, town car or SUV depending on group size. Transportation to your choice of three Hudson Valley breweries along the Hudson Valley Beer Trail. If you're uncertain The Little Beer Bus will help you choose. (Available options include: 2 Way Brewing Company, Blue Collar Brewery, Hyde Park Brewing Co., Keegan Ales, Newburgh Brewing, Peekskill Brewery, Tuthilltown Spirits, and the Warwick Valley Distillery).
5-6 generous beer tastings/beer garden(s) at each brewery
A grand brewery tour with a beer in hand and quality time with knowledgeable brewmasters
Full lunch, snacks, bottles of water, raffle prize, time to relax and have fun in the breweries and/or outdoor beer gardens
Tour guide that will meet you at each brewery for a fun-filled day
2-night stay at the Caldwell House Bed and Breakfast
Complimentary three course gourmet breakfasts
Complimentary WiFi
Package starts at $800 for two people plus tax. One-night packages are sometimes available at a reduced rate based on time of year and availability.
About Caldwell House
The Caldwell House Bed & Breakfast was once a refuge to an Irish family fleeing the British during the 1798 Irish Rebellion. The Caldwells, including a dozen children, crossed the Atlantic to arrive in New York City in the early 1800s. They later scrounged to amass 50-acres of land in Salisbury Mills and began to recreate the estate they had left behind in Ireland. Over time and generations, the buildings were sold off. Innkeepers John and Dena Finneran have been steadily reclaiming the buildings, once again piecing history back together.
Today the Caldwell House Bed and Breakfast is a multi-award winning member of the prestigious Select Registry© and Diamond Collection© groups of Luxury Inns. Located in the heart of the Hudson Valley - just 60 minutes from NYC – and close to the United States Military Academy at West Point, the Storm King Arts Center, Brotherhood Winery (and many of the Shawangunk Wine Trail Wineries), and the Woodbury Premium Outlet Mall. Some of the Hudson Valley's most beautiful hiking/biking trails are within walking or easy driving distance. Built in 1802, this historic inn is full of many original features, antiques and original paintings, as well as modern amenities. Each guest room includes its own private full bath (several with Jacuzzi tub for two), "Smart HDTVs" with Netflix/Hulu, free Wi-Fi Internet access, individual room temperature controls, iPads, round the clock coffee, tea, and snacks, and much more.
The Caldwell House Bed and Breakfast is located at 25 Orrs Mills Road, Salisbury Mills, NY 12577. To make a reservation call 845-496-2954 or visit www.caldwellhouse.com. Also at: facebook.com/CaldwellHouseBandB