When I first arrived in San Diego 18 months ago I discovered there was no shortage of "Mexican" restaurants and honestly even though people loved Rubios it was by far my favorite because it simply sat in that awkward position between "authentic" and "corporate". For instance - Chipotle and Qdoba are both completely corporate but they are also good but not "awesome" ... and on the other hand there are hundreds of 'Bertos as well as other hole in the wall places that do absolutely amazing tacos.
As such, Rubios for me was a place that I ordered catering from because they did a great job at that - but if I wanted a fish taco or burrito I had my favorites for that. It's difficult for them to compete in that market.
Earlier this week though, I got invited to one of their updated restaurants in Carlsbad, CA where we got a taste for the "new Rubios" - Rubios Coastal Grill. With this new positioning (which frankly isn't a dramatic change from what they have always tried to do), I feel that it sets them into a new market position with unlimited potential.
Most of you (at least those on the West Coast) have seen this commercial a few times by now. It's been running for the past few months but honestly it didn't really feel right to me. It was bigger than the Rubios that I thought I knew. What I didn't know though was the man behind the restaurant and that this was more than just a great ad campaign, but truly an anthem that was based on where he wanted to take the company and one that would set the tone for more great stuff ahead.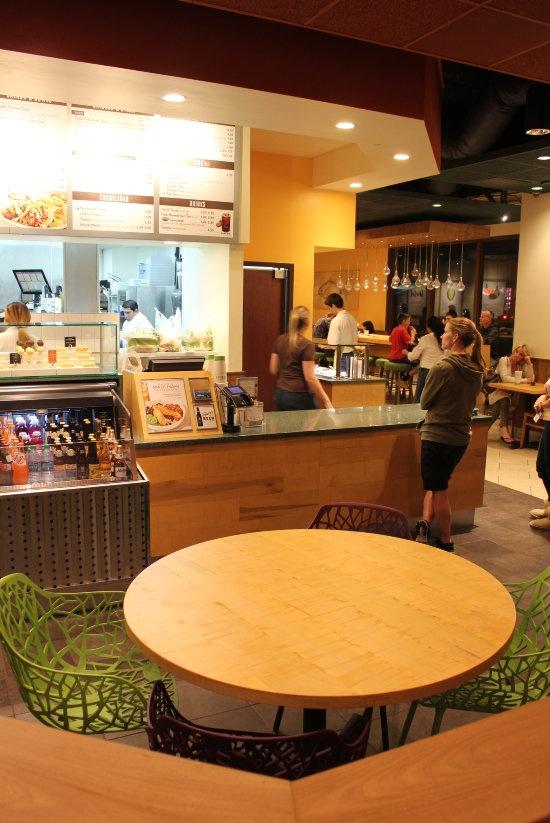 So, let's forget about the Rubios that I first experienced several months ago and let's see where they are going in the future ...
Upon arriving it was clear that the logo on the front of the building was no longer "Rubios Fresh Mexican Grill" with the kitschy "Mexican" font. Instead it is clearly going for a clean, modern look that while seafood based is not at all limited to "Baja".
When you enter the restaurant this clean, modern look continues with natural wood and a "reclaimed" materials look with colors are all light and inviting.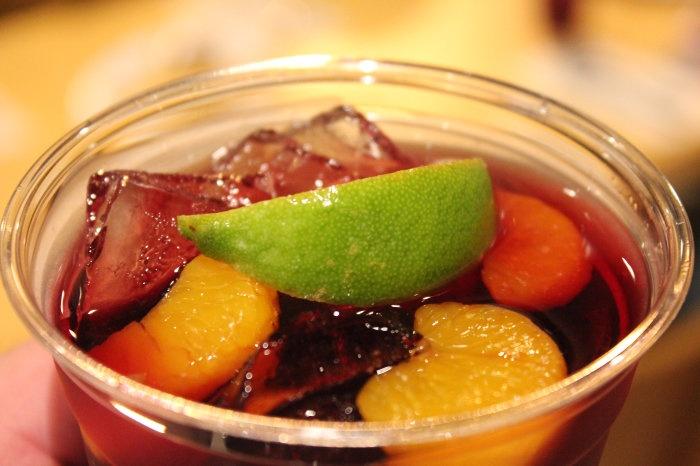 Inside though they kept the things that I did love about the old Rubios - sangria, craft beer, and the awesome salsa bar. They have also added lemonade and strawberry lemonade to the beverage station. Both of those are fantastic for when you can't enjoy an alcoholic beverage :)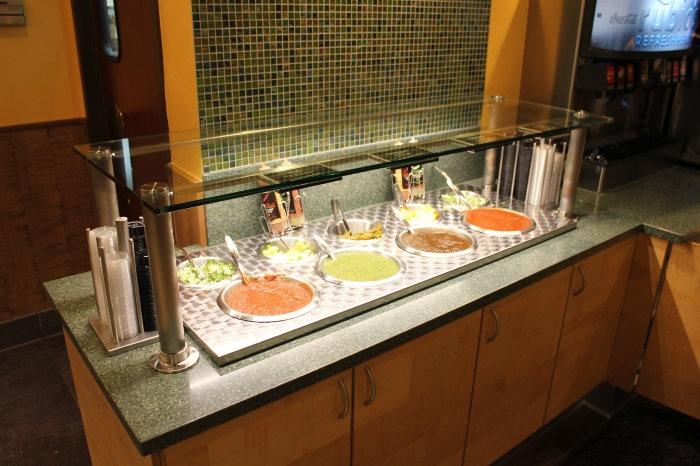 However, while they kept the salsa bar - you will notice that it is cleaner, more updated looking with a "sneeze guard" that is more there to help showcase the product it protects than to interfere with your enjoyment of it by coming down at an angle in front of you.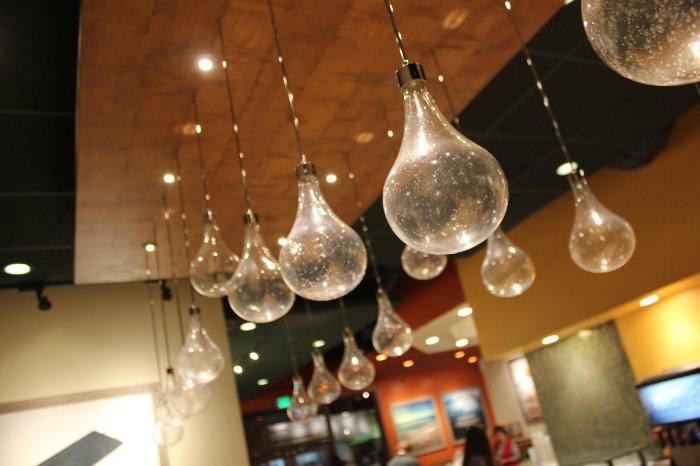 They have even integrated this sense of "natural" into the decorations in the restaurant that simultaneously remind me of the glass floats from old fishing nets as well as drops of rain.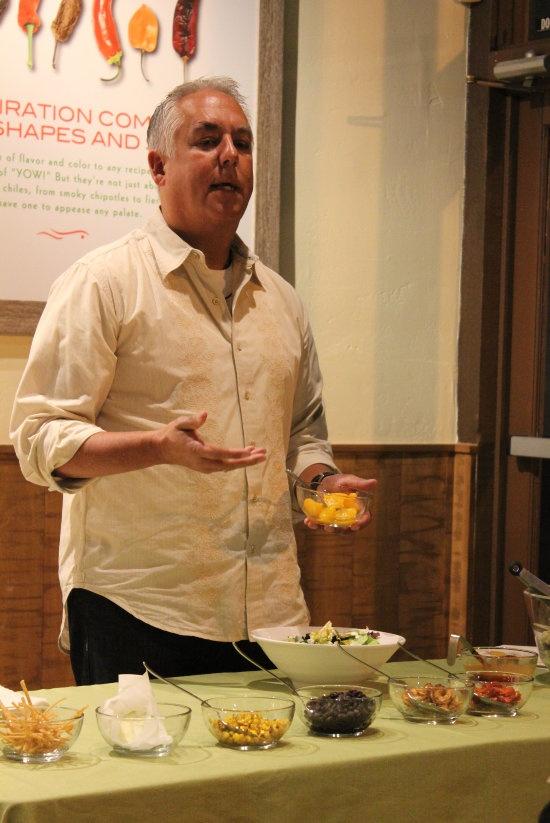 Our evening kicked off with a presentation by Ralph Rubio who actually made a salad and tacos right in front of us.
Honestly, that's something that I wasn't expecting. Here's a guy at the head of a major corporation with 200 locations - but he is still connected to his product and able to prepare it and talk about it at the same time in front of an audience.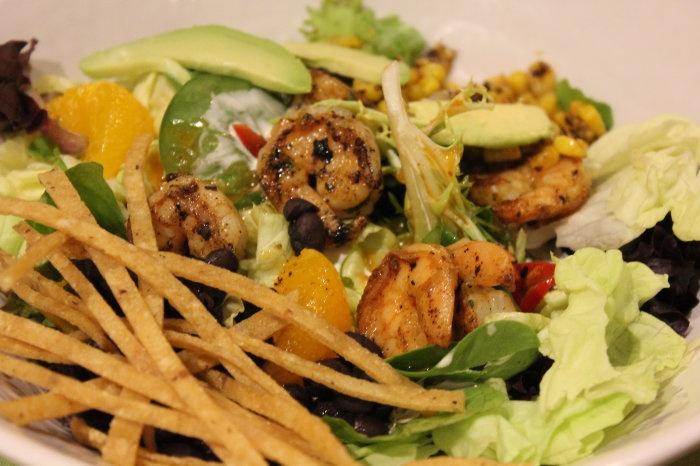 This salad is currently on the menu as the Chipotle Orange Salad - and can be made with shrimp, fish or chicken.
Clearly my tastes normally lean towards steak and other forms of meat based sustenance but this was a PHENOMENAL salad! Ok, so I need to go out and climb a mountain now to earn my man-card back but yes guys - between the shrimp, the beans, the corn, and the simply excellent balance of sweet citrus and the heat of the chipotle, this is a remarkable meal that I would not hesitate to order next time I visit!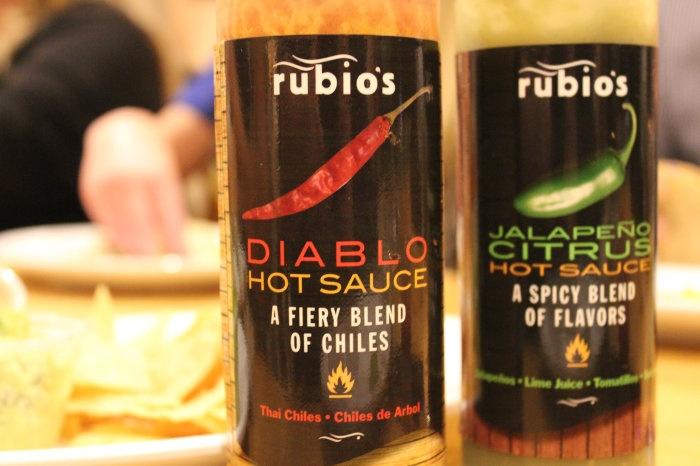 Ralph Rubio also introduced us to two of their new sauces. The Diablo Hot Sauce is exactly what you would expect but with Thai Chilis and a little Asian inspiration. On the other hand, the Jalapeno Citrus sauce was my favorite and went great on the tacos as well chips.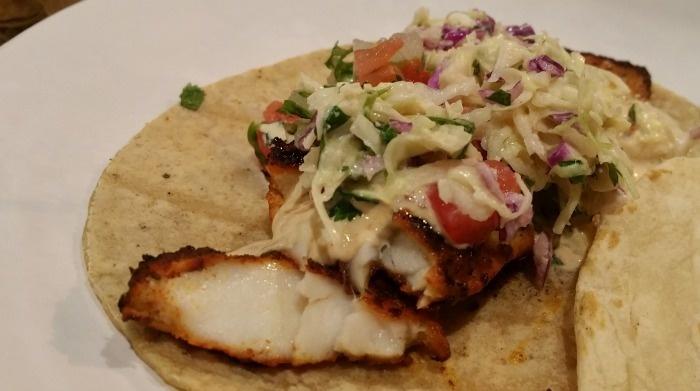 In case you didn't know - Ralph Rubio is credited with having brought the San Felipe-style fish taco from the Baja to California and they still make a mean one! With cabbage and their own blend of sauce it was cooked perfectly.
As Ralph talked about the various changes they have planned to roll out in 2015, it was clear that the future of his company is to be more about "The Ocean" ... less about "The Beach" or "Mexico" and a shift strongly towards a company the embraces fresh seafood, sustainability and corporate responsibility.
For instance, they will now be serving on real plates and cutlery instead of disposable ones.
Additionally, you will see more emphasis on grilled fish such as tilapia and salmon as healthier and sustainable options.
Sometimes it's easier to see the transition - especially if you haven't been in one of the store before or in a while, so I think that video above does a great job of showing the transformation.
I look forward to visiting Rubios Coastal Grill again in the near future!