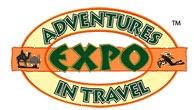 This past weekend I had the chance to visit the Adventures in Travel Expo in Rosemont. Browsing fun and exciting opportunities from African Safari's to diving for treasure in the caribean, visiting this expo was the perfect way to spend a cold and snowy, winter afternoon.
One thing that struck me after having run through the different booths was that there are some great opportunities for adventure travel that are WAY outside the normal thinking. For instance,
Mel Fisher's Treasures
allows you to not only dive and search for treasure, but you actually can become an investor. Another way to travel and do good at the same time is with <WHO>, where you can do manly things like archaeology, explore the Amazon, but also help out on a scientific expedition. Stopping by the Adventures in Travel Expo when it comes through your town is a MUST do if you are considering rounding up your friends to do a
mancation
this year. I'll be doing some more coverage of some of the more interesting mancation ideas that I came across at the expo, but here is a quick overview and some of the highlights ...
When you first walk into the expo, you are greeted by the Philippines booth where they had some great cultural exhibitions including dancing.
Thankfully for my budget I don't have to fly half way across the globe to get a great adventure as
Wildman Whitewater Ranch
in Wisconsin has pretty much everything a guy could ask for when planning a mancation or
guys weekend
. From whitewater rafting to paintball, even a ropes course, BBQ restaurant, and snowmobiling in the winter there is something for everyone. Plus, with a name like "Wildman" it is just taunting us to do a guys weekend!
Tour on 2
was there also, with some great motorcycle tours of the US and this summer they are heading to Iceland as well. Unfortunately the photo of their booth didn't come out well :( Also, if your girlfriend or wife is looking to do a girls only vacation the owner's wife leads motorcycle tours just for the girls.
And of course
Mel Fisher's Treasures
where you can be an investor in a treasure hunting company and dive with them as they work to recover millions of dollars in gold, silver, and jewels from the bottom of the ocean off the coast of Key West.
There were also activities such as the opportunity to ride a camel.
Or learn about becoming a scuba diver in this dive tank they had setup at the show. Sponsored by the aptly titled beadiver.com.
While not all of these are going to be at every stop on the
Adventures in Travel Expo
tour this should give you an idea of some of the things you'll see.