Is your idea of a perfect mancation to spend time golfing with your buddies on some of the greatest golf courses in the world, then come back to a luxurious hotel where you can spend time spoking cigars and drinking premium bourbon?
While certainly drinking and smoking isn't for everyone, if this is your cup of tea then you ought to enjoy it while you can since smoking bans are clearly creeping across the country and this icon of men smoking cigars, sipping bourbon, and sharing stories and tall tales with other guys is sure to disappear at some point in the near future.
Stogies and Sticks Mancation Golf Package Overview:
The Arizona Biltmore Resort & Spa is planning the ultimate getaway for the guys – the "Stogies & Sticks Foursome Mancation" is designed to be an ultimate guys weekend of lighting up fine cigars, sipping premium bourbon, dining on delectable American Lodge Cuisine and teeing off on two of Phoenix's best golf courses. The Biltmore's three-night/four-day vacation package for four will be offered Oct. 16-19, 2008. It kicks off at 6:30 p.m. on Thursday, Oct. 16 with a uniquely crafted 'Bourbon & Cigar Dinner' in the resort's signature restaurant, Wright's at The Biltmore. It combines a gourmet menu with both pre-dinner and after-dinner cigar smoking and bourbon on the restaurant's beautiful patio and lawn. An array of top-brand cigars will be offered and selections from the Jim Beam Small Batch Bourbon Collection will be poured. The menu will feature Wright's signature American Lodge Cuisine with it bold flavors, rich texture profiles, elegant but simplistic presentations and highest-quality ingredients from American boutique farms and dairies. You can hear David Haddad of Fumar Cigars and David Mays, the "Whiskey Professor," discuss bourbon, cigars and specialty dinners at Wrights by listening to their podcasts here.
(For those of you not familiar with the term "lodge cuisine" think of hunting and fishing lodges.)
Friday and Saturday will be golf days on the Arizona Biltmore's two outstanding courses. You and your guy friends will play 18-hole Adobe one day and 18-hole Links the next. Among Arizona's oldest, the stately and grand Adobe course recently underwent a major renovation to restore original features such as wide-open views and rugged bunkers while incorporating modern updates. Links is one of the more challenging courses in the Phoenix area with a celebrated layout of rolling fairways lined with luscious pines and well-bunkered greens. The Stogies & Sticks Foursome Mancation package includes accommodations for three nights, the Bourbon & Cigar Dinner, two rounds of golf, and breakfast daily. The cost is $450 per person, double occupancy, per night. To make it three days of golf – and a total of 54 holes over the long weekend, guys can add an instructional option to their Arizona golf mancation with the Hilton Golf Academy. The full day golf academy includes a group lesson for the foursome from 9:00 am to noon, lunch, 18 holes of golf at nearby Pointe Golf Club on Lookout Mountain at the Pointe Hilton Tapatio Cliffs Resort, transfers to/from the golf club, Hilton Golf Academy bag tag and Hilton Golf Experience Instructional Manual. The optional Hilton Golf Academy is $300 per person. To find out more about this awesome mancation golf package, I spoke with Julia Thorn, Director of Marketing Communications at the Arizona Biltmore Resort & Spa.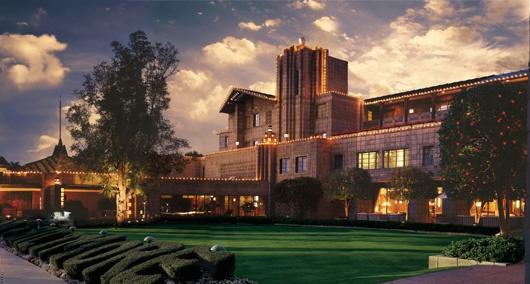 What makes the Arizona Biltmore a great mancation destination?
With the majestic spires and towering walls of the celebrated Frank Lloyd Wright design, coupled with a storied history, the Arizona Biltmore is like a castle for every male guest, filled with all his favorite toys. The resort has a little of everything men enjoy on vacation: two championship 18-hole golf courses; an 18-hole putting course that winds through the property; eight swimming pools to choose from, including one of the nation's premier resort pools with a 92-foot waterslide and an in-water bar; seven tennis courts; a variety of dining and lounge choices from signature American Lodge Cuisine at Wright's at The Biltmore to casual dining in the Biltmore Grill & Patio to the sleek, hip Wright Bar with a popular outdoor patio for enjoying drinks, cigars and spectacular mountain views; and even games like bocce ball and life-size lawn chess and checkers.
What are you doing to make it an even bigger and better place for a mancation with the Stogies and Sticks package?
We introduced a new event, making it an anchor of the mancation program, that is made for the guys. The Bourbon & Cigar Dinner kicks off the long mancation weekend on Thursday evening with a multi-course gourmet meal, fine wines and pre- and post-dinner bourbon drinking and cigar smoking. For an evening with your buddies, it doesn't get much better than that.
Is this the first year you have done this?
We tested the concept in late 2007, introducing the first Stogies & Sticks mancation and the inaugural Bourbon & Cigar Dinner. The response was excellent, so we are continuing with the program and even plan to expand it.
Do you have mancation packages other times of the year also?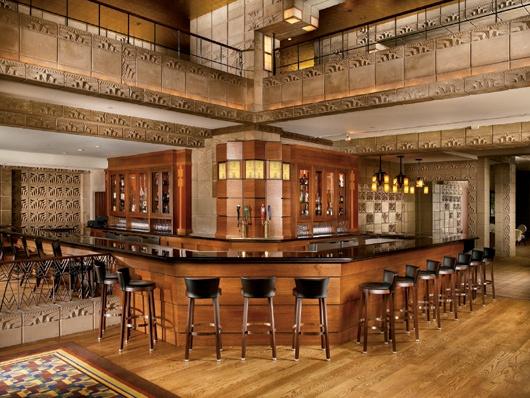 We are planning to do at least two Stogies & Sticks packages per year, perhaps more. In addition, we are exploring other mancation package ideas.
How big is the mancation business for the Arizona Biltmore?
It's a small, but growing, segment for the Arizona Biltmore. As we develop more packages and increase their frequency, we expect to see the business expand. To an extent, men have always taken vacations and trips with other guys, but it seems like there is more "buzz" now about it. What are your thoughts? Are mancations just the latest fad, or is this something that will continue to grow in popularity? The concept of mancations has staying power and will become a larger niche in the travel business. That's why we are testing the market today and down the road hope to establish the Arizona Biltmore as one of the more popular venues for mancation getaways.
Obviously you have a ton of great stuff at the resort, but what are some other great things for guys to do in the area?
Contiguous to the resort is one of the best hiking spots in the greater Phoenix area, the Phoenix Mountain Preserve. Guest can ply the trails into the stunning, protected terrain of the preserve on their own, or join one of our guided hikes including climbing to the top of majestic Squaw Peak. The Hilton Golf Academy is another rewarding outing for the guys. It includes a private lesson just for your group, lunch and 18-holes at the championship course of a sister Hilton property nearby, the Pointe Hilton Tapatio Cliffs Resort.
Do you have any guy-oriented spa treatments available?
The Spa has a specific menu of services for men that addresses their unique relaxation and wellness needs. Among the services are a Men's Facial, Men's Hand & Foot Treatment, Men's Back Treatment, Sports Massage and Men's Body Scrub.