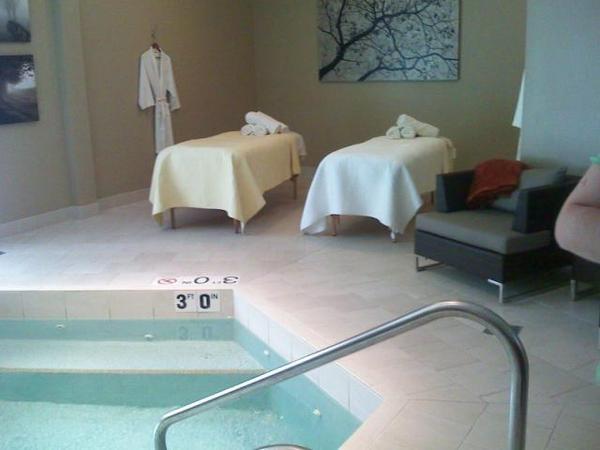 Ok men, going to the spa might not be the first thing on your list of "what to do" for your next guys weekend. However, after having experienced my first facial at that awesome AVANI Spa in Lake Geneva, I can tell you that it is really a nice experience. Don't worry though, you won't leave smelling like a girl or be placed in an evironment that is designed for women. Today, many spas have realized that men want to look and feel good too!
The AVANI Spa, located at the Abbey Resort on Lake Geneva, WI, has gone one step further and even created an entire mens spa package - complete with a private bartender, plasma TV, private hot tub, and guy-friendly foods (mini-pizzas, mini-brats, mini-hot dogs, nachos, and even BBQ wings!)
Just imagine sitting in the hot tub with your best guy friends, relaxed after your massage, enjoying an ice cold beer, while watching NASCAR or a Bears game!
This is the ultimate spa experience that us men have been missing. Granted sometimes the traditional quiet, reflective spa experience is good too, but if you have ever been curious about what a spa was like but are affraid of handing in your man card, this just might be the perfect first step.
If you are anything like me, you will almost certainly be hooked for life.
Private Hot Tub Suite Rates:
$50 per person (minimum of 4 people)
(Minimum of $200 in bar or spa treatments also.)
Includes the private hot tub suite for 4 hours, private bartender (cash bar), and Tailgating Food Package (see above).
Half Time Spa Treatments for Men:
AVANI Spa has even designed special spa treatments for men that are timed to fit perfectly during half-time so you won't miss any of the important plays of the game.
Chair Massage: $1 per min
Express Men's Facial: $70 (25 min)
Minicure: $35
Mini Pedicure: $35
To register or check for availability, please call the AVANI Spa at: 262-275-1862.
I look forward to other places developing spa treatments for men!
Got any suggestions, please contact me.