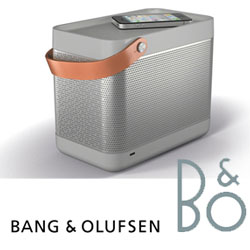 If you love great sounding audio and must also have the most stylish industrial design, then Bang and Olufsen is probably where you should start looking for your next set of speakers. One thing that has been missing from their line-up has been a portable solution, until now. The B&O Play line was introduced to bring audio solutions out of the home and into the rest of the world. Their first product is the Beolit 12, a portable sound system that syncs directly with your iPhone via AirPlay.
To celebrate the launch, Bang and Olufsen invited me to their launch party in Chicago.
The Beolit 12 Information from the Press Release:
"Its 120 Watts digital Class D power amplifier system individually drives two 2" tweeters and a 4" woofer to deliver powerful, accurate sound performance that comfortably fills a middle sized room. The sound system is designed and tuned by the same sound engineers that delivered the award winning BeoLab 5 loudspeakers from Bang & Olufsen. Attention to detail has always been a Bang & Olufsen signature competency, and this is reiterated under the B&O PLAY brand. Material choice and craftsmanship are no exceptions here: An Italian full-grain leather carrying strap is diagonally mounted for stability when the unit is carried, and the solid aluminium loudspeaker grille wraps smoothly around the unit, making the loudspeaker fabric visible behind the grille to allow for different discrete colour options. The top of the unit, with its volume, power and network controls has a non-slip rubber insert, so you can safely place your mobile device here while charging or playing.

The Beolit 12 represents the company's move into a new range of products designed specifically for a new generation of mobile, digital, quality-conscious customers. With a recommended consumer price of EUR 699 in Europe and $799 in the USA"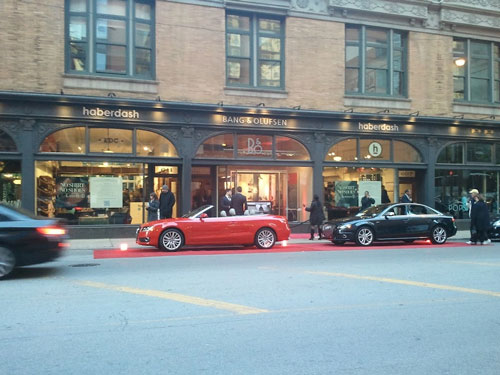 Upon arrival, we saw a gorgeous red Audi outside the store and discovered that in addition to home audio, B&O is also found in Audi now too!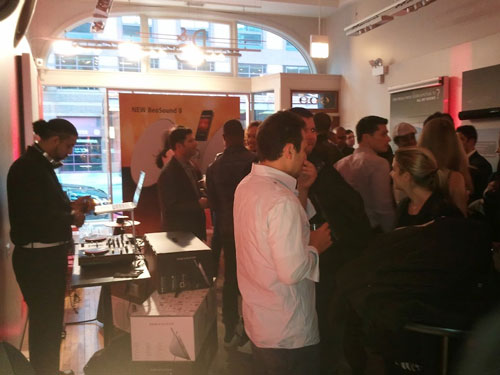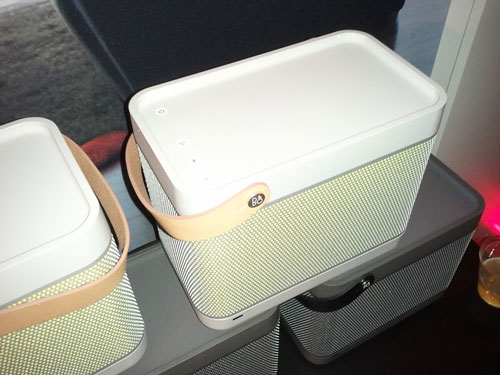 The Beolit 12 was surprisingly light and unsurprisingly chic. It would be the perfect accompaniment to your next mancation where you need some great audio but want something chic as well. Compared to other portable music solutions that I have worked with, the Beolit was surprisingly soft and "friendly", where as most others are hard plastic and cold metal.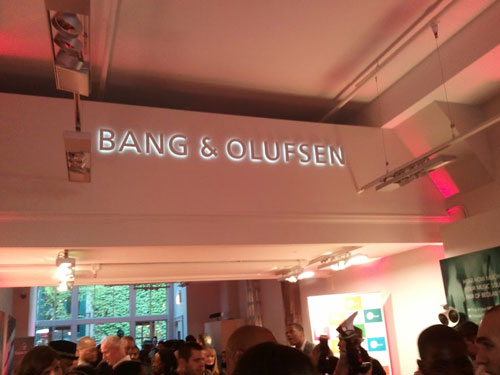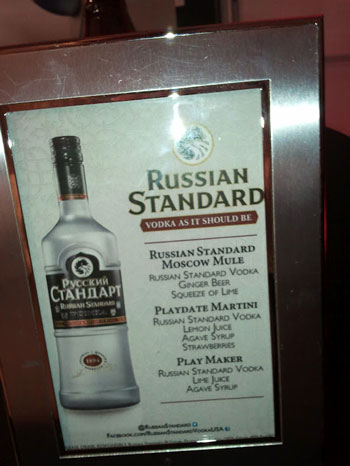 This party was also sponsored by Russian Standard vodka and they were pouring a selection of drinks ranging from shots to cocktails including: Moscow Mule, Playdate Martini, and the Play Maker.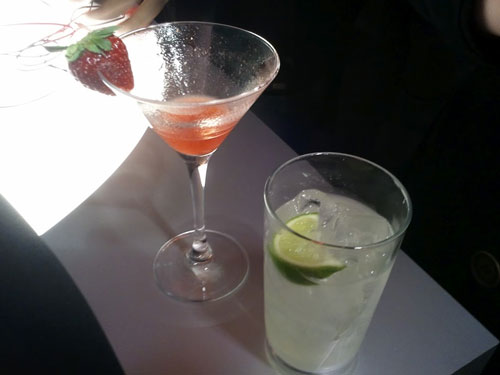 The Playdate Martini and the Moscow Mule complimented the chic audio and designs found at the party!