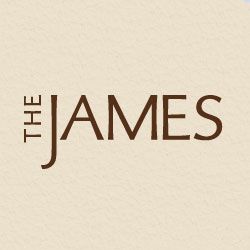 Traditionally, hotels have taken pride in offering services that let travelers sit back, relax, and enjoy. However, recently an increasing number of guests are seeking experiences where they can call the shots and create memories and skills that last long after their trip has ended.
The James offers a new in-room mixology experience that goes far beyond the mini-bar and lets guests become expert mixologists in the privacy of their own suite. This is DIY, with a twist - literally!
Every room at The James is now equipped with all the supplies needed to create bespoke cocktails, including a pint glass printed with recipes crafted specifically for In-Room Mixology. Guests can order the In-Room Cocktail Experience as part of The James In-Room Dining menu and a perfectly proportioned set of liquors and ingredients will be delivered. In addition to the cost of liquor consumed from the Pantry, the tray of accoutrements is $28. Customization is what the experience is all about, and guests can choose whether they would like to prepare the drinks or watch and learn from an expert bartender for a private mixology lesson.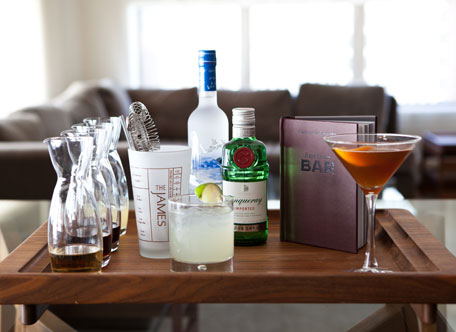 Guests can enjoy the following selection of drinks as part of the In-Room Experience:


Corpse Reviver 2 (Gin, Cointreau, Lillet Blanc, Lemon)
The Marguerita (Tequila, Cointreau, Lime, Simple Syrup)
Old Havana (Rum, Simple Syrup, Lime, Bitters)
Blood & Sand (Bourbon, Cherry Heering, Sweet Vermouth, Orange)
Moscow Mule (Vodka, Lime, Ginger Ale, Bitters)

As part of the in-room bartender experience, guests can refer to a provided book, "American Bar," with recipes for over 200 contemporary cocktail recipes, which is also available for purchase at the hotel for $35. Additionally for those who want to "mix outside the box," the in-room bottles let guests bring their own imaginative cocktail creations to life.

The James takes the inspired mixed drinks of New York and Chicago's nightlife scenes and brings them exclusively for guests to savor in the warmly modern rooms at the hotel. (The James Royal Palm also is set to open later this year in Miami, and this program will be offered there as well). Guests may not be able to take the bright lights of these cities home with them, but they can savor some of their after-hours specialties again and again once they've enjoyed the In-Room Cocktail Experienc