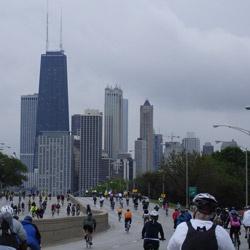 There are a few opportunities around the country to do good, visit a great city, and do something out of the ordinary. Chicago's Bike the Drive and Tour de Cure is one of those great events. As a participant the past few years it is also a lot of fun to ride on Lake Shore Drive with NO CARS!
For those of you from out of town though it might be tricky to find a hotel that will accommodate bikes. The Active Transportation Alliance and Fairmont Chicago have come to your aid with a great hotel deal that even features a bike valet!
Bike the Drive overlaps with Tour de Cure, so that's what I usually do and help to raise money for the American Diabetes Association at the same time. The event is held the Sunday morning of Memorial Day Weekend, with this year's event kicking off at 5:30 a.m. with a Post-Ride festival starting at 8 a.m. and going till Noon.
Fairmont Chicago Bike the Drive Package:
Even if you are in Chicago, getting up at 4 a.m. and driving downtown isn't always the best way to spend a Sunday morning, so this year the Fairmont Chicago is offering a fantastic special, for only $149 (Saturday night only) you can stay right downtown, they will have a bike valet, and the hotel is located less than a mile from where the ride starts. According to the person I spoke with at the Active Transportation Alliance, you should as for the Bike the Drive special and the booking agent will be able to offer you that price.
You can also visit the Fairmont's Bike the Drive Page to book online or call: 312-565-6698.
For those of you who aren't familiar with the event, Bike the Drive and Tour de Cure is a non-competitive ride. Trust me, I am not a professional cyclist and I am not in the best of shape, but I have no trouble doing the 15 mile segment and keep talking about doing the full 30 miles at some point. Lake Shore Drive is nice and flat and since there are no cars it is also low stress and a lot of fun.
This would make a fantastic guys weekend in Chicago at one of the best times of year (not too hot and usually good weather!).
If you are interested in joining Team Man Tripping let me know!
Videos from Last year's Ride with Chick Vacations:
Sorry for the poor video quality, but I have a brand new camera for this year's ride!