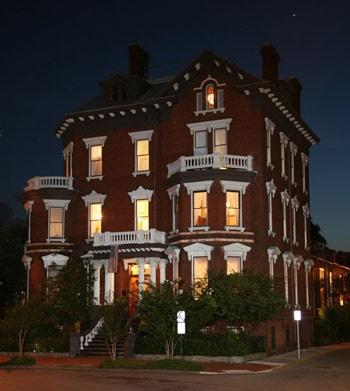 As the leaves up north start to turn shades of red and brown, down south the humidity is dropping and the weather is getting nice and cool again, so it is time to explore Savannah's ghostly past.
Part of Savannah's quirky and mysterious charm lies in her rich history. Often celebrated along with Savannah's crowning accomplishments and historic beauty, come the tales and legends about the supernatural side of America's Most Haunted City.

In Savannah, you can have your favorite spirits on the rocks, or haunting some of the Historic District's favorite pubs where they serve up cocktails to-go and mysterious stories about the things that go "bump" in the night. At Molly MacPherson's Scottish Bar & Grill, Scottish cuisine along with a sip of single malt whiskey fills your tummy as ghost tours depart in the evening. Savannah's talented tour guides spin our tales on foot like at Savannah Haunted History Walking Tours, by horse and carriage at Historic Savannah Carriage Tours or even by convertible hearse at Hearse Tours of Savannah. However you like your chills and thrills, come scare yourself in Savannah this October.
The Kehoe House
Ghost stories and strange phenomena abound at the massive Kehoe House which was built in 1892. From the hauntings perpetrated by twins that died while playing in a chimney in one of the rooms to the eerie occurrences in rooms 201 and 203, the Kehoe House has rightfully earned its haunted reputation. The staff has had several of their own incidents including hearing voices of children and doors unlocking and opening by themselves.
The 17Hundred90 Inn's Ghostly Tale of Anna
Rumor has it that a friendly, early 19th century ghost named Anna Powers haunts the 17Hundred 90 Inn. According to folklore, Anna fell in love with a married seaman in the early 1800s. She is said to have thrown herself from the third floor balcony onto the brick courtyard below, just as the sails of his ship left her sight and headed down the Savannah river to the sea. Some have suggested that the young Miss Powers was helped ad finestra by the seaman's jealous bride. Since then, her ghost has purportedly been seen wandering the halls throughout the inn and restaurant, particularly in room 204 where many daring guest are eager to stay.
The Eliza Thompson House
The Eliza Thompson House has its share of ghostly sightings, including Confederate soldiers in an upstairs window and a young girl wearing a white dress in the hallway. This 1847 home is the perfect place to "capture the spirit" of haunted Savannah.