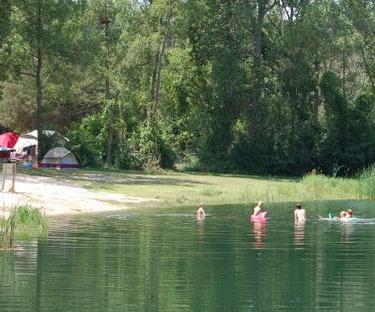 Golf, beer, brats and campfires, can it get much better.  At Green Lake Camp Grounds in Green Lake Wisconsin you can enjoy all the fun of a great camping trip with a few extra benefits that make it an amazing time. 
The camp sites are spacious with plenty of room to put up big tent, have a dinner table, a place to sit and room to put up a grill.  There are two truely outstanding golf courses right on the property that will challenge even the top golfers.  Finally, there are numerous other activites that guys of all ages can enjoy.
The camp sites at Green Lake are termendous.  Each space has its own firepit, table and plenty of room for large tent making it easy to fit a group of 3-4 guys per site.  What also makes it very convienent is you can go with many famlies and rent out a row of sites to be close with all your friends, or go by yourself and relax alone in the calm of the wilderness.  Near all the campgrounds is a country store that makes it very convienent to pick up anything that you might have forgotten to bring.  Also, there is a bathroom with showers and stalls, some might consider this cheating, but foor those that dont it is a very nice amenity.
Right on the campgrounds two of the top courses I have ever played at a campground.  One is a woodland style course while the other is a links style.  The woodland course is carved through thousands of trees, and if your drive isnt perfect youll have an impossible time finding your ball.  The greens are very well maintained, and provide a great challenge to players of any level.  The links course is wide open, but if you find yourself in the rough, youll need a weed wacker to get to your ball.  The greens are of all shapes and sizes, including a couple that have 30 foot drops.  Either one of these courses will cause beginners to cry, average golfers to get frusturated, and pros to break down.
If golf isnt your thing, or you brought along the little dude, there are many other activities to keep you busy.  Theres a huge lake (hence the place called green lake) throughout the entire property.  You can swim at the beach, rent jet skis or go fishing.  Also there are dozens of bike paths for those that want to get their workout in while on vacation.  These paths will take you through the hills and woods, and are very fun to run on.  Theres arts and crafts locations for the kids, and volleyball nets and frisbee golf for the teens.
No matter who you are, if you enjoy the outdoors youll love Green Lake Campground.  With the feel of a camping trip and the amenities and options of a hotel, youll get the best of both worlds at this amazing vacation spot.  I've been going there for the last 20 years, and will continue to do so for a long long time.