Unfortunately, not everyone can make it to New Orleans to experience Mardi Gras in person. However, we have a fun way to bring the excitement Mardi Gras to your friends and family - host a progressive New Orleans themed cocktail party! That's exactly what we did and it was even more fun than we expected as we paraded around our apartment complex going from loft to loft, handing out beads, sampling cocktails, and enjoying some classic New Orleans food with friends and neighbors.
While most American's probably associate Mardi Gras with "Girls Gone Wild" flashing for beads, the reality is that the core of Mardi Gras is the concept of "krews" or societies of friends that come together and build ridiculously awesome floats, throw trinkets to people on the street and host elaborate parties.
With that in mind, we organized our own "krew" of friends and neighbors who came together to create our own parade that ended with our party in the common area of our complex.
Instead of throws, we exchanged beads and drinks with each other and those we passed during the appartment crawl parade.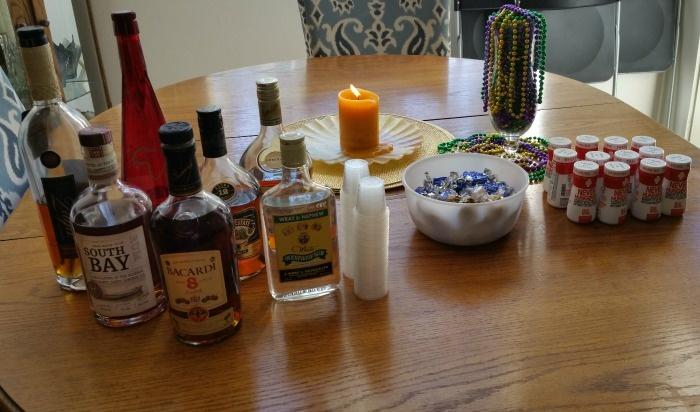 As the organizer of the party, we started in our loft with a self serve rum buffet, vodka chocolates (representing the candies thrown from floats), beads, and of course Never Hungover to help make things a bit easier for our friends the next morning :)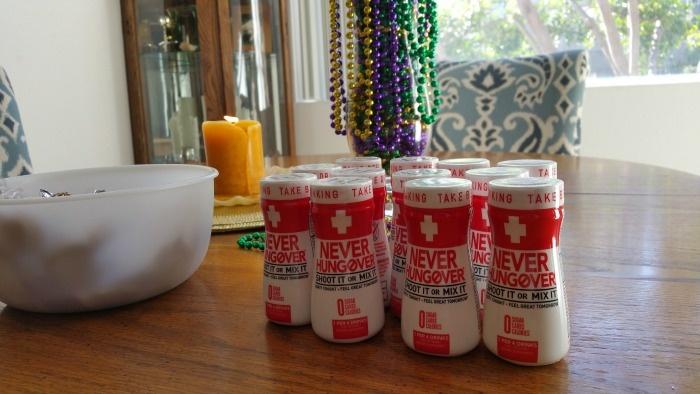 Never Hungover is a hangover prevention drink that in my experience and confirmed by those at our party appears to work well to help neutralize the toxins in the liver and kidneys caused by alcohol consumption and helps flush them out of the body. (official website for more information)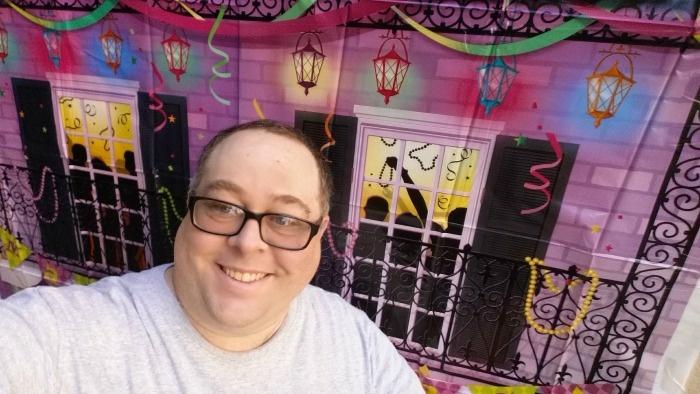 The next thing we set up was a photo backdrop for people to take photos and pretend that they were actually on Bourbon Street.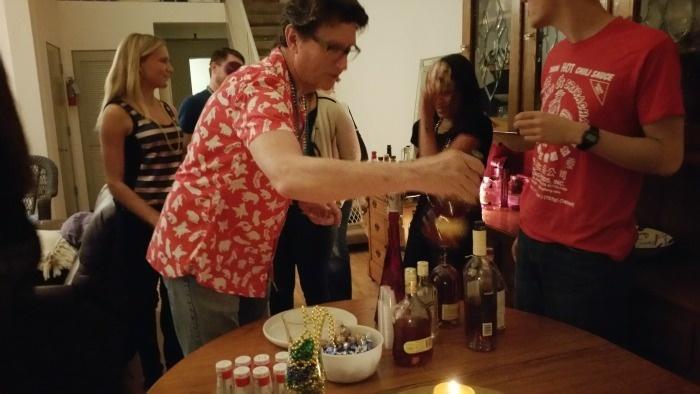 Now that everything is set up, we kicked the party off by opening up our rum buffet, with a selection of more than 7 rums from around the world.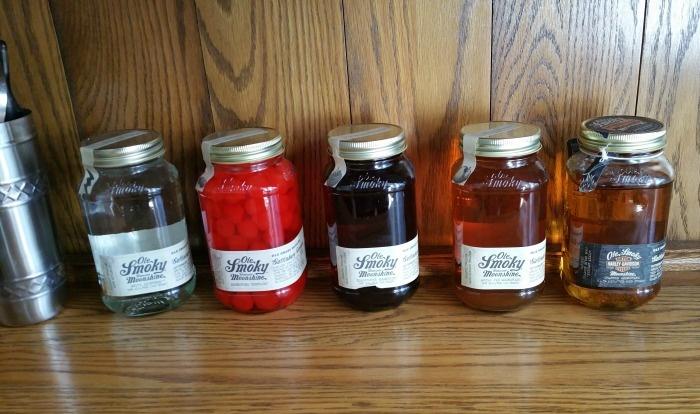 Additionally, we celebrated with a second buffet of five different flavors of moonshine ranging from Ole Smoky Black Raspberry to the aged Harley Davidson variety. Of course, one of the most popular in the collection were the cherries that everyone seemed to enjoy trying!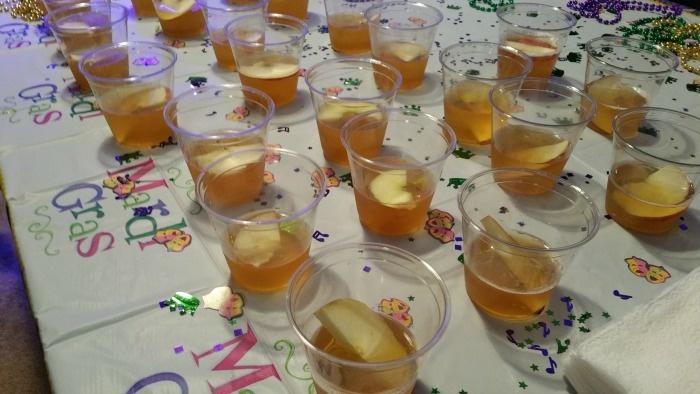 In the next apartment, they featured an Apple Jack shot: One part Jack Daniels Tennessee Whiskey, One part Apple Cider, and an apple slice to eat afterwards.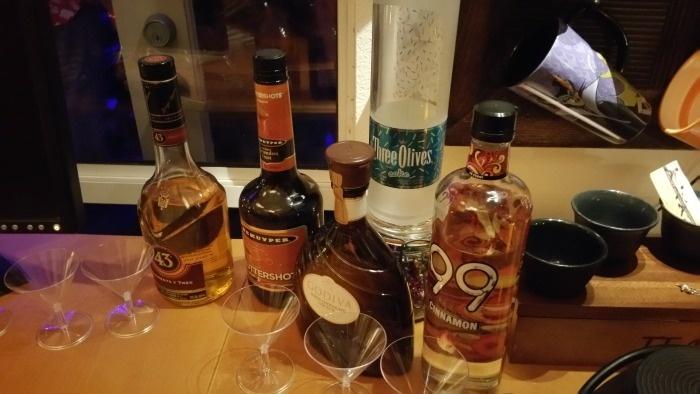 Then we moved on to another loft where they treated us to a King Cake Martini!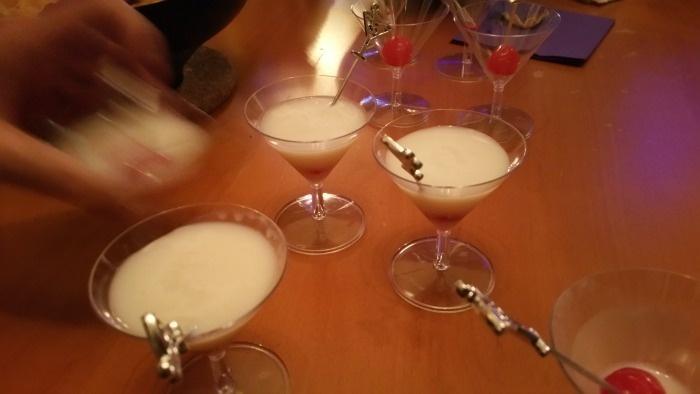 King Cake Martini Recipe: Equal parts of Three Olives Cake flavored vodka, 99 Cinnamon Schnapps, Godiva Liqueur, Dekuyper Buttershots.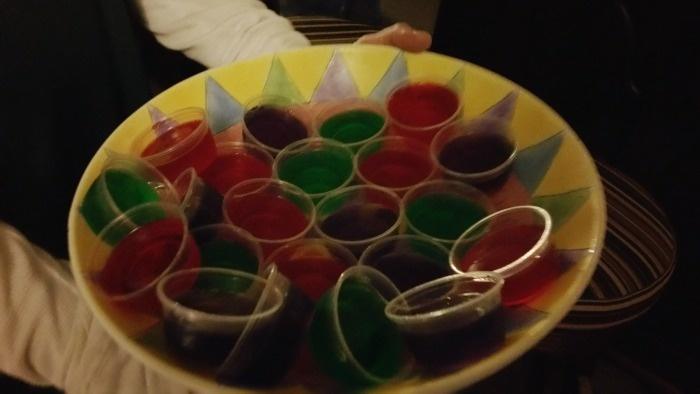 Next we shared a bowl of jello shots!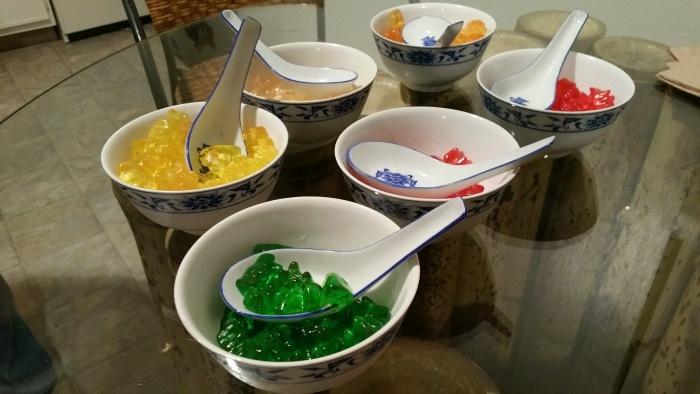 And then vodka soaked gummi bears!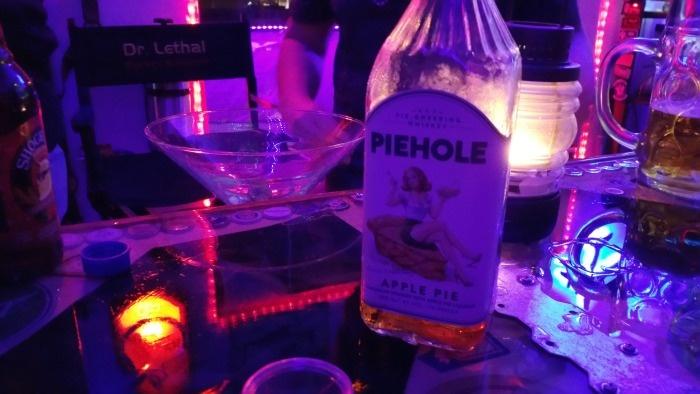 Then we enjoyed a round of PieHole Apple Pie shots!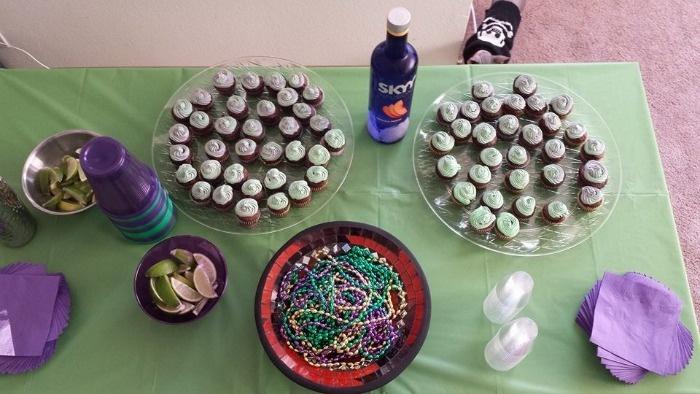 Peach Sky Vodka shots and cupcakes!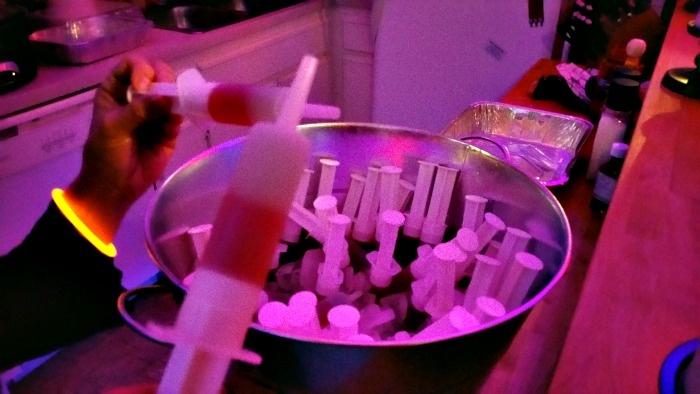 And then wrapped things up with a Mardi Gras favorite that is found all along Bourbon Street itself - jello shot syringes!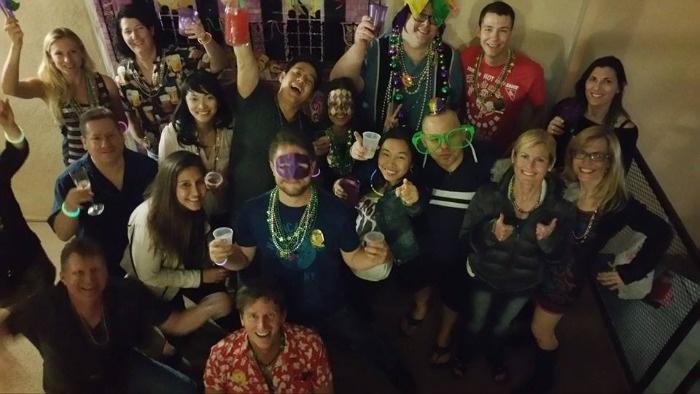 With the apartment crawl wrapped up it was time to head to the common area to share some great New Orleans food including jambalaya and gumbo as well as andouille sausage pizza and some other party favorites.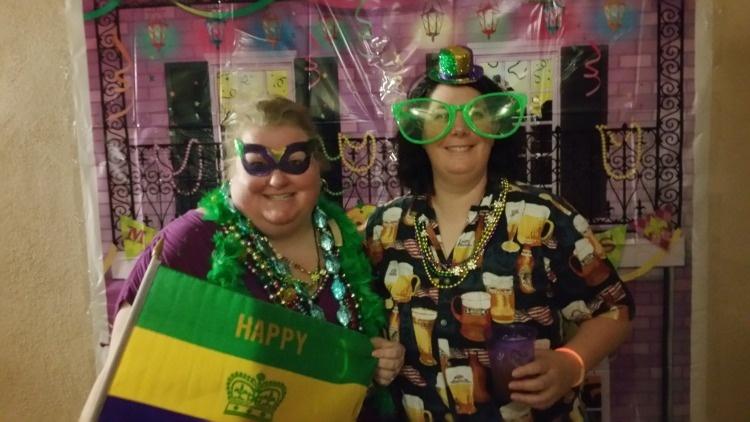 It was also time to take some photos!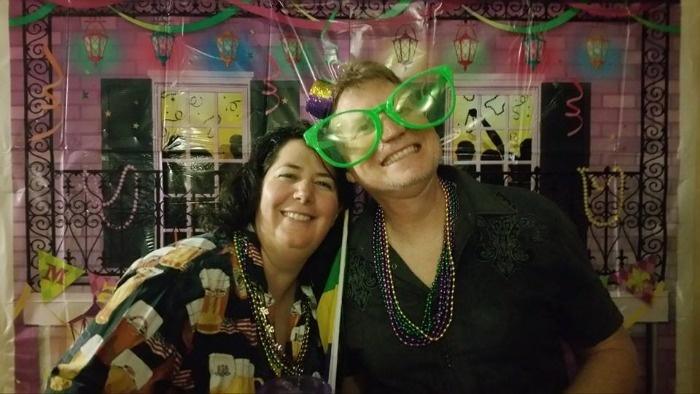 By this time not all photos were able to be posted but you get the idea and will just have to imagine what isn't here :)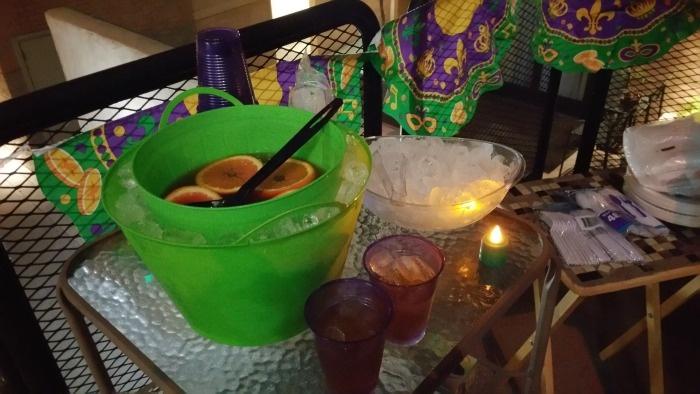 Our last cocktail of the evening is my version of the famous Neptune's Monsoon from my favorite New Orleans burger spot - Port of Call. To this day, I am not sure if the burger is actually that awesome or if it is just that after waiting for over and hour to get in and the super strong tiki drinks you drink while waiting have influenced that impression.
One thing I can say is that this is a drink that deserves to be served at your Mardi Gras Party, so I'll leave you with it right here:
Neptune's Monsoon Drink Recipe:
1/2 750 ml bottle Cruzan Aged Dark Rum
1/2 750 ml bottle Cruzan Black Strap Rum
1 750 ml bottle of Cruzan Light Rum
1/4 gallon Pineapple Juice
1/4 gallon Passion Fruit Juice
1 gallon of Sweet and Sour Mix
Mix all the ingredients together and float cherries and orange slices on top, chill completely and serve over ice.
So there you have it; that's how we celebrated Mardi Gras this year! The important thing when throwing a party like this is to remember to be safe, don't let anyone drive home, have fun, and take care of yourself by having food available, drinking plenty of water, and also consider trying hangover prevention drinks such as Never Hungover to make things easier the next day!