Seeing great bands that bring back memories of highschool are always great, but when they are free and you can enjoy not-overpriced booze, well ... that's even better! I love Fremont Street so much, that I'm going to call it the Fun Side of Vegas from here on out. It's taken some time for Fremont Street to gain traction but it is absolutely on a roll now with some great hotels like The D, Golden Gate, and Golden Nugget as well as great free entertainment virtually every night. To extend things even further, the Fremont Street Experience launched Rock of Vegas Summer Concert series. We were there last week to see the Spin Doctors and Cherry Poppin' Daddies and had a blast!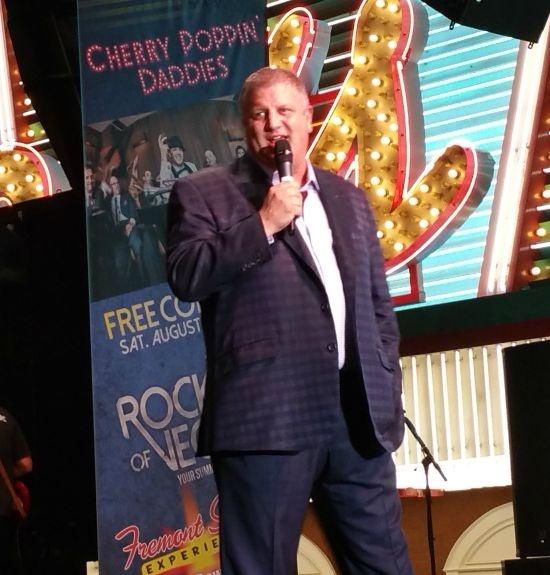 To kick things off, Derek Stevens - owner of The D and co-owner of Golden Gate introduced the bands.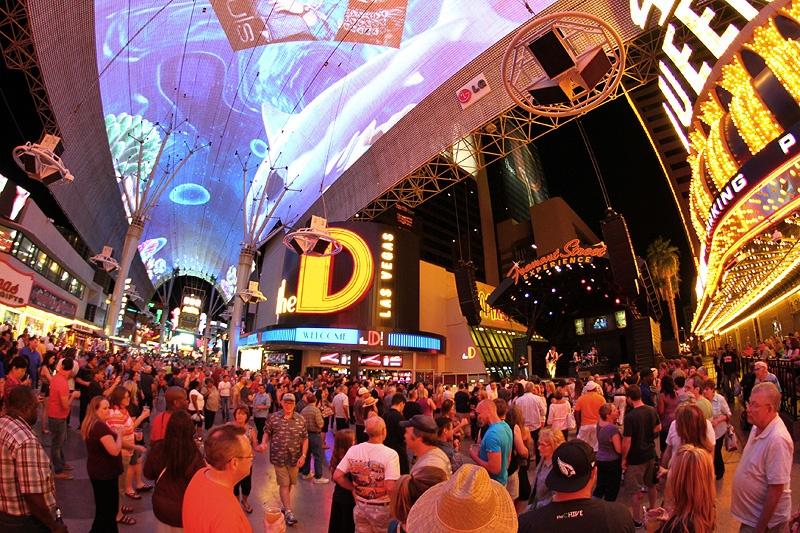 For those of you who still aren't familiar with Fremont Street Experience, it is a five-block long entertainment district located in downtown Las Vegas. The centerpiece (or is that head piece?) is Viva Vision, the world's largest video screen ... a whopping 1,500 feet long, 90 feet wide, and 90 feet over the pedestrian mall. By itself, it's a great reason to visit to see the 12.5 million LED lights and hear the sound blasting from the 550,000-watt sound system.
One of the things that makes this an awesome experience is that unlike other concerts you may experience where you are roped in away from places to drink (and forced to use porta-johns), these are right at the mouth of the Fremont Street entrances to the various casinos. This means that there are plenty of toilets and plenty of ice cold beer, daiquiris, and cocktails waiting to be poured. Your most difficult challenge will be deciding if you want it in a football, a lady's leg, a yard, or just a plain old plastic cup.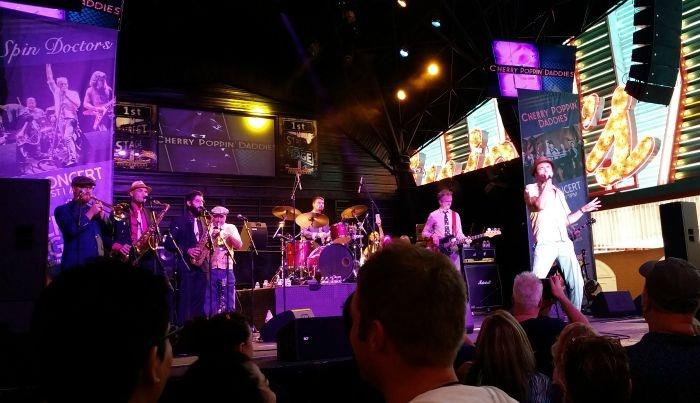 What I found interesting - but fun, about these two performers is that personally I am a big fan of the Spin Doctors and my wife is a fan of Cherry Poppin' Daddies so we were both able to enjoy the show.
For guys that hit their prime more 20 years ago, they are still rockin. Lead singer, Steve Perry has moves that are still incredible and at times unbelievably fun to watch. They even set up a blocked off area for people to swing dance to the music.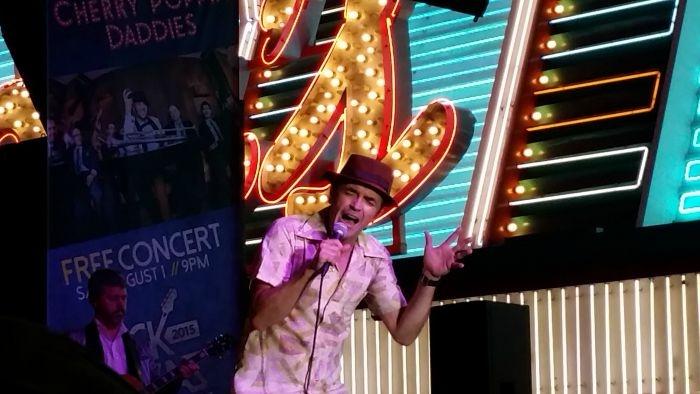 We were in the VIP area - but before the concert began they opened it up to other people, so if you can't score a badge, just hang around the entryway and make nice with the guards!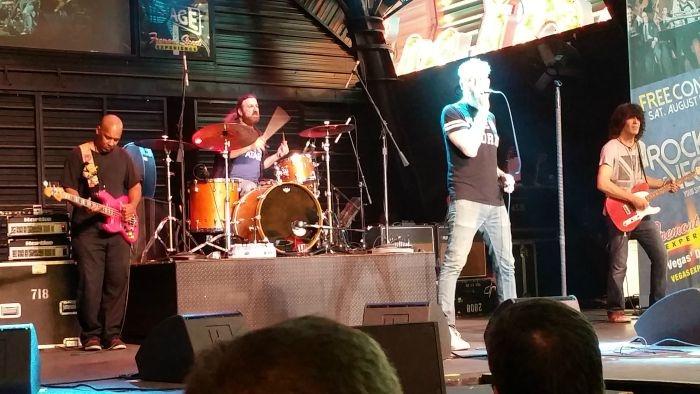 When the Spin Doctors came on, the mood shifted from "dancing" to hopping up and down and grooving with our heads and shoulders. It's funny to watch a group of 30 and 40 year olds suddenly get transported back to their childhood but this was a lot of fun.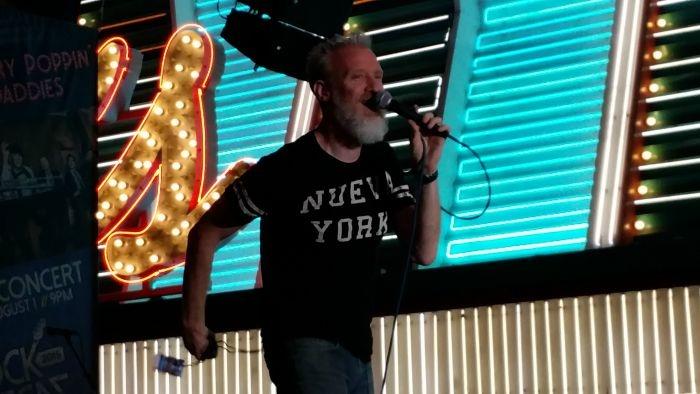 Just in case we forgot that we are all older now - Chris Barron now looks like a skinny Santa Claus, sporting a grandpa beard. That didn't stop them from rocking out though!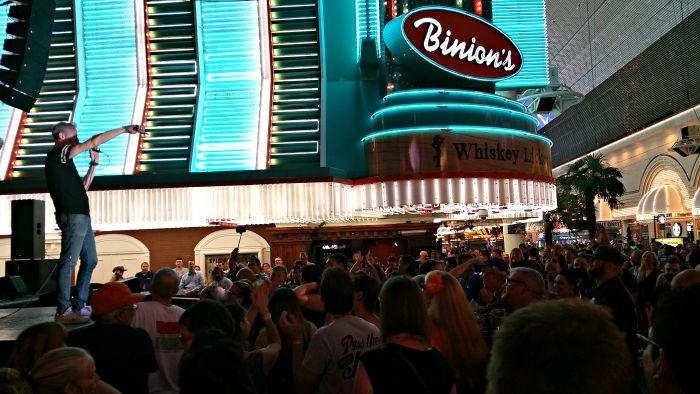 This was an awesome experience and truthfully, there is no better way to see a band than live when you can be this close. There is just something special about being this close.
My only disappointment is that I missed some great bands earlier this summer, but there's a great chance that they're going do do something similar in 2016. There's still one more concert coming up featuring Kansas & Blue Oyster Cult on the 3rd Street Stage.
Rock of Vegas Summer Concert Series:
May 23 – KC and The Sunshine Band – 3rd Street Stage
May 30 – Tonic & Vertical Horizon – 1st Street Stage
June 13 – Martha Davis and The Motels, The Tubes & The Smithereens – 3rd Street Stage
June 27 – Smash Mouth & Toad the Wet Sprocket – 1st Street Stage
July 10 – UFC Fight Week Concert (band TBA) – 3rd Street Stage
July 18 – Theory of a Deadman – 1st Street Stage
Aug. 1 – Spin Doctors & Cherry Poppin' Daddies – 1st Street Stage
Sept. 6 – Kansas & Blue Oyster Cult – 3rd Street Stage