From muscle cars and trucks to concept cars and some of the most extreme sports cars ever designed, there was something for everyone at the 2015 Chicago Auto Show and for 3 days, I had the run of the show to touch, smell, sit, stare and dream of having some of these in my garage!
We will be dripping out other content over the next few months from our experience here, but if you are attending the show between now and February 22, here are some of the stuff you will not want to miss!
If you have never attended the Chicago Auto Show, it is an experience you don't want to miss and it would also make a great choice for a guys weekend (yes - even in Chicago, this is one of the best cities in America!). Celebrating 107 years of bringing the best that the automotive world has to offer, the Chicago Auto Show this year features over 1 million square feet of space at the incredible McCormick Place convention center.
The show is huge and every year I get home and discover that I missed something, so here are some of the items that I saw this year and that you won't want to miss!
Kia - Kia Trailster and Trackster Concepts
Kia - what can I say? They do an amazing job of branding, engaging with their community, and producing some of the most awesome cars on the market today. From the Kia Soul to the Optima to the Rio and even the Sedona ("Not a Mini Van") it's a great booth to visit.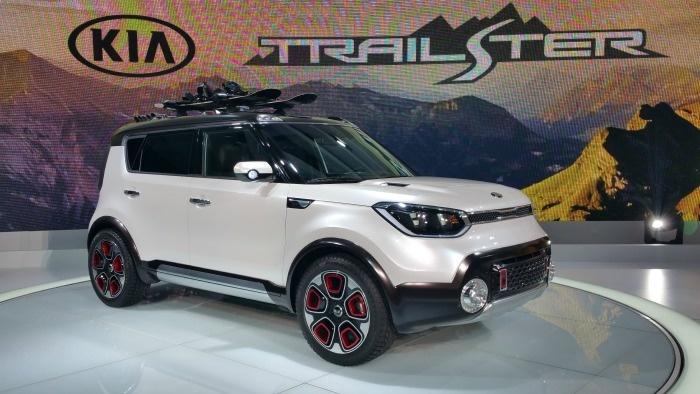 The top thing to see here is clearly the Kia Trailster, which is a concept car based on the Soul. However, they've added all wheel drive, the EV engine from the Soul EV, and a roof rack to haul your skis or snowboards.
Right beside it is the Trackster, which is actually an older concept based on the Soul. While it debuted a few years ago it is cool to see how some design work and technology from it have now been brought into the most recent iteration of the production version as well.
Dodge - Charger Simulator, Viper, and Driving Experiences
Dodge always does a great job during their off road and driving experiences though it feels a bit dated now since the course feels the same even though the cars change from year to year. Regardless though - this is a fun experience that is well worth the wait in line!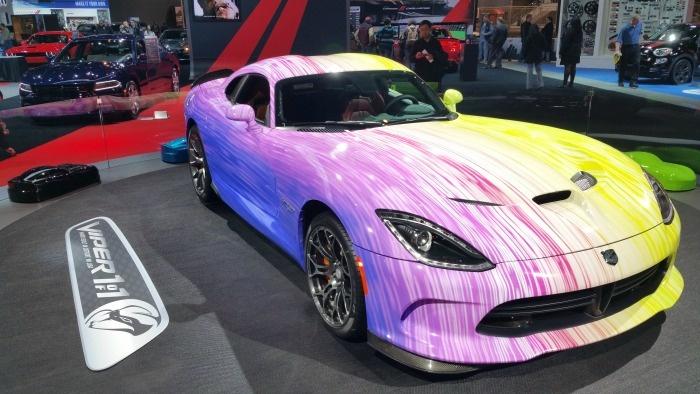 Additionally, Dodge is clearly the house of horsepower and has a trifecta of American Muscle Car Power in the Viper, Challenger, and of course the Dodge Charger.
They are all on display here and while you really need to drive a Hemi Hellcat on a closed track to get the full experience, this is a great opportunity to pretend :)
Nissan - GT-R LM NISMO and 350z NISMO Convertible
I'm going to pass over the fact that Nissan has some great new product in the Murano, Altima, and Titan, but what will be drawing your attention is clearly the fantastic GT-R LM NISMO Le Mans car that is simply stunning.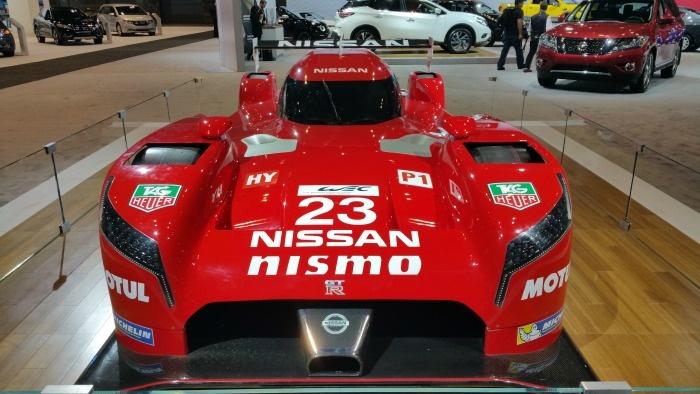 Additionally, the 350z NISMO Convertible is also a head turner and hopefully will quickly make it from concept to production so we can enjoy it :)
Ford - Ford GT, Truck Simulator, and Explorer
Ford is one of those brands that I just love. Between them and Kia they are my two favorite manufacturers, so honestly I should just end this here by saying "go visit them, trust me!".
Three things though stood out special that you need to check out -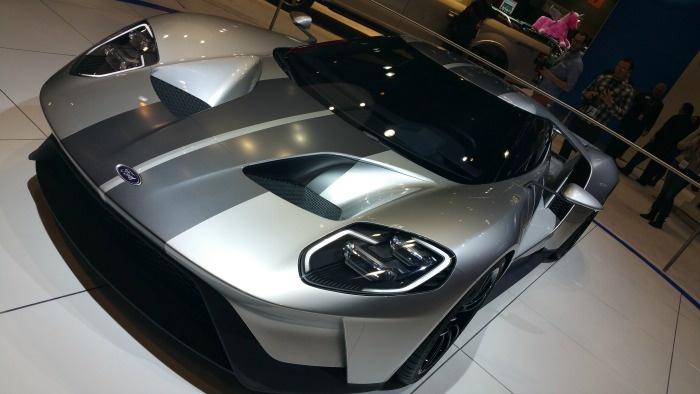 The Ford GT is an icon in the supercar world and thankfully it is back! While there is no pricing or delivery date details, the simply answer is that this is essentially a concept car that some of you will actually be able to buy soon. It's fast, it's sexy, it's going to be expensive (similar class as Ferraris and Lamborghinis). Until you can buy one though, this is a great chance to ogle and drool :)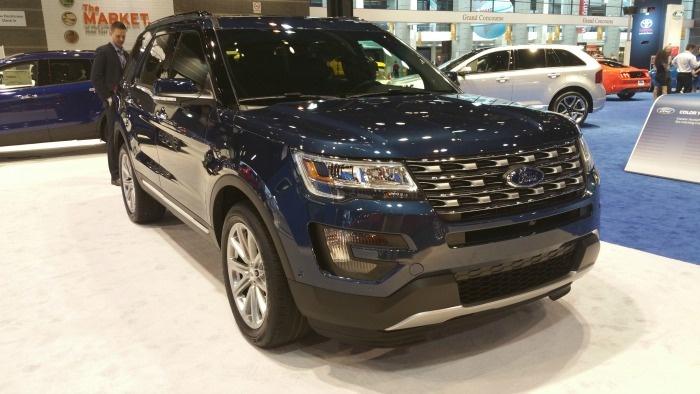 More affordable and accessible is the 2016 Ford Explorer that will be arriving at showrooms across America in a few months. With new styling, more technology, bigger engine, and more towing capacity this is a really exciting car. (listen to our Men Who Blog podcast for more info)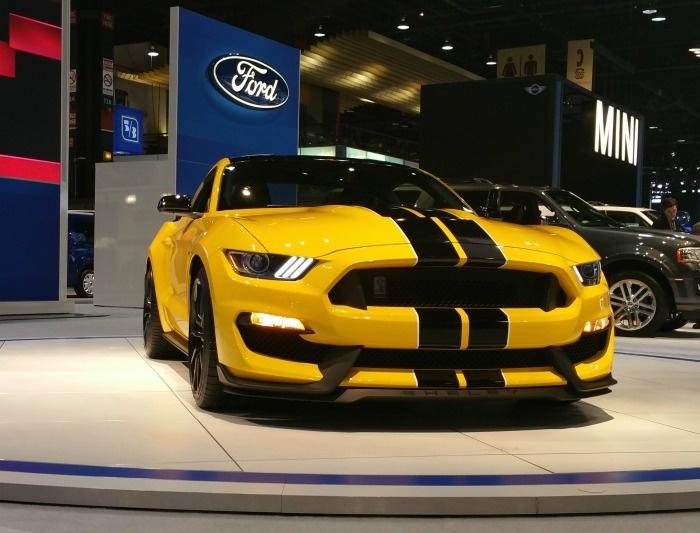 Finally, they also had a Truck Simulator where you can bump and grind your way around a track. Watch out for the long lines though - this had a heck of a line during the preview days so I can only imagine what you'll see during the general admission days.
Hyndai - Hyundai BlueLink and Veloster
Hyundai has always been about that elusive intersection of design and technology and that was clear again here with some beautiful cars that exhibit some industry leading technology such as the ability to turn your car on/off or lock the doors through a smart watch.
While that is available today, the most visually striking element was clearly the Santa Cruz concept crossover truck.
However, their matte blue Veloster was also striking and begged me to bring it home :)
Maserati - GranTurismo and Ghibli
Maserati is the car we all remember from the 80's and frankly while it's logo is distinctive it's position in the market isn't. However, that's changing with the introduction last year of the Ghibli (blue) - starting at about $70k.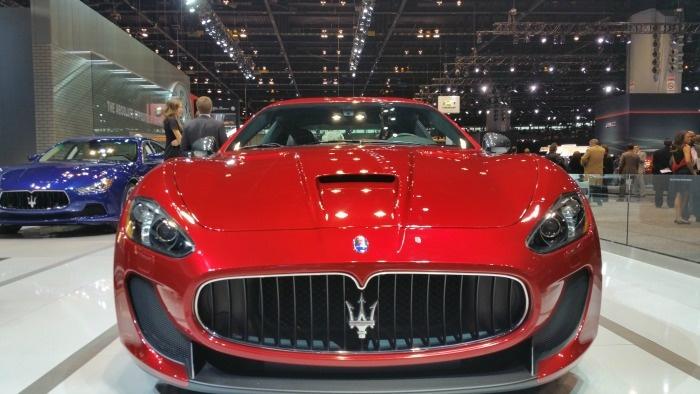 On the other end of the spectrum is the GranTurismo (red) at about $165k that has sleek, beautiful styling with extreme attention to detail including carbon fiber weave pattern - even on the back of the seats and paddle shifters.
Clearly, this is a brand that is working hard to make a comeback by producing some distinctive looking cars.
Toyota - Tundra and RAV4
Toyota did a great job of showcasing their cars in a way that was fun and attention grabbing. While others had engines roaring and motion simulators, Toyota chose to do stuff like showing off the trunk capacity of the new RAV4 with a "chunk of stuff" representing the 73.4 cubic feet of space.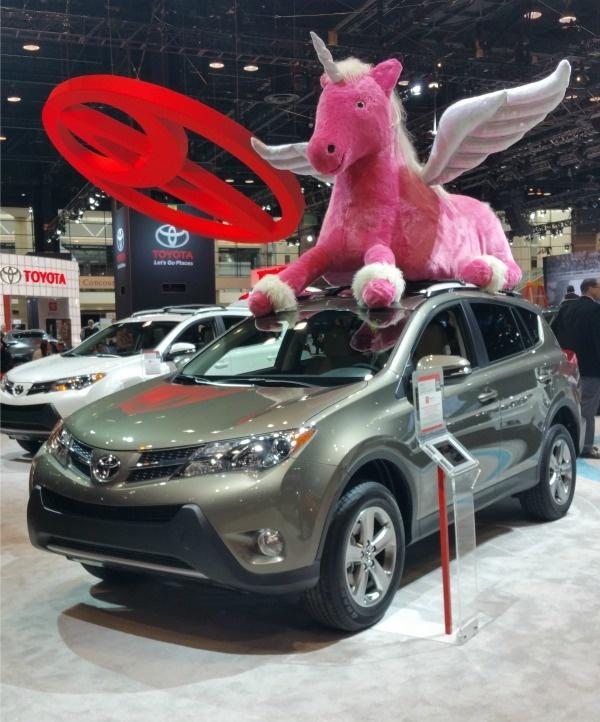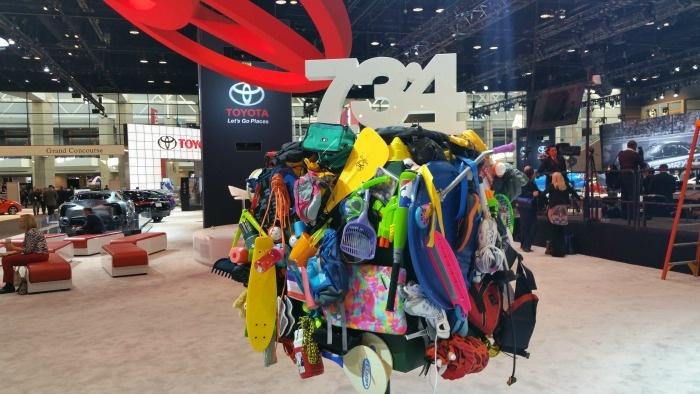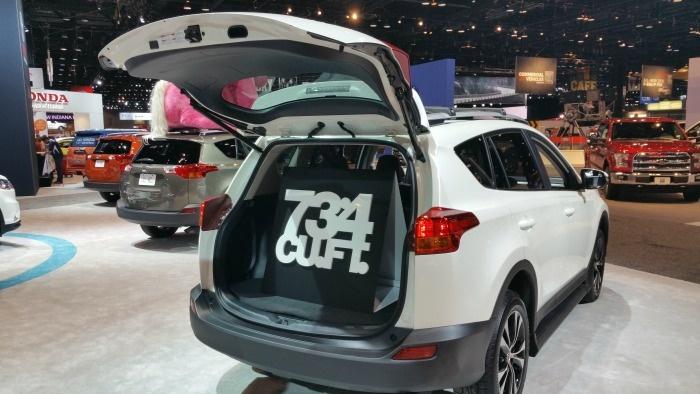 They also featured a giant pink pegasus on the roof of another - though I have no idea what purpose that served … beyond attracting attention (yes - it worked!). Additionally they had a SpongeBob Toyota Sienna but I am not sure if that will be on the show floor publicly.
Outside of the fact that Toyota was clearly grabbing for the heart of the American family, the flag waving was strong with some wrapped Tundra's showcasing that Toyota's are built by veterans and made in America.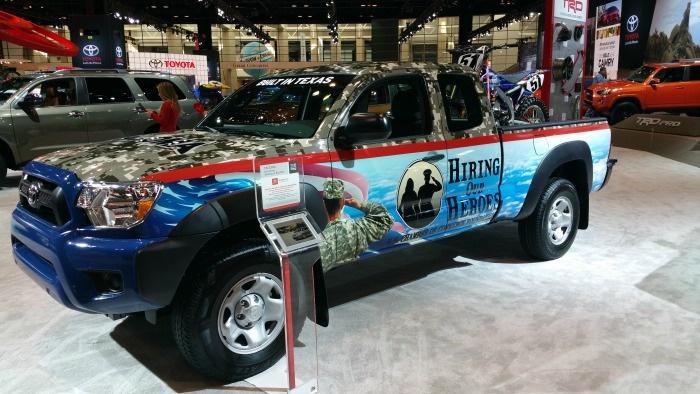 And of course ... they had one of the sleekest concept cars in the show too ... except that a well placed sign makes it look like they are offering free test drives. Unfortunately that sign is intended for the RAV4 and other less exotic vehicles.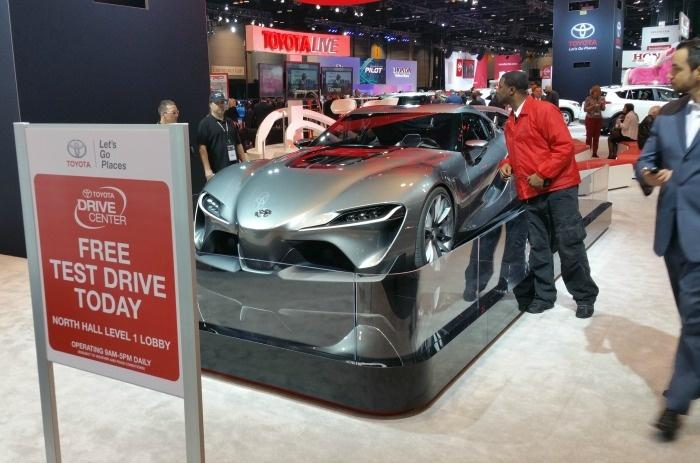 Chevy - Volt
I really want to like Chevy and I have to give them credit for focusing attention on small, fuel efficient cars. They aren't glamorous but they seem to be innovating there.
2016 Chevy Volt now has a 50 mile range on electric #CAS15 pic.twitter.com/q4bDTZ7nIH

— UrbanReviewSTL.com (@urbanreviewstl) February 13, 2015
However, one of the nicest things to see was that the Volt continues to evolve and now looks more like a "real car" instead of an odd concept that you would buy for the gimmick of being the only one in town with one. Hopefully fuel efficiency and alternative fuels continue to be something we'll see even more of in the future!
Honda - Ryan Hunter-Reay's Indy Car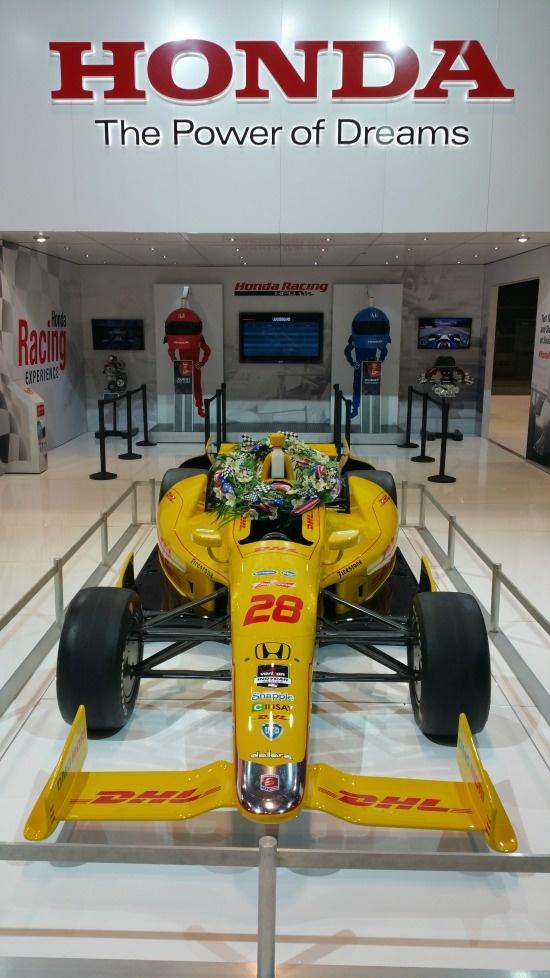 Honda had a great exhibit promoting "The Power of Dreams" and their engines powering some of the most awesome machines ever designed by man. While clearly Honda is not the only booth featuring race cars (Mazda has the new Indy Lights chassis, Toyota had some NASCARs, and Alfa Romeo had some classic racers too), they did a great job of leveraging their prowess at building the engines to promote their quality and performance that you'll find in their street cars.
Super Car Display
Honestly, somehow I missed this one but over in North Hall there was a collection of really cool super cars from a variety of manufacturers. This was more of an "exhibit" rather than a manufacturer's booth but certainly this might be the only time you get to see these cars up close - unless you have 2.5 million dollars burning a hole in your pocket to buy one of them :)
This sweet-looking Bugatti Grand Vitesse at the Chicago Auto Show costs $2.6 million. @ChiAutoShow #CAS15 #CASlive pic.twitter.com/p7nx5Bnltt

— Joe Koenig (@TheJoeKoenig) February 12, 2015
Alfa Romeo - Historic Race Cars
Like Maserati, Alfa Romeo is a brand that we'll probably be seeing more of stateside now that the FCA merger is starting to play out. While their cars are hot, what I thought was the coolest was their classic race cars from the 1950s.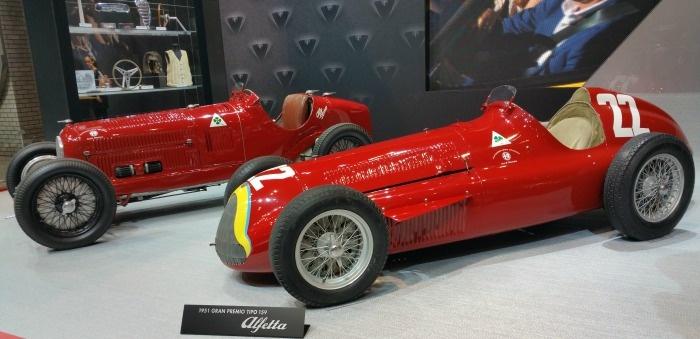 Their 4c Spider was quite the looker as well ...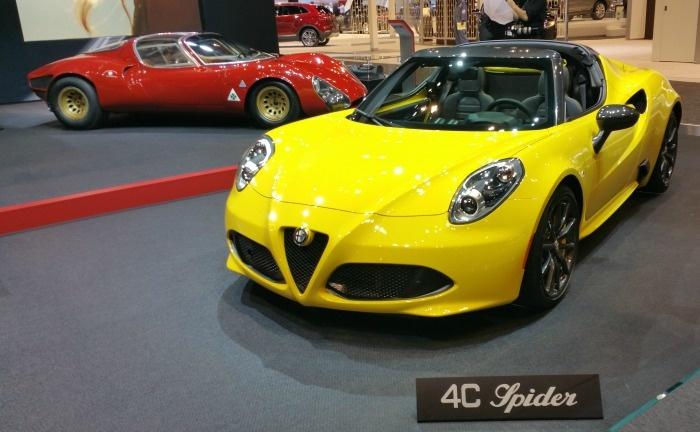 I am CERTAIN I missed stuff and we really enjoyed exploring other booths and I am sure you guys will as well.
The Chicago Auto Show is an AMAZING experience that has been an annual tradition of mine for the past 10 years, so it was super exciting to be invited to travel to Chicago last week to cover it for them.
The show lasts through February 22 and you can still buy tickets or visit a variety of local dealers for free tickets to the auto show.