Man Trips don't have to be just about having fun and spending time with the guys, they can also be educational or even help others by contributing to your community, raising money, or just simply raising awareness about important issues.
One great way to do this, while also planning a great mancation is to visit Chicago and participate in the annual Bike the Drive event - as part of the Chicago leg of the American Diabetes Association's Tour de Cure. If you would like to help me raise money, please click on the Tour de Cure image to visit my fundraising page.
Last year was my first year taking part in this great event, and despite the fact that I had to wake up before dawn, drive to Chicago in pouring rain, and ride in wet clothes, I had a BLAST and so did my wife.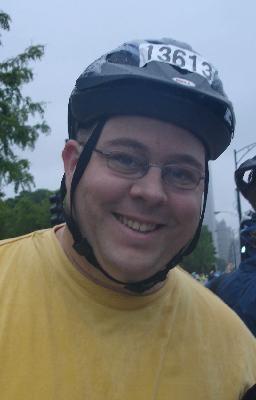 That's why we are going to be doing it again this year on May, 25, 2008. For those of you not familiar with the annual Bank of America - Bike the Drive event, it is a 15 mile or 30 mile bike ride along Chicago's Lake Shore Drive, starting at Grant Park (Buckingham Fountain - think of the the fountain in Married with Children) and goes 7.5 miles north and 7.5 miles south of there. During the race time, the city also shuts down the road to car traffic, so bikers have a great road with plenty of space to ride.
Personally I am not a racer, so I was a bit nervous last year about being the "slow guy" but I was pleasantly suprised to find that I was the norm, riding my cheap mountain bike ... sure there were plenty of pros with their fancy bikes who probably completed all 30 miles before I even completed the first half of my 15, but that's ok.
This ride is all about having fun!
Another benefit for me, was that this ride is a great excuse to get in shape again after the long Chicago winter! Last year was the first time I had ridden a bike in more than 15 years, but with training I had no trouble completing the ride. So, if I can, you probably can too!
While Bike the Drive is obviously a Chicago event, the American Diabetes Association organizes Tour de Cure bike rides in 40 states nationwide that you can participate in, and this is only one of many opportunities to raise money for good causes all year round. Last year, 32,000 riders in 78 events raised more than 13 million dollars! If you are interested in joining our team or helping us raise money, please visit my Tour de Cure page. Currently I have raised nearly $200, but would love to meet my goal of $600, so any help is appreciated!