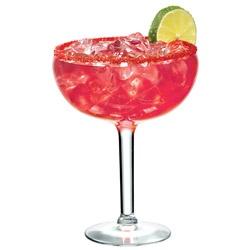 Ok, so Cinco de Mayo was earlier this week, but since it is Friday I wanted to share some recipes that are perfect for a Mexico themed Guys Weekend!
The following ideas were sent in by our friends at PAMA.
What is PAMA? It is a delicious pomegranate flavored liquor that is surprisingly versatile and very tasty.
Ready for the party? Try these recipes ....
PAMA-Rita
2 1/2 oz. PAMA Pomegranate Liqueur
1 oz. Super Premium Tequila
1/2 oz. Triple Sec
Splash of lime juice
Splash of simple syrup

Method: Shake all ingredients together. Strain over ice, garnish with a lime wheel.



Strawberry Avocado Salsa
Prep time: 15 minutes
Makes 3-1/2 cups

1 package (16 ounces) Driscoll's Strawberries
1 can (8 ounces) pineapple tidbits or chunks
1 small avocado, pitted and diced
1/2 to 1 jalapeño pepper, seeded and minced
1 tablespoon balsamic vinegar
½ teaspoon onion salt
Rinse and hull strawberries. Cut into 3/4-inch cubes.
Drain pineapple, reserving juice.
Combine pineapple, 2 tablespoons pineapple juice, strawberries, avocado, jalapeño to taste, balsamic vinegar and onion salt. Let stand 10 minutes for flavors to blend.

Serving suggestion: Combine remaining pineapple juice with 2 tablespoons soy sauce and 1/2 teaspoon sesame oil. Use to marinate halibut steaks or chicken breasts for 20-30 minutes. Grill or broil until done. Serve with Strawberry Avocado Salsa.

Nutrition Per Serving (2 tablespoons):  18 calories, .81g total fat, .10g saturated fat, .24g protein, 2.73g carbohydrate, 0mg cholesterol, .73g fiber, 31mg sodium

Healthy Tip: Strawberries and avocado make a versatile salsa that's great with chips, fish or chicken. Serve the same day it's made for the best color and flavor. After working with jalapeño peppers, always wash your hands well with soap and water, being careful not to touch or rub your eyes; the pepper oils can burn!


Interesting Facts about Tortilla Chips:
The corn chip recipe was brought to the U.S. from Mexico by Texas businessman Elmer Doolin.
Tortilla Chips were first popularized and mass produced in southwestern Los Angeles in the late 1940s by Rebecca Webb Carranza, who, with her husband, owned a Mexican deli and tortilla factory.
Misshapen tortillas were rejected from the tortilla manufacturing machine, and she turned them into chips—cutting them into triangles, frying them and selling them in snack-size bags.
Tortilla chips can be colored blue, red, or the traditional yellow, each color representing the type of corn it is made from
Tortilla chips are the second most consumed salty snack in America, second only to the potato chip
In 2007, the combined U.S. sales of Doritos and Tostitos varieties exceeded $1.4 billion, this is a volume of about 1.5 billion pounds