At one point in time I dreaded visiting Cozumel - it was just boring unless you wanted to sit at a bar and drink all day. Over the years though, I've started to appreciate this Mexican tourist island for what it is. Now there is another attraction that just opened up and may actually be worth spending some of our tourist dollars for the sheer oddity of it. It's as if the owners thought, "hey, Cozumel offers some great opportunities for diving and it offers some great opportunities for drinking - so why not combine the two in a safe and fun way?"
That's exactly what the guys at Clear Lounge have done. No, it isn't actually drinking beer under water though. Instead, guests don helmets are are fed scented oxygen as they stand in the the 13,000 gallon aquarium while friends and family snap pictures.
Guests will be inhaling 70% oxygen with scents including citrus or mint and can then enjoy various "bar games" such as shooting bubble guns, board games, and even underwater Jenga. Of course, you can also dance with your friends and hit on girls too.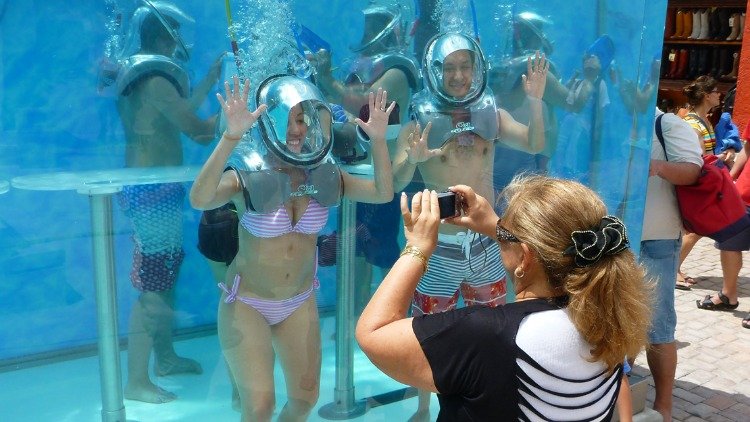 After spending your time in the bar, guests are said to feel relaxed and revitalized ... ready to take on whatever their next adventure might be.
This may not be for everyone, but when you consider the other ways to spend money in Cozumel (especially at the port) Clear Lounge isn't the worst one.
Plus, it's only located a few steps from the Fat Tuesdays in the Carnival Cruise port shopping area, though I am not sure which should be done first :)