Phoenix in the spring is a pilgrimage destination for all guys (and women) that love baseball. There is simply no better place in the world that you can go to experience the pure joy and excitement of the sport unspoiled by commercialism and the pressures of rankings. For a few weeks, it's just about playing the game and seeing some amazing young talent playing their hearts out along side seasoned veterans serving as their mentors. This is a destination that I try to visit each year, so when the folks at Toyota invited me out to celebrate in the sun with them I excitedly accepted.
One of the things that I really loved about this trip was that unlike many "auto trips" that I've been invited on, this one was really about driving. I would be joined by bloggers and other social media influencers from around the western United States and all of us would be road tripping our way there. Toyota gave us our pick of vehicles for this trip and we chose the RAV4. While I can't wait to check out other cars in their lineup such as the new Tacoma TRD Pro and the Prius Prime, the RAV4 was pretty much the perfect car for our trip.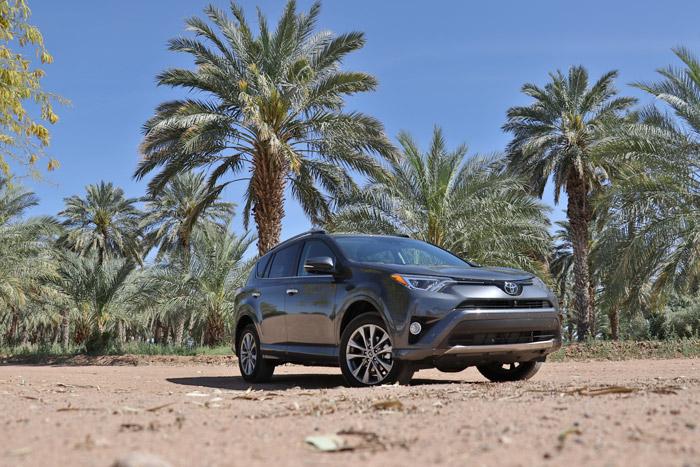 In a way though, the more cars I experience the tougher it is to write about them since inevitably you start drawing comparisons. Sometimes that is a good thing and other times it's bad when you let small initial details overcome longer term value. That was one of the challenges that I had with the RAV4. It isn't the sexiest looking compact SUV right now, it's seats aren't the most comfortable, it doesn't have the best gas mileage, and the technology isn't the most advanced. In the first couple days after having the car dropped off at my loft I was about to chalk it up as simply "a nice trip" that happened to be featuring the RAV4 as transportation. Frankly, that would have been just fine. After all, we were headed out on an epic Spring Training trip!
However, as I began to drive the RAV4 and see how the different parts started to go together I became more of a fan. Ultimately, it's a great car because everything "just works". Additionally, while it isn't the "best" on most specific bullet points - it is GOOD on most points. This comes in contrast to others in the segment where there's one or two highlights and then some weaknesses. However, for anyone that does a lot of driving, the fact that Toyota's safety technology package comes standard vs being available as an expensive addon is a big bonus. Ultimately, most of the cars in the segment have generally the same features, but Toyota's version on the RAV4 just felt very comfortable and natural to use. I can't quantify those feelings, but it's important to consider when looking at cars since it can be a challenge to look past the specs. This can be especially true while shopping online.
Our trip began in San Diego and headed East to Phoenix through the desert, which was in stunningly beautiful full bloom. However, we were on a mission! While the official Toyota itinerary called for two games, we knew that we could catch the end of an Indians game if we left early.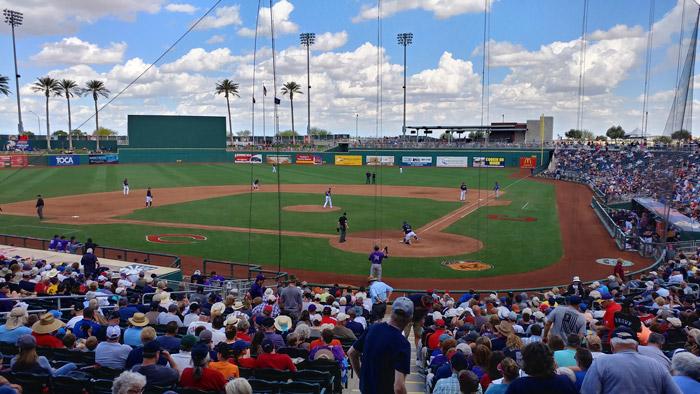 Game 1: Indians vs Rockies at Goodyear
One of the greatest things about Spring Training games (aside from the players) is that many of your favorite teams understand that their stadiums are pilgrimage sites for people who may have once lived in the city but no longer do - but still crave nostalgia. That's absolutely the case with Goodyear stadium as you'll find Skyline Chili, Bertman's Mustard, and more references to Major League than you can shake a Jobu figurine at.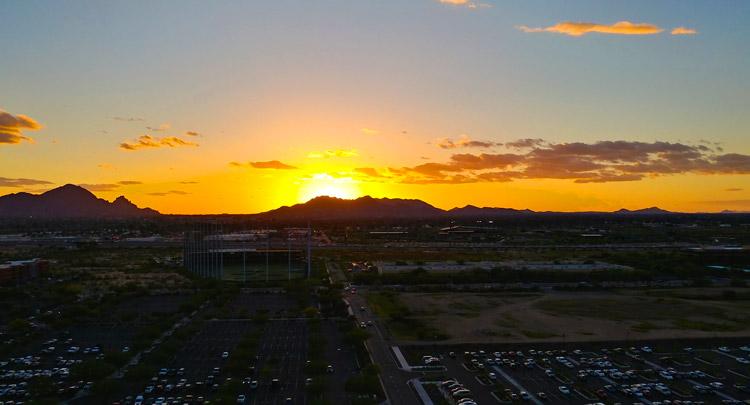 That night, we were treated to a fantastic dinner at the top of Talking Stick Resort's at Orange Sky restaurant. Can you guess why they named the restaurant that?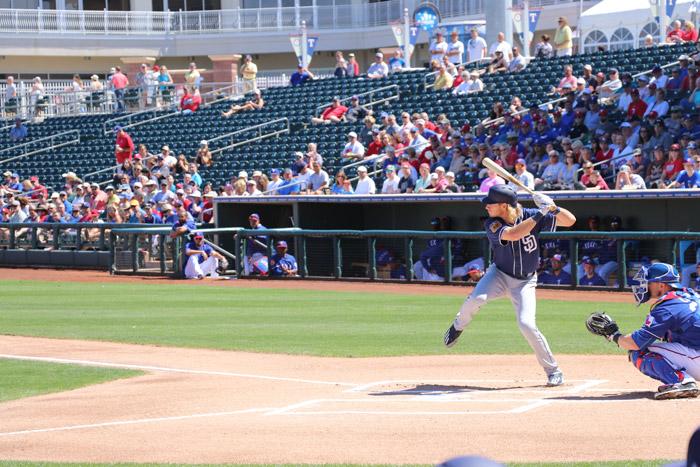 Game 2: Padres vs Rangers at Surprise Stadium
Based on my experiences at Goodyear, I had high expectations that the home of the Texas Rangers and Kansas City Royals would have some great BBQ, sadly I was disappointed. However, the stadium has some great practice fields to watch players warming up and a paved parking lot right next to the stadium entrance that is perfect for some baseball tailgating.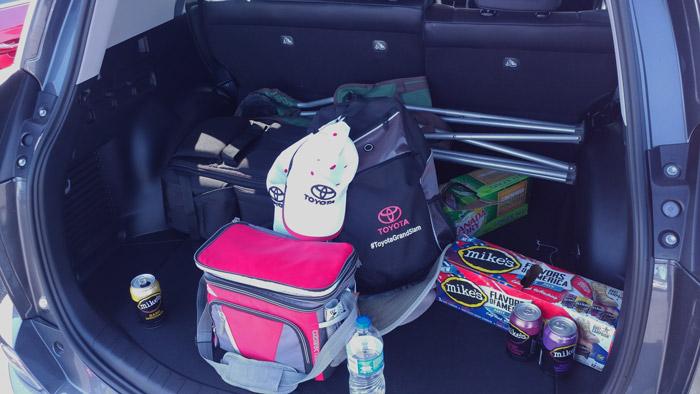 This is one are that the RAV4 really shined. Especially in comparison to others in the category, the trunk space is huge. This gives plenty of space for all the gear that you'd need.
Inside the stadium though, we had some of the best seats that I've ever had for a baseball game. Toyota hooked us up with seats right behind the Padres dugout where were close enough that we could hear the groans at missed plays and other wasted opportunities. Hey, it is the Padres so that's sort of par for the course :)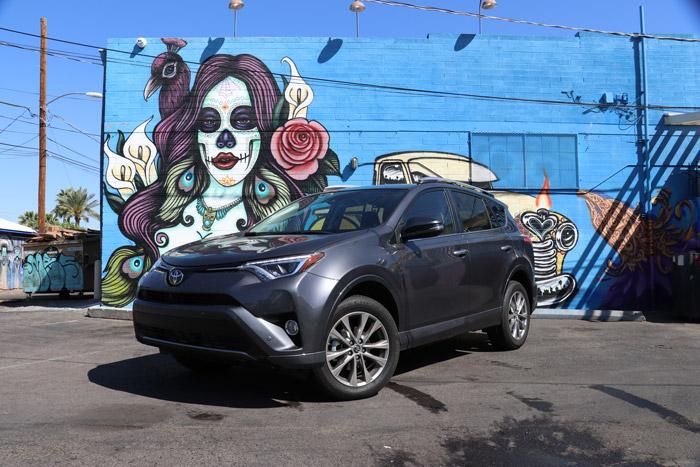 A Visit to Bario Cafe
Many Americans don't understand that Mexican food is just as diverse as well, American food. For instance, in San Diego we have fantastic tacos - but it's typically Baja inspired. As you travel to different parts of the country, it's nice to try other styles. Bario Cafe is also the home to a collection of amazing murals and so we made sure to arrive early to have unobstructed views.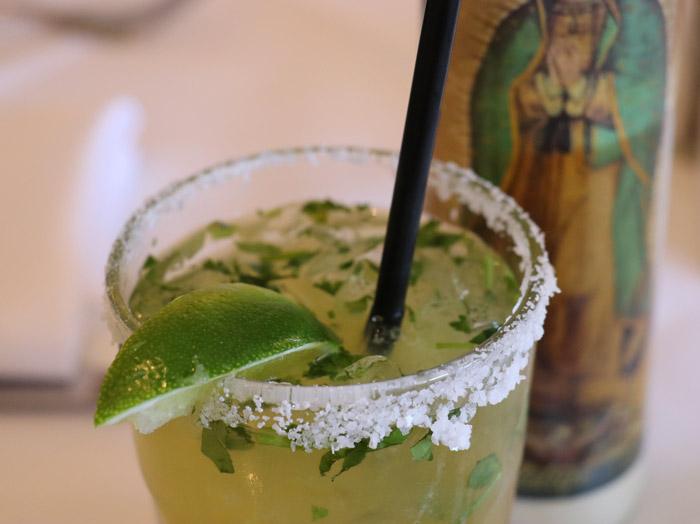 Once they opened, we were not disappointed with the food or drinks and a encourage you to give this place a visit!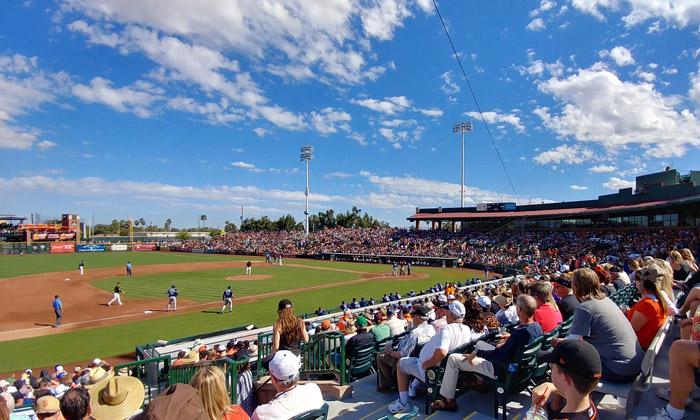 Game 3: Padres vs Giants at Scottsdale Stadium
Our final Spring Training game this year was at Scottsdale Stadium - home of the San Francisco Giants. Unlike most of the other stadiums, which are set far from developed areas this was very much an urban stadium. In fact, parking was spread out across numerous official lots as well as those manned by volunteers raising money for local organizations. While this may be confusing if you aren't expecting that, once inside this is probably my favorite park - aside from Wrigleyville South of course ... I'll always be a Cubs fan!
Not only was the park laid out well - aside from not enough shaded areas, but it had fantastic food and a wide selection of craft beers. I suppose that should be expected by fans from San Francisco but sadly not all stadiums embrace this.
The Drive Home ...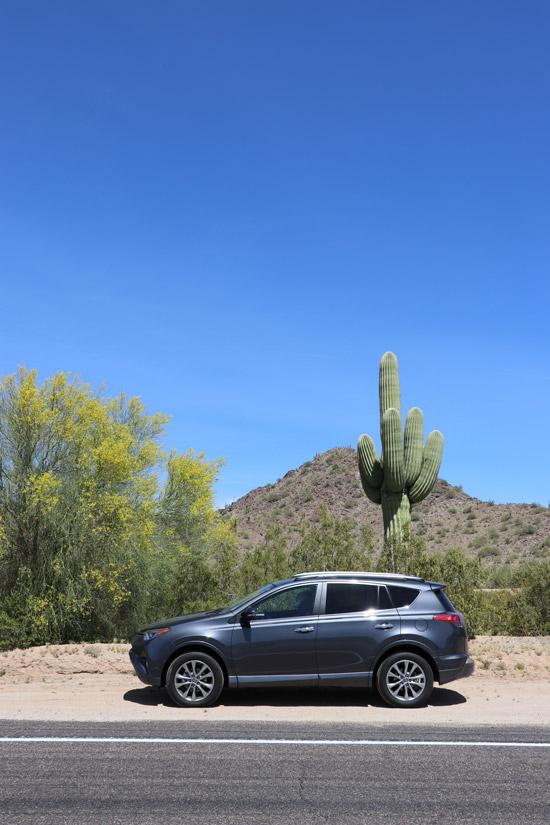 As we drove home I had a chance to reflect on the experience and how nice it was to actually spend time actually driving the RAV4. Often times auto trips are simply "fly in and take a quick drive" but this trip was different and I appreciate that. Each car has good and bad but at the end of the day, what most of you are looking for is, "will this car be great for me". You aren't looking for hypothetical cubic footage of the trunk space or decibels of road noise. Those are all good, but when it comes down to having a car that you love it's all about practicality. Being practical may not be sexy, but that's what Toyota is and I can see why the RAV4 is so popular!