Sweets are only a part of the equation when it comes to entertaining during football season - the next essential ingredient is some hearty food that inspires your guests inner rivalries and After considering different foods across this country, "chili" was the one that stood out since no matter where you go - Texas, Cincinnati, Denver, Kansas City, Detroit, etc. Each city has it's own different interpretation of chili that they passionately hold to and will defend, just like they do their favorite football team!
So I was pretty excited when I was selected to prepare two of my favorite chili recipes as part of a homegating recipe with Alexia Fries and Onion Rings.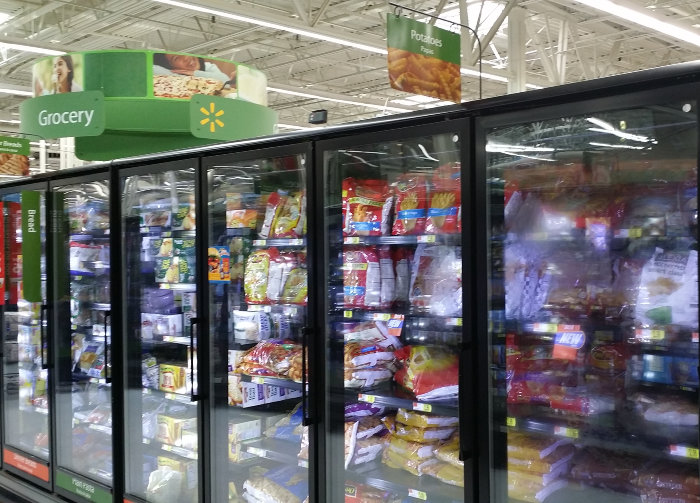 With my shopping list in hand I headed over to my local Walmart where I found the Alexia products in the frozen display case in the grocery section with other potato products.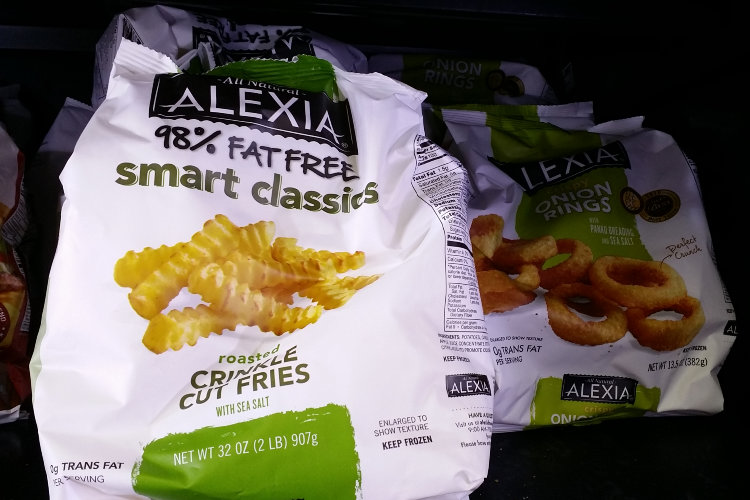 Even before this assignment I had heard good things about Alexia's products but I didn't realize that the fries were actually 98% fat free! For this piece, I selected the Smart Classics Crinkle Cut Fries and the Crispy Onion Rings but I look forward to checking out their Sweet Potato Fridays - Regular as well as Spicy in the future.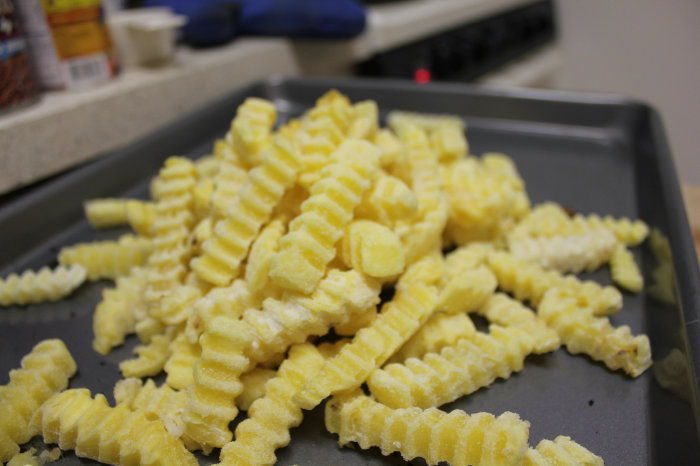 Back home it was time to throw the fries in the oven ...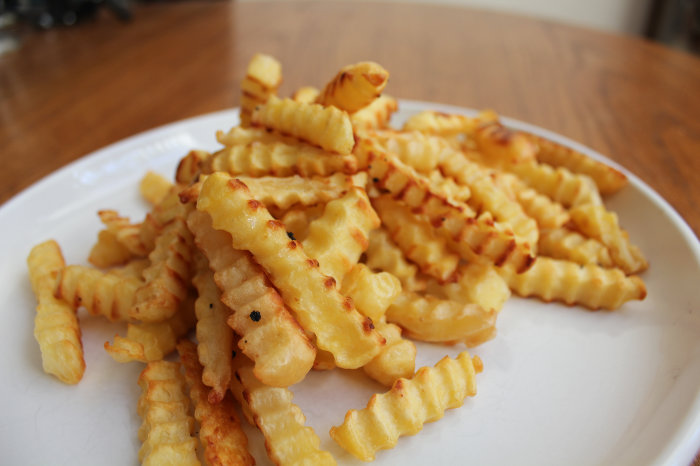 And out they came perfectly browned and crispy with a texture that was surprisingly firm and hearty. Perfect to load up with some chili!
My recipes are below, but Alexia has also prepared some #GameTimeGrub recipes as well.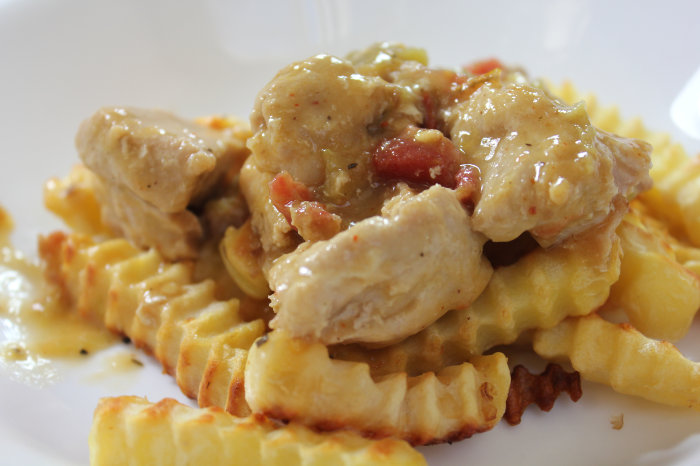 Denver Pork Green Chili Recipe
This recipe is based on the famous green chili found at Chopper's Sports Grill in Denver but like all recipes, I like to change things up and make things different. Most notably, their recipe does not contain tomatoes and calls for smaller chunks of pork and a darker roux.
Denver Pork Green Chili Ingredients
2 lbs cubed pork (you can buy this pre chopped in the meat section of your grocery store!)
1 tsp salt
5 cups water
½ lb butter
1 large sweet yellow onion, medium dice
½ tsp dried oregano
2 tbsp fresh minced garlic
1 tbsp chili powder
1 cup flour
2 cups chicken stock
2 cups diced hot green chiles 
2 cups diced mild green chiles
1 can of Rotel
3 tbsp green hot sauce
Denver Pork Green Chili Recipe Preparation
Place the pork, salt, and water in a large pot and simmer for about 1 to 1.5 hours until tender and make sure to have the lid on since you'll be using that water for the chili shortly.
In another pan, melt the butter and caramelized the onions, then add garlic and oregano, and slowly stir in the flower to start the roux.
Once mixed with no lumps, take the pan and place it in the oven to brown at 350 degrees. Make sure to stir it every 15-20 minutes until the desired color is met. I tend to like something that is blonde to light brown but you can take it all the way to chocolate if you want a more nutty flavor.
When the roux is your desired color, add in the chicken stock and mix it together till smooth and add it into the pot where the pork has been simmering along with the chilis, chili powder, green hot sauce, and Rotel.
Continue to simmer the chili for at least another 30 minutes to let the flavors combine but make sure to stir occasionally to prevent burning.
Once the chili has thickened up and is ready to serve, take it and place it over the fries you prepared earlier or you can transfer the mixture to your slow cooker and have it on the table for guests to serve themselves.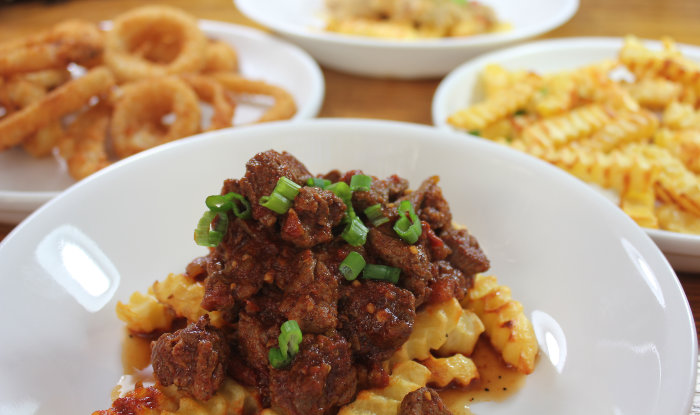 Dallas Texas Slow Cooker Red Chili Recipe
Now we're heading over to Texas for a slow cooker chili recipe that is closer to what most American's identify as chili. This recipe is a lot easier to make as well as clean up afterwards too!
Dallas Texas Slow Cooker Red Chili Ingredients
2 lbs cubed beef chuck "stew meat" (you can buy this pre chopped in the meat section of your grocery store!)
4 tbsp brown sugar
1 tsp salt
3 tbsp olive oil
1 large yellow onion, fine chop
4 tbsp fresh minced garlic
1 tbsp chili powder
¾ cup chili powder
2 tsp cayenne pepper powder
2 cans of Rotel Hot
2 cups diced hot green chiles 
1 cups diced mild green chiles
3 tbsp green hot sauce
Dallas Texas Slow Cooker Red Chili Recipe Preparation
Place the cubed beef in a large frying pan along with oil and brown sugar to brown the meat. Make sure not to crowd the beef, we want to get all sides a bit browned with a bit of caramelization from the brown sugar.
After the beef is cooked, transfer it to your slow cooker.
Reduce the heat to medium and add the onions till they are caramelized (add extra oil or butter if needed), then add garlic, chiles, cumin, hot sauce, and chili powder and cook for 3-5 minutes until everything is well mixed and transfer the ingredients to your slow cooker and mix it with the meat along with extra brown sugar if you want to cut some of the acidity from the tomatoes.
Cook on high for 1 hour and then reduce to low for 6 hours.
You can top this chili with your choice of sour cream, chives, and dare I say it - Wisconsin (Green Bay) Cheddar Cheese :)
Which Team Recipe Will Be The Ultimate Winner?
I'll let you guys decide which recipe is your favorite, but honestly both chili recipes are delicious and fun to prepare and they both work well served over Alexia fries. Remember earlier how I mentioned that they were pretty firm? That absolutely proved to be an asset here as they stood up well even when the chili was placed on them.
While we didn't try the chili on top of the rings, I can say that they were delicious as well and worked great as a side dish during your homegating buffet.
For more awesome #GameTimeGrub recipes, I encourage you to also follow Alexia on Facebook and Pinterest.