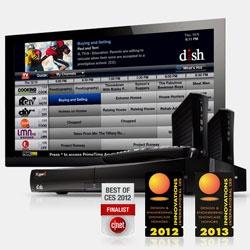 This post brought to you by
DISH
. All opinions are 100% mine.
Are you like me and on the road pretty often? One of the challenges with that is that you can miss some of your favorite shows - but not any more. Check out these new features from DISH.
Ok first of all, I am a DISH customer and frankly I LOVE the service ... the days of "don't get satalite" because you won't have service in the rain / snow / wind are pretty much over. Plus, it is cheaper, the quality is better for HD programming than I had with competitors and frankly the customer service is better too.
However, one of the things I had been missing is some of the cool features that I saw advertised on other services. That tiny twinge of envy is all gone now though - and I can't wait to check out the Hopper and PrimeTime Anytime features that they are rolling out now.
Mobile Apps for Watching Anywhere:
Think you have to buy videos from iTunes and Google Play to have some video entertainment on your next flight? DISH Anywhere provides a portal so you can watch live and pre-recorded videos through your smart phone or tablet - as well as connect directly to your home DVR through Hopper Transfer.
Whole-Home DVR the Hopper:
With the Hopper (
Learn more about the Hopper
) and PrimeTime Anytime, DISH will let you record 6 different shows at the same time, available up to 8 days from the initial air date. Plus, with the Whole-Home HD DVR functionality, the Hopper lets you access your entire DVR library on all the TVs in your house. This includes starting a show in the basement, then resuming upstairs in bed.
AutoHop:
DISH lets you save an hour of recorded primetime from ABC, CBS, FOX, and NBC without commercials each night.
Honestly, while I love my existing service with DISH, after learning about these new features I am going to call and see how I can get my service upgraded.
Being able to watch shows on the plane has absolutely made traveling much more manageable recently and this will make things even better since I don't have to worry about buying the shows or risk downloading them from internet sites.
Don't forget, you get the Hopper free when you signup for DISH. Packages start at $24.99. (For 12 months, with 24 month commitment. Restrictions Apply.)
Learn More about DISH: