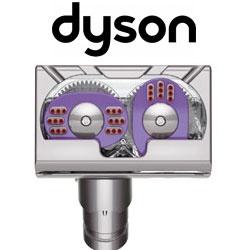 Ok guys - vacuuming may not be at the top of your list of things to do - but it is always a good idea to help out around the house and if you HAVE TO - you might as well have one of the coolest vacuums out there to do it.
Dyson approached me recently and asked me to check out their new DC41 Complete - featuring the new Tangle Free Tool. How did it fare? Let's check it out ...
Dyson is sort of like Apple - it is as much "design" as it is substance. Luckily Dyson has both in heaps! This is probably because they spend more than $2 million each week on research and development.
The Dyson DC41 Animal Complete retails for about $649, so this is ABSOLUTELY NOT a cheap vacuum, but it is clearly the Mercedes of the industry. Prior to this, my vacuum of choice was the LG 400T (priced similarly) and before this, our family simply bought a new "Walmart Special" on Black Friday every couple years. The first thing I must say about the Dyson DC41 is that you get what you pay for. Even compared to my LG vac (which I love), the Dyson performed amazingly well, was light (easy to carry around), and the Dyson ball design was surprisingly more than just a gimmick.

Suction and Cleaning:
Hands down, the DC41 sucks the best of any vacuum I have ever used. After running it over a rug that I had cleaned relatively recently I was AMAZED to see what was deposited in the hopper.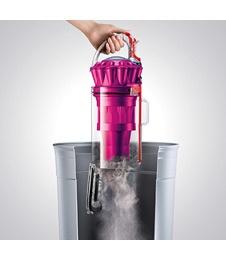 One of the other nice features is that it is ridiculously easy to dump the dust in the trash can without getting messy yourself.
Design:
The Dyson ball design is more than just a gimmick, but it takes a little bit of getting used to. Think of it sort of how an airplane turns by banking - vs how a car turns. The Dyson sort of glides around couches and table legs. Honestly though, I think this comes down more to personal preference than to say that this is the "killer feature".
Another thing I noticed with the DC41 was that it is much lighter than my other vacuum and it is also a lot less bulky, so it is easier to store in a closet.
Tangle-free Turbine Tool:
One of the things that anyone with a vacuum has encountered is that long hair - whether yours, your wife's / daughters, or pets tends to tangle up when cleaning it up. The industry standard is a rotary turbine tool - essentially a single bar with brushes that rotates as it scrubs.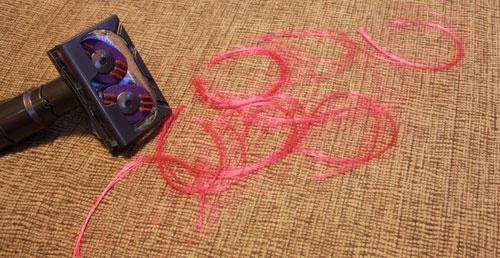 Dyson created a new solution. The tangle-free turbine tool is designed to be used in cleaning up hair, string and they claim it won't tangle.
As you can see, it didn't wrap around the heads and went straight into the bin. Additionally, because the head articulates and the rotors are flexible this works great on uneven surfaces like dog beds, couches, pillows etc. as well as flat surfaces like in my demo above.
While I honestly never really considered what a PITA my old turbine tool is, now that I have seen Dyson's innovative solution and look back, I realize that this is going to be really nice tool to have handy.
Other Dyson Vacuum Tools: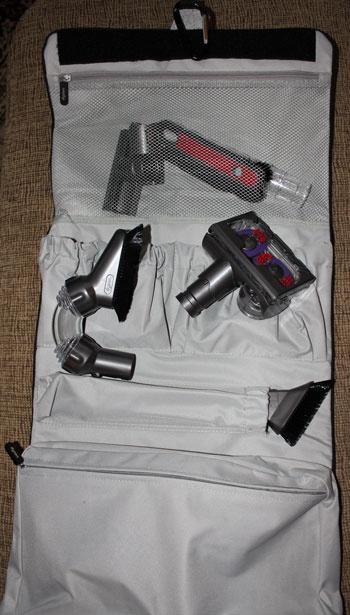 The Dyson DC41 Animal Complete comes with a number of other tools beyond the tangle-free turbine tool. One of the other ones I found very cool was one that was designed to clean the fan blades on my ceiling fan.
They all come in a great carrying bag that even has a carabiner so you can hang it up if you want.
Vacuum Attachments Included:
Soft Dusting Brush - designed for cleaning delicate surfaces like lampshades and fine furniture.
Multi-angle Brush - this is the tool I mentioned above for cleaning ceiling fan blades, but also works well for cupboard tops, door frames and other hard to reach spots.
Stiff Bristle Brush - perfect for cleaning up ground in dirt such as muddy boots from upholstery, carpets, and hardwood floors.
Zorb carpet maintenance Powder - this is a dry cleaning powder to help absorb dirt and make the carpet feel oh so fresh!
Dyson DC41 Complete Review Summary:
Overall this is a spectacular vacuum - but it really aught to be for $649. The real question for me to answer in this review is is whether it is better than my other "top of the line" vacuum and which will end us staying on the main floor vs the basement.
I can honestly say that the Dyson DC41 will be our main vacuum going forward and this is both my choice as well as that of my wife's.
While I don't think it is as "heavy duty" in construction (Tank vs a Porsche) as the LG one I have, it is simply easier to use - lighter, easier to maneuver, and aesthetically it looks gorgeous. Also, hands down it simply cleans better. This is hard to say because I absolutely love my old vacuum, but it sort of comes down to which is going to be more practical and that means I need to be able to quickly use it, put it away easily, and if it left out it needs to look attractive. The Dyson DC41 Complete meets those requirements extremely well!