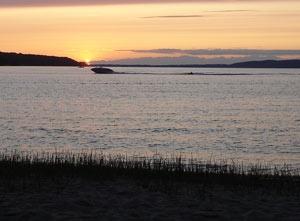 Well folks, we are here in chilly but gorgeous Northern Michigan - Beulah to be exact and we couldn't have been welcomed better than by emerging from the drizzle that we followed all the way from Chicago. Litterally the moment we passed by Mukeegan the clouds parted, the rain stopped and the sun started shining. By the time we got to Beulah where we are staying it was sunny with high level clouds that prepared the way for a great sun set over Crystal Lake.
This is certainly a different land up here, the land is hilly and at least where we are, the dunes drop sharply into the lake area forming a panorama around Crystal Lake that reminds me something of the lakes in upstate New York - though on a much smaller scale.
Beulah itself was created when in the 1873 they had the great idea to connect to to Lake Michigan by creating a channel. Unfortunately the people organizing the project didn't realize that Lake Michigan was actually lower than Crystal Lake and the level of water in Crystal dropped dramatically, suddenly revealing sandy beaches and more land to build on.
Personally, that story sounds a bit like a real estate developer's dream and I am sure there is more to the story, but it makes a great tale and it certainly has created a great little town up here that is perfect for guys weekends.
Judging purely by what I saw while walking around and then visiting neighboring Frankfort (2 miles from Beulah) last night there is pretty much anything you could want to do here.
Before dinner, we went down to the beach which is directly across the street from where we are staying and watched the sunset, and watched people cruising on the lake in everything from ski boats to jet skis and several people also had kayaks as well. While driving in, some of the roads even had side lanes marked for snowmobiles too.
Once in Frankfort (which is right on Lake Michigan and so a bit larger of a town) we found a nice bar called the Villa Marine Bar & Grill, and this was perhaps the epitome of what you could be looking for in a night time spot - live music, outdoor patio, cheerful staff, good burgers (Heather from Chick Vacations had a Cherry Chicken Salad sandwhich - a specialty of the region). Additionally, this place also had "You catch it, We cook it", a good place to know if you are coming up here to go fishing!