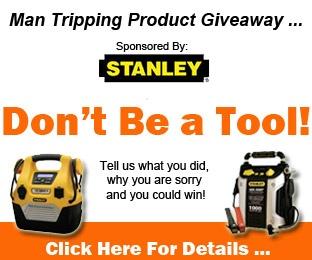 We have picked the top five entries for our Don't be a Tool! contest and the entries include relationship breakers, farting dinner guests, and husbands who forgot to ask their wives before buying gaming accessories.
Now it is up to you to pick which of the following you think deserves to win the Stanely Digital Power Center (First Prize) or the Stanley Instant Jump Starter (Second Prize).
Click Here for the link to the poll, or read on for the full text of the finalists ...
This contest was a lot of fun as we got tons of awesome entries from guys confessing a lot - including stuff that we unfortunately couldn't post here as Man Tripping is a "family friendly" site :)
Anyhow, the following five were picked because they had a mixture of sincerity, emotion, or was probably reprentative of stuff that most of you guys have done and were just too chicken to actually write in and share it!
Bro's before Ho's!
In college a friend and I were interested in the same girl, but he ended up dating her. Well, it took a week, but I was able to convince both that the other was cheating and I created a huge argument between them. Of course, who was there when it all ended? Why I was there, providing a shoulder to cry on.
Why I am Sorry:
I helped destroy a really great relationship for no reason. Nothing happened with us and they both eventually found out, ruining friendships forever. I have always felt awful about that.
A Gaseous Wedding party!:
I was a groomsman in a close friends wedding. He never got the chance to have a bachelor party, because the best man couldn't get his [email protected] back from his wife(whom was best friends with the bride) who put the kibosh to the whole idea of a party. Anyway....after the rehearsal dinner the night before the wedding, myself, another groomsman and the groom to be stopped off on the way back to the hotel for"1". To make a long story shorter, we drank until 1:00 a.m. When his wife to be, in tears drug him out of the bar. O.K. now that was bas enough, but sometime during the night I challenged the groom to a pickled egg and Tabasco eating contest. Well as it turns out, this all added up to great discomfort to all whom were involved. The bride was a bit upset that her husband to be had gas that would clear a small church on any other day. I was also not well. Now I believe that all men are responsible for his own actions. I just wish we would have had the party we had that night about 3 weeks prior to there big day.
Why I am Sorry:
Well mainly that I didn't stop after "1" like we planned. We stated reminiscing about the "good old days" and we lost track of time and what we were there for, but also that I didn't step up and put a party together without the best man.
Farting at the Dinner Party!
Passed gas at my in-laws dinner party!
Why I am Sorry:
Well, to begin, everyone had to leave the room! Then I tried to blame the dog, then the baby, I mean really, I couldn't fess up could I?
Always Remember to Ask the Wife First!
I bought a $50 Razer Gaming Mousepad.
Why I am Sorry:
I should have asked my wife first.
Bad Money Manager:
(This appears to be submitted by a guy's wife, but I felt bad for him ... you may not, feel free to vote however you want!)
He has done many stupid things. Mostly financial.
Why I am Sorry:
He screwed us financially, and I am the oone to get us out of it.
Happy Voting!
Also, remember, if you want to win a Stanley Digital Power Center, we'll be picking one lucky winner from our Facebook page and email list. Join both for two chances to win!