The possibilities seem endless when it comes to planning mancations and boys weekends. Beer festivals, epic Hawaiian adventures, hiking the Grand Canyon – you name it, we can do it. So when it comes to celebrating a buddy's last hurrah as a single man or a buddy's major promotion, why settle for your typical mancation?
Big life events call for extreme adventures, and nothing can provide grand vacations like Mother Nature herself. So if you are on the market for a wild mancation, consider one of the following grand outdoor adventures.
BackcountryBackpacking in America's National Parks
Whether you prefer Yellowstone or the Smokies, there are several National parks around the U.S. that offer excellent backpacking opportunities. Backpacking in backcountry allows you the opportunity to experience true self-reliance – nothing but nature, your pack, and your bros. You will sweat. Your muscles will ache. You will conquer the wild.
Just be sure that your trip isn't an unplanned one. Park Rangers need to know where you are headed, some National Parks may even require a guide depending on where you are going, and supplies need to be well thought out. Backpacking in back country isn't for the faint of heart, but it is definitely worth the ultimate nature experience.

Off Road Adventures Through Imogene Pass
If mountains are you and your buddies' thing, forget the skis and snowboards this year. You can hit up Steamboat or Keystone anytime. If you are really looking for a more extreme adventure that puts you on top of the world, consider traversing through Imogene Pass in Colorado. Just a heads up though, this drive is not for the novice.
Imogene pass is the highest mountain pass in the San Juan Mountains and is accessible only by four-wheel drive vehicles. So your buddy's old jeep that has been sitting in the garage collecting dust would be perfect for Imogene. Don't have a four-wheel drive vehicle? No need to go out and buy a brand new Jeep. Imogene pass can also be conquered on an ATV and other small 4-wheel drive vehicles. Vendors such as Killer Motorsports offer a wide variety of ATVs and even Go Karts for reasonable prices that afford you the opportunity to enjoy offroading again and again.
Whitewater Rafting on the Ocoee River
If you and your crew are more into watersports, consider taking a kayaking trip down the Ocoee. This isn't your typical, run-of-the-mill, float trip. The Ocoee offers such a challenge for water sports that it was formerly used by Olympians during the 1996 Summer Olympics. Although the river is typically a Class III, many parts can register as a Class IV and during high water much of the river is considered Class IV. So when it comes to gear, make sure you have a kayak fitted to you, as well as quality paddles, life jackets, and even a helmet.
The Ocoee also offers opportunities for camping along the river. So you and your buddies can spend a day fighting rapids then sleep off your wild ride only to wake up and go at it again. Go ahead and plan to make this trip last a couple of days, because once you experience the exhilaration of those rapids, you'll want to keep coming back for more.
Big Game Hunting Adventure
The United States is host to a wide variety of big game animals, and for the Sportsman, a big game hunting trip can be just the adventure needed. While there are reserves and farms that develop big game animals specifically for hunting, nothing feels more sportsmanlike than hunting in the wilderness. The only question you need to ask yourself is, "what would be my grand trophy?"
If you are looking to get pronghorn, head to Wyoming. If you're interested in mountain sheep head to Utah, If you're wanting a giant moose, go to Washington. But if you're interested in predators, consider New Mexico for black bears. Each place offers you the opportunity to either camp out under the stars or to stay in a nicer resort. Simply pick your preference and get ready for the ultimate hunting experience. Just be sure to pack your gear and get your scope calibrated on that nice rifle of yours.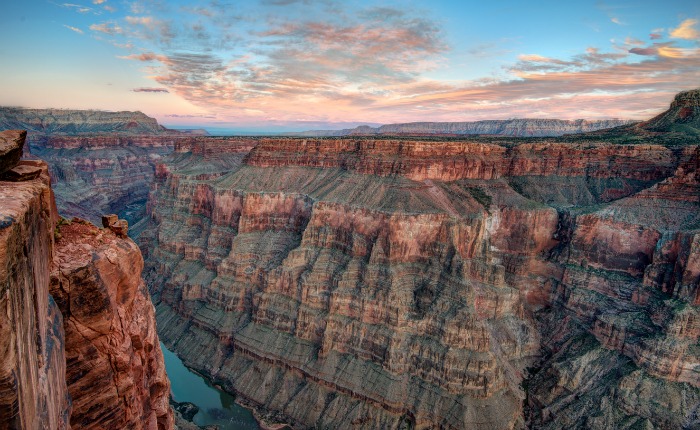 Biking the North Rim of the Grand Canyon
The Grand Canyon is stunning, but walking up to the visitor's center on the South Rim doesn't do it justice. In fact, it comes across as lame and prescribed. If you and your buddies are more into biking, bike the Grand Canyon's North Rim for a challenge. In 5 days, you and your buddies can bike the 145 miles that makes up the Rim and in the meantime, see the Grand Canyon like it was meant to be seen. You'll also be able to take side trips and other mini adventures that give you the up close and personal experience with the Canyon that very few others get to experience.
When big events need to be celebrated, the average mancation simply won't do. Make sure to plan a trip that embodies the celebration you want to have. Make it extreme, make it challenging, make sure that it gives you and your buddies memories that you'll be talking about for years.