Air travel continues to be a headache. Personally, I prefer to drive if the drive is under 12 hours because flying sucks these days. While FlightView can't make TSA agents less robotic or hand a bar of soap to the guy next to you, it can keep you informed as to where your plane is, and when it will get to where you are.
It is also a handy tool to let you know when your wife's plane is due to land so you know just how much time you have left to clean the house!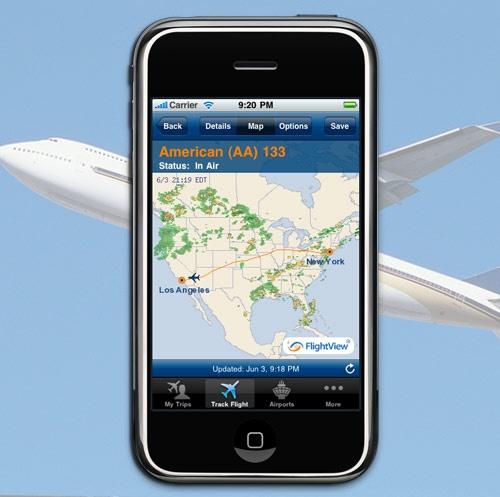 In the best case scenario, air travel is stressful.  From bag fees and flight cancellations to inclement weather and rising ticket prices, flying is rarely a choice activity.  Luckily for our smartphone (iPhone, Android, BlackBerry, and WebOS) using readers, there are numerous apps available to help make flights more productive.  Select your seats, purchase a ticket, arrange for car service or track your flights – you name it, and there's probably an app for that.
One app we like a lot is FlightView's travel app.  FlightView provides day of travel assistance, offering mancationers accurate – and actionable – flight tracking information.  The app is powered with a full set of travel features, including the ability to monitor flight statuses with verified FAA data.  Through FlightView's app, travelers can anticipate the cascading effect of delays at other airports by viewing the airport delay map and proactively plan travel changes by receiving alerts as soon as flights are delayed, cancelled or there is a gate change.
Additionally, the app allows you to store the various confirmation numbers (flight, hotel, rental car etc.) and information on each member of your party. This allows you have everything at the tip of your fingers instead of lugging around a folder full of paper and freaking out when you can find something.
FlightView's app is one of many designed to improve your travel experience.  So go ahead, splurge the extra $.99 cents for the iPhone version or $4.99 for the BlackBerry version (not really a splurge, I know), and shop around for the travel app that will help you get the most out of your mancation.