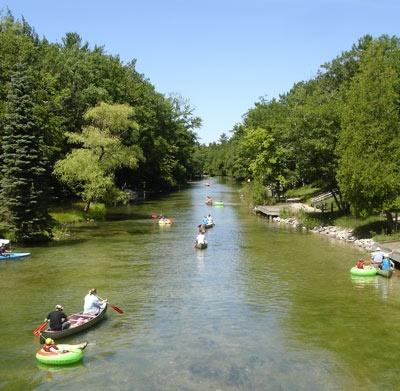 While many guys weekend activities involve high impact sports such as sky diving and water skiing or athletic activities such as biking or hiking, sometimes it is nice to just float down the river in a tube with a case of beer and your closest buds.
While in Northern Michigan, we had a chance to do just that, tubing on the Lower Platte River.
A few different companies offer trips down the river, but the two main ones seem to be Riverside and The Honor Trading Post, we chose the Trading Post because they were friendlier and slightly cheaper.
Each company essentially offers the same options, canoe rentals, kayak rentals, and our choice - tube rentals. Also, each location offers a variety of conveniance store supplies including Beer, Pop, Waterproof Bags, Water Guns etc. to make your trip even more enjoyable.
Riverside Canoe Trips:
We first visited Riverside Canoe Trips because it is located right on M22 and it always seemed to have a crowd in the parking lot. As its name suggests, Riverside does offer the benefit of being able to launch right from their location on the river, but the tube float option was only an hour if you launched from there vs. 2.5 hours if they drove you down the river past Loon Lake (tubes don't work so well if there is no current!). However, if a kayak or canoe is more your style then this might be a fun option.
Ultimately, after first visiting Riverside, we chose The Honor Trading Post because we liked the people there better, the prices were slightly cheaper, and it is a family run operation, instead of dealing with teenage summer staff. Once you are in the river though, the experience is the same - it is the same river and essentially the same equipment.
The Honor Trading Post:
Upon ariving at The Honor Trading Post, located on Deadstream Rd. in Honor Michigan we were impressed by the fact that they welcomed us warmly, offered to help answer questions, and we didn't feel like just a number. This set the mood for a wonderful tubing trip. After paying, the van driver loads all the canoes, kayaks, and tubes and we head on down to the river.
The Honor Trading Post pricing
We followed the van in our car to a parking lot near where the Platte River meets Lake Michigan and then headed back up the river in the van to where he dropped us off.
The rest of the trip was like a giant, natural lazy river, just lay back and relax!
The river is mostly 2-3 feet deep but somewhat deeper in some areas and a lot shallower in some other areas, but it was 100% fun.
While traffic on the river almost certainly varies by time of year and time of day, we went at about 2 p.m. in the afternoon on a Tuesday and while there was a constant flow of people it was not congested and our group had plenty of space. We did pass a group of guys with two, two person tubes, complete with coolers that had sort of lodged themselves against the side of the river not moving at all - just enjoying the cool water on the feet and cool beverages down the throat! So obviously this is another option.
Anyone visiting Northern Michigan on a guys weeekend should absolutely consider visiting The Honor Trading Post for a wonderful experience.