Every so often a car comes along that really impresses me. The 2011 Ford Explorer is one such example. Sure, we all know the Explorer line and in many ways, it is the iconic SUV. What Ford has done with the new version however, just blows me away by combining two of my favorite SUV's - the Edge and a Land Rover.
Where the Edge is designed more for urban and highway traffic, the Explorer takes that style and comfort and merges that with features and technology drawn from Land Rover as well as its Ford truck heritage. While I didn't get a chance to drive it, I did get a chance to sit in the driver seat and play with the car a bit while at the Chicago Country Music Festival. (hence Ford's appropriate choice of swag that I am wearing in the photo below!)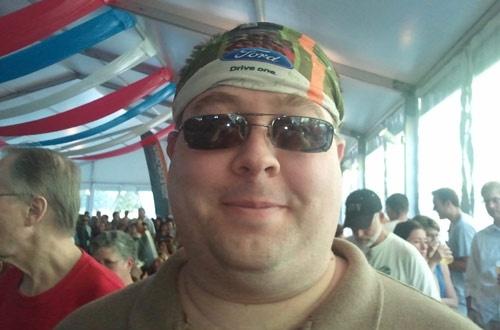 Inside the 2011 Explorer, you will see that the cockpit looks and feels similar in quality to what you would find on a Buick Enclave or an Infiniti QX 56. Though the Explorer is MUCH more modern and "chic", as well as being a bit "younger" feeling and certainly more aggressive.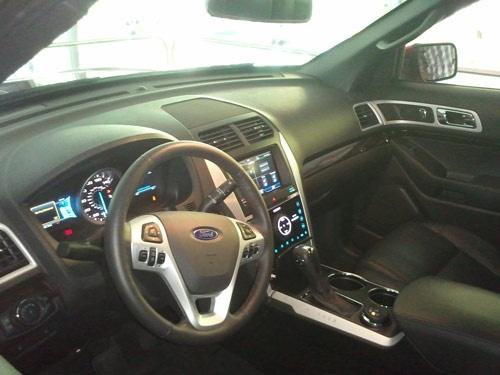 What you will find however, is that while this car feels super sweet, it has tons of features designed for use off-road, including a traction control knob - just like on the Land Rover LR2 and LR4, where you can select what type of terrain you are "exploring", including muddy / rutted roads, snowy / icy roads, sand, and, normal - paved roads. It also has a hill descent feature to help going down inclines without needing to pump the brakes. Each of those traction control modes will adjust the engine, transmission, braking, wheel rotation, and other drive systems to best match the driver's input.
Just how well these work and how well the Explorer handles these types of terrain will be interesting. Certainly they have the engineering know-how from the trucks and Land Rover (now owned by Tata Motors.)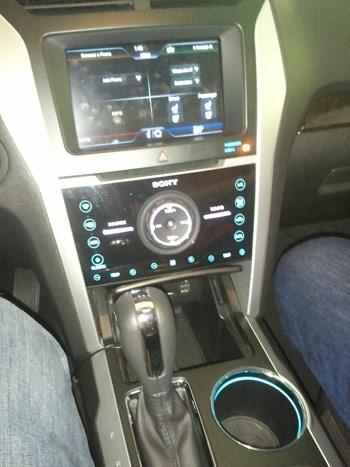 As you can see, the choice for interior design is very modern, very technology driven - including the ambient lighting in the cup holders - similar to what I saw on the Mustang. On thing I thought was very interesting was the use of LCD displays flanking the speedometer in the middle. Look also at how the speedometer is sort of sideways with 60 mph at 9 o'clock, rather than at about 11 / 11:30 like most other cars.
It will be interesting to see how many people get speeding tickets because they are going way too fast. (or at least how many TRY to use that as the excuse!)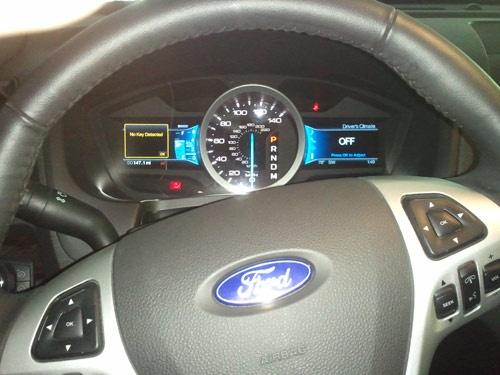 I am told that the 2011 Explorer will begin production in November and the price will start at around $28,000 - though the model on display would retail for about $55,000.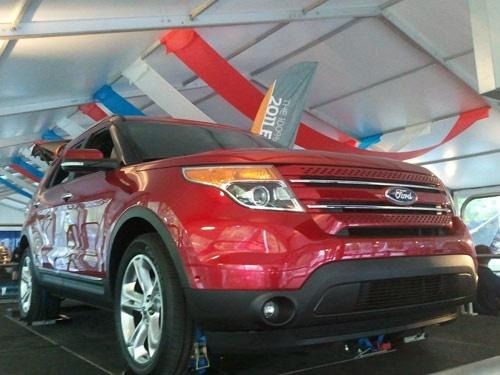 As the Ford motto says - Drive One! I can hardly wait till I get the opportunity to share some hands on reports with you guys.