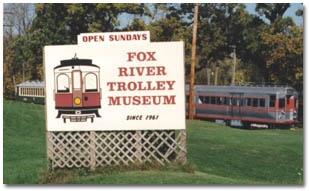 Father and son trips don't have to be about nostalgia, but on some level that is what being a father is all about – passing down knowledge and experiences to the next generation.
That's why a visit to your local railroad museum would make a great father son trip. Luckily for me, (and others of you in Chicago) there are several great ways to see trains in the Chicago area. One such place is the Fox River Trolley Museum. While most train museums in the United States focus on big powerful steam locomotives, the Fox River Trolley Museum focuses on a nearly forgotten era, just before cars when people relied on clean, electric powered trolleys. These trolleys could be found in almost every town and city across the country – certainly much more widely than today's very limited public transit lines.
The Fox River Trolley Museum not only preserves these antique trolley cars, which once connected towns along the Fox River, including Carpentersville, Elgin, Aurora, and Yorkville, but still runs them along a 4 mile track along the river bank. It is amazing to think that this is all that is left of what 100 years ago, was a 40 mile network of trolley lines.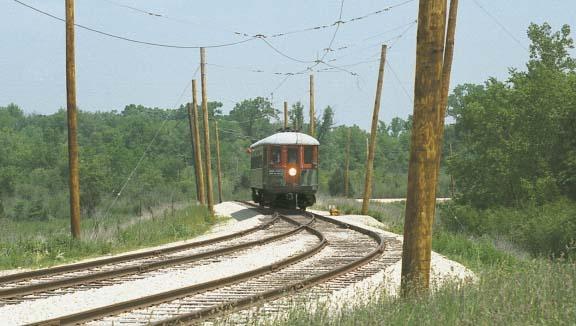 For a father and son trip, this could also be a very educational opportunity – not just about history, but to discuss modern transportation issues in a fun atmosphere. While people back then weren't using these trolleys because they wanted to save the earth, that issue is now driving people to reconsider public transportation.
This is an opportunity for you and your son to talk about things like conservation that he might have learned in school. It is also an opportunity to realize just how lucky we are today to have virtually everyone able to afford their own cars. The museum has more than two dozen cars including trolley cars, locomotives, and cabooses, all of which originally operated in the Chicago area.
Special events are held throughout the year, including the Haunted Trolley (Saturday and Sunday, Oct. 25-26, 2008) and the Halloween Hiawatha also that weekends which also includes a campfire along the Fox River. Later in the year, the museum also features the Polar Express (Saturdays Dec. 6 and 13 and Sunday, Dec. 7). These special rides feature additional attractions based on Chris Van Allberg's novel, "Polar Express."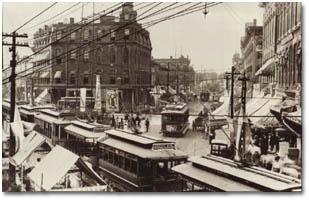 The museum is open on Sundays from May 11-Nov. 2 from 11 a.m.-5 p.m. and Saturdays also, from June 28-Aug. 30 from 11 a.m.-5 p.m. Rates are $3.50 for adults and $2.00 for Children and Seniors. Additional trips are $0.50, or if you want to spend the whole day, a day ticket is $7 per person.
For more information, please visit the Fox River Trolley Museum's website.