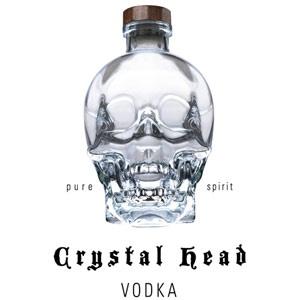 Halloween is here and it is time to get in the spirit - luckily I just received news about a perfect drink to share with friends tomorrow night - or even to use as a decoration!
Crystal Head Vodka, created by screen legend Dan Aykroyd, is a super-premium vodka made with water from a deep aquifer in Newfoundland, Canada, blended with selected grains create a creamy and slightly sweet finish. Crystal Head Vodka is a "pure spirit" with no added glycerin, citrus oil, or sugar.
Crystal Head Vodka is quadruple distilled, then triple crystal-filtered through Herkimer diamonds, the final and most important step in production. Herkimer diamonds are quartz formations, or crystals that are mined in Herkimer, New York. New age belief  systems claim that Herkimer diamonds emit positive energy, an assertion that is validated by consumer tastings.
Here are some great Halloween (or anytime) themed cocktails that go great with Crystal Head Vodka.
Cranium
1 1/2 oz. Crystal Head Vodka
Cranberry juice
Grenadine
Pour Crystal Head vodka and Cranberry juice over ice in a tall glass.  Add splash of Grenadine (unstirred) on the top.  Garnish with blood orange slice.
Vampire Kiss Martini

1 ½ oz. Crystal Head Vodka, chilled
1 ½ oz Korbel Champagne
¾ oz part Chambord Black Raspberry Liqueur

Rim the glass with red sugar (use food coloring) or drop in a set of wax vampire teeth for a real surprise.
Pour Crystal Head Vodka and half of the Chambord in a martini glass, top with Champagne and pour the remaining Chambord over the back of a spoon to make it float.
Brain Freeze
1½ oz Crystal Head Vodka
2 oz pure lime juice
1 oz simple syrup
Combine with ice in a blender. Serve in a sugar-rimmed rocks glass.