What better way to spend a weekend this summer than spending it a the 10th Annual Dukesfest in Atlanta. Hundreds of thousands of dukes fans celebrating one of the most famous redneck families of all time and their moonshine running, hard driving, but always 100% American sons, Bo and Luke Duke. Plus, this year celebrates the 30th anniversary of the show starting.
Yeee Haaaaaaaaaaaaaaaw!
One of the interesting and unique parts of this fan festival is that
Dukesfest
is actually organized by former cast members. Since 2001, Ben "Cooter" Jones has been holding Dukesfest in
Virginia
, but it has grown to well over 200,000 fans and is now being hosted at the Atlanta Motor Speedway and organized another former cast member, John Schneider, Bo Duke" and his wife Elly.
So what can you expect at Dukesfest?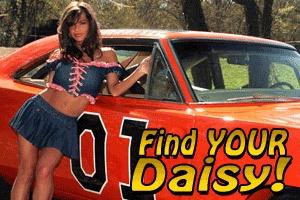 Well, it is a cross between a country fair, fan festival, demolition derby / stunt driving exhibition, and a car show featuring hundreds of 1969 Dodge Chargers decorated just like the original "General Lee". Plus, like any great fan event, you'll see hundreds of people dressed up as your favorite Dukes of Hazzard characters ... including Daisy Duke.
Dukes of Hazzard Autograph Sessions
Ever dream of meeting the cast behind Dukes of Hazard? Well then Dukesfest is the right place for you to go! In addition to autograph signings, there will also be a question and answer session with the cast. Dukes of Hazzard cast members that are currently scheduled to attend include: John Schneider "Bo Duke", Catherine Bach "Daisy Duke", Tom Wopat "Luke Duke", James Best "Sheriff Roscoe P. Coltrane", Ben Jones "Cooter Davenport", Rick Hurst "Clettus Hogg" and Sonny Shroyer "Deputy Enos Strate".
Hazzard County Fair
If you have never been to a good ole' southern county fair, this might be your best opportunity. Hazzard County Fair events include lawn mower racing, Daisy Dukes wearing contests, fireworks display, local music performances, and special guest musician, Paul Casey. There are even plenty of activities for the kids, including carnival rides, a kids barnyard with petting zoo, pie eating contest. Of course, no county fair, and certainly not a Dukes of Hazzard fan festival, would be complete without a car show. Every year hundreds of 1969 Dodge Chargers owners bring their versions of the famous "General Lee" to show off - including other "General Lee" themed cars, trucks, and tractors like you can see in the video below. There will also be stunt driving demonstrations including an authentic "General Lee" jump and car chases as well. Dukesfest 2008 will be held at the Atlanta Motor Speedway in Hampton, GA, Saturday, June 28 and Sunday, June 29. Advance
Dukesfest ticket
prices are: $15 per day, or $25 for the two-day pass.