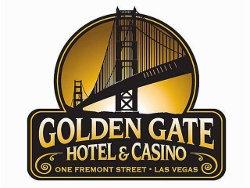 Founded in 1906 on poker chips, whiskey and wild women, the Golden Gate – Las Vegas' original casino – is undergoing its first major expansion in 50 years. A hangout for Frank, Sammy and Dean during the Rat Pack era, the landmark property in downtown Las Vegas will keep its authentic Vegas vibe while adding a spectacular 35,000-square-foot, five-story luxury tower with 16 hotel suites, including two penthouses that will encompass the entire 5th floor.
An expanded casino floor and new high-limit gaming pit will feature its signature dancing dealers – a modern throw-back to flappers of the Roaring 20s. A new lobby will display artifacts from the hotel's notable past. The Golden Gate Casino will preserve its historic exterior while adding contemporary pinstripe lighting accents. The new tower will feature a beautiful porte-cochere designed to provide the most convenient valet parking downtown. Renovations are scheduled for completion by July 2012.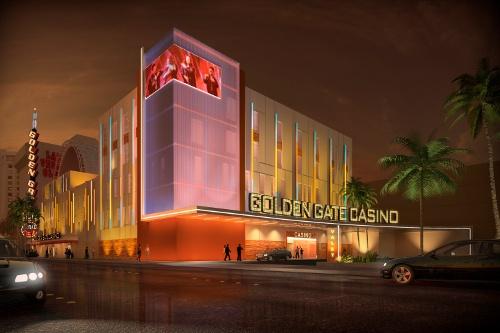 Ever sensitive to Las Vegas tradition, the Golden Gate also vows to preserve its famous shrimp cocktail – the 'Best Tail in Town" – which the company introduced to the casino scene in the 1950s.

"When it opened back in 1906 at One Fremont Street, Golden Gate signaled the birth of downtown Las Vegas. Now, more than a century later, we're proud to be a vibrant part of its dramatic renaissance," said Golden Gate co-owner and CEO, Derek Stevens. "This property has been characterized by a unique excitement and mystique from day one, and we can't wait to start the next chapter in this wonderful Las Vegas story."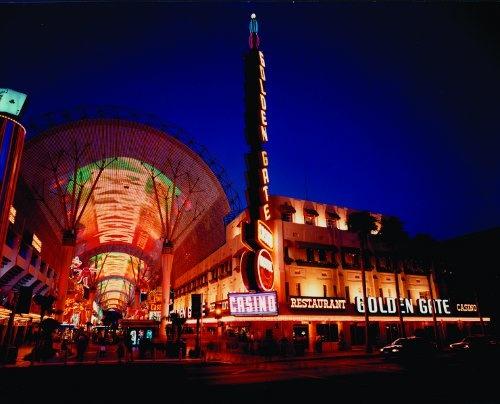 Signature Golden Gate Elements:
Dancing Dealers. Golden Gate's "Dancing Dealers" will remind you of the brash, new breed of young women from the Jazz Age – with a contemporary twist. Their daring personalities and flirtatious dancing entice guests to let loose in true Vegas fashion.
Prohibition No More. From 1919 to 1933, the hotel was forced to stop selling alcohol due to prohibition. Today, it's making up for lost time with delicious libations at three dynamic bars. Take in the beautiful bikini-clad bartenders, be dazzled by flashy flair with flying bottles or tip your glass where Frank and Sammy once drank.
A Good Gamble. A new high-limit gaming area and credit program along with higher table limits will appeal to high-end players looking for a boutique gaming experience with traditional odds. Blackjacks pays 3/2 and you can still find 10 times odds in craps. The casino continues to offer the highest "free play" reward in town and features the latest in slots and video alongside craps, blackjack and the newer table games.
Best Tail in Town. Golden Gate founding partner Italo Ghelfi introduced shrimp cocktail to the casino scene in 1959, starting a Las Vegas tradition spanning several decades and more than 40 million shrimp cocktails (that's more than a billion individual shrimp!).
Less Walking, More Dancing. Take a few easy steps outside onto the Fremont Street Experience where the world's biggest video screen – Viva Vision – towers over four neon blocks of party action including three stages and bars wherever you turn. Everything is close, so you can spend less time walking and more time dancing in the street.
Step Back in Time, Keep Your iPod. In addition to its new tower and suites, the Golden Gate's boutique hotel features 106 recently remodeled rooms with a vintage Vegas ambiance accompanied by modern amenities including pillow-top mattresses, Keurig® coffee makers, flat-screen TVs, iPod docking stations and more. · The Las Vegas Original. The Golden Gate dates back to the birth of Las Vegas, when the land at 1 Fremont Street was purchased for $1,750 in the historic May 15, 1905 land auction. In 1907, it became home to the city's first telephone. The phone number? "Ring '1,' please." In 1927, the property welcomed one of the city's first neon signs – now synonymous with Las Vegas. In the 1950s, long before the high-tech 'eye in the sky' was introduced, the Golden Gate partners employed creative surveillance using two-way mirrors above the gaming pit that can still be seen – but not used – today. Take a stroll through Golden Gate history: https://goldengatecasino.com/history/.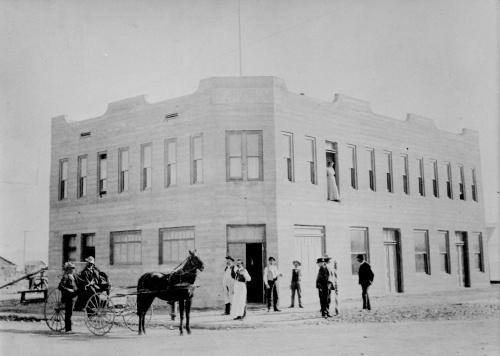 Here is what Golden Gate looked like in 1906 when it was Hotel Nevada.
What do you think - are you excited to see such a Las Vegas icon get spiffed up?